An immigrant with a dream, he became the 2022 Mr. America Bodybuilding Champion
The road to my victory was wrought with challenges. After losing hope in continuing my education beyond the eighth grade, I joined my big brother Michael Otieno in Kisumu, Western Kenya. I needed to find a job and learn a few new skills.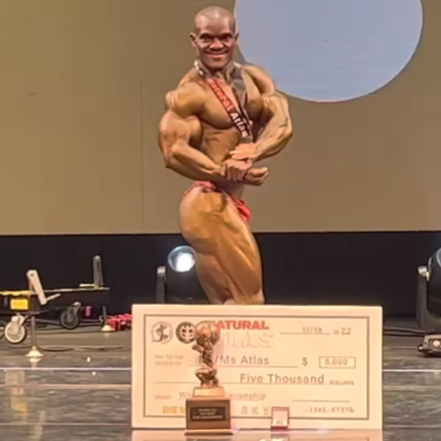 NEW JERSEY, United States ꟷ When I won the 2022 Mr. America Bodybuilding Championship, the crowd went into a frenzy. It felt like a dream, and I had to convince myself it was real. My family came on stage to celebrate my victory. Even in my wildest fantasies, I never dreamed of this moment.
Read more inspiring immigration stories from Orato World Media.
In 2012, I immigrated to the United States from Kenya. Through tenacity, self-control, and a little bit of luck, I rose to the top in the natural bodybuilding world.
Finances forced me to leave school after eighth grade. I competed my way to a career.
The road to my victory was wrought with challenges. After losing hope in continuing my education beyond the eighth grade, I joined my big brother Michael Otieno in Kisumu, Western Kenya. I needed to find a job and learn a few new skills. Blocks away from the construction site where we worked, I began lifting weights. I could only afford to visit a neighborhood gym, but every now and then, we spent a day training someplace special.
After two years of working and training in Kisumu, my brother and I set out for Mumias to search for better opportunities. [By this time, Meshack should have been in tenth grade but in Kenya, free primary education stops at eighth grade. After eighth grade families have to share school costs, leaving many in poverty with no option to continue learning.]
My brother observed my commitment to training and bodybuilding, inspiring him to sign me up for the Mr. Kakamega Championship. I enrolled in my first-ever competition and triumphed! I fell in love with bodybuilding.
From that moment on, I made every effort to network with individuals who could assist me in improving my posing, training, and diet. In 2003 I won the Mr. Kenya Under-21 Competition and moved to the senior division. The titles came in waves. I won Mr. Kenya in 2004 and 2012, and Mr. Africa in 2010.
A 16-hour flight to America and a dream
My run to the top quickened after winning Musclemania Africa and coming in third on the World Fame Tour Africa. I wanted to take on a fresh challenge. The idea of moving to another continent arose in my mind. In 2012, with the help of a friend, I decided to immigrate to the United States.
I felt anxious boarding the plane from Jomo Kenyatta International Airport in Nairobi. How would I adjust in America? Would I meet new people? Would they make fun of my accent? I could not yet see the bigger picture. All I knew of the United States consisted of what I saw on television. I honestly felt terrified.

The flight from Nairobi to New York City took 16 hours. When I got there, I went through culture shock, and yet I felt so excited. My Kenyan friend who moved to America in 2002 picked me up at the airport. He housed me for nearly a year while I worked on my immigration status. I enrolled in private English classes and, later, in a fitness course at a local college. Once I became a certified fitness instructor, my adventure in America really began.
Time went on and I began participating in bodybuilding contests across the United States. When I won the Missouri State Championship in September 2022, the victory sparked a deep desire in me to compete in the Mr. America Bodybuilding Competition.
From 100 muscleman down to three: he beats the defending champion
When the time came to compete for the prestigious title, I considered its incredible heritage, dating back to 1939 [before Mr. Olympia or Mr. Universe even existed]. I stood amongst 100 musclemen from 50 states, facing off against one another to make the first cut to 26.
From there, three finalists from each of the two categories (tall and short) enter the last pose-down. Throughout the entire competition, I defeated opponent after opponent – six in total. When it came down to the final three it was me, Nigerian Bada Lakan, and defending champion Corey Brown. I felt confident, knowing I defeated Lakan in 2010 at the Mr. Africa Championship in Nairobi.

When the pose-down ended the three of us awaited the announcements. Brown came in third. The championship came down to me and Lakan. Then, right there, in December 2022 in Altantic City, New Jersey, they named me the 2022 Mr. America Bodybuilding Champion. I prevailed.
A day in the life of a professional natural bodybuilder
As a full-time, natural bodybuilder, I exercise discipline, patience, and hard work every day. The gym becomes my office. I workout six days a week with one day set aside for cardio. My typical day begins at 5:00 a.m. I take on a two-hour workout followed by my first meal of the day. To keep my muscles in shape I eat six meals every day.
From 10:00 a.m. to 4:00 p.m., I work with my clients. My life revolves around the gym. Rest remains an important factor in this career. It gives my body time to recover from hours of exercise and allows my muscles to grow. I take a nap each day and go to bed by 9:00 p.m. to get at least seven hours of sleep. I never drink or go to parties.
In natural bodybuilding, I exclusively utilize natural foods and healthy supplements – never steroids. It can be challenging to develop past a certain point this way – to reach the size of unnatural bodybuilders. We put forth immense effort and never cut corners. My meals consist of oatmeal with egg whites, blueberries, and dark chocolate in the morning. I eat rice with ground turkey and asparagus for lunch, especially when I'm preparing for tournaments. On average days, I eat sweet potatoes, chicken breast, and mixed vegetables.
Prior to competing, I submit to testing. In natural bodybuilding we cannot be compensated if we our testing shows illegal chemicals so we are very cautious with our supplements. I remain cautious at all times to train carefully and avoid injuries.
My life has changed significantly since winning the Mr. America title. Great opportunities come my way like sponsorships, invitations to more competitions, and guest posing opportunities. Ultimately, I want ot be a positive role model for young people.
Translations provided by Orato World Media are intended to result in the end translated document being understandable in the end language. Although every effort is made to ensure our translations are accurate we cannot guarantee the translation will be without errors.
Pledge to be a #ConsciousCitizen today and demand #GlobalCooperationNow! by signing this petition. Sign Our Petition.