Angela Okutoyi first Kenyan to win Grand Slam at Wimbledon
My success at Wimbledon motivates me to achieve even more, and to serve as an inspiration to Kenyan children. I hope to bring awareness to the need for funding and facilities here, to better enable other young kids to play tennis.
NAIROBI, Kenya ꟷ It felt great to win the junior doubles Grand Slam championship in tennis at Wimbledon, but my journey to success has not been easy.
When my late mother began experiencing labor pains, she went to Pumwani Maternity Hospital in Nairobi City. Unable to give birth to my twin sister and I naturally, she underwent surgery. Complications arose and they transferred her to Kenyatta National Hospital (five miles away) where she died in the intensive care unit.
Hours later, my grandmother learned of my mother's death. When she arrived at the hospital where my mother died, she found out they left my twin sister and I behind at Pumwani. My grandmother arrived minutes before they gave us up for adoption.
Wimbledon winner faces difficulty early in life, turns to tennis
Luckily for my sister and I, my grandmother showed up at the hospital in time, but taking us on proved difficult for her. She still had her own children to raise. My uncle and aunt lived at home, and my grandmother played the role of both mother and father. Seeing her difficult plight, the Loreto Sisters – a Catholic order of women religious – offered her employment as a cleaner at the church.
Growing up at my grandmother's house, my sister and I watched my aunt Phoebe fall ill from lung disease. She survived on an oxygen tube. Because my grandmother had to work, she left my ailing aunty in the care of my sister and me. We looked after her and helped her feel comfortable, but eventually she succumbed to her illness and died.
Things were bad for the family at times and we skipped meals, but grandmother continued to work hard to take care of us. We grew up on Loreto Valley Convent Road in Nairobi, near the tennis courts. One day, Coach Joe approached my grandmother. While he wasn't thinking about making us professional tennis players, he felt sad seeing us sitting in the streets while grandmother worked.
He offered to take us to the courts to teach us how to use a racket. We were just four years old. My grandmother gladly accepted, and my twin sister Roselinda Asimwa and I began playing tennis.
Okutoyi wins in Africa and Australia, searches for a doubles partner
Coach Joe trained us, and we fell in love with the game. People began telling me I would be a tennis champion one day. In competition, I won categories with much older people.
Coach took us to tournaments in Mombasa and other parts of the country. At the tournaments, representatives from the International Tennis Federation noticed me. They suggested I could qualify to join Kenya's junior players, so at the age of 10, I enrolled at the ITF center in Burundi.
I began winning tournaments and in 2018, at the age of 14, I won my first major tournament – the Kenya Open. With practice and competition, I rose up through the ranks. My sister also continues to work hard, playing many tournaments to improve her own ranking.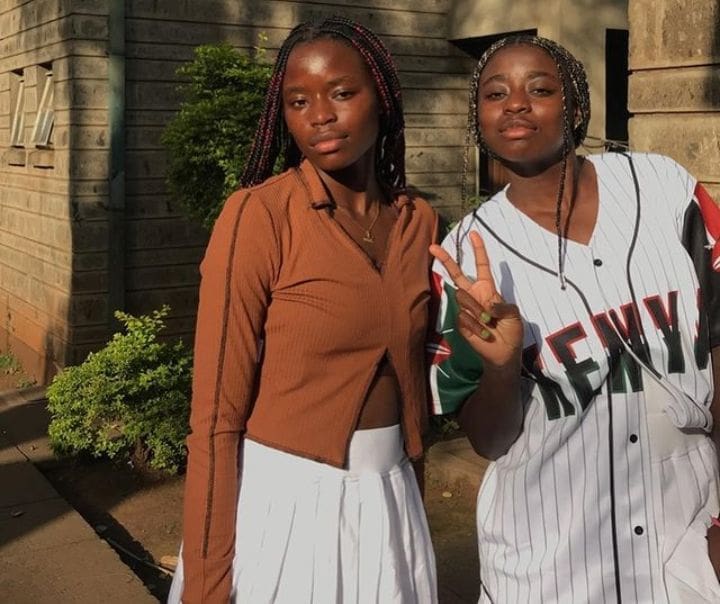 Over the last year, I won the African Championship in Tunisia, qualifying me for the Australia Open. I performed well in Australia. Having not traveled much outside of Kenya, it all felt like an adventure. I often thought of my greatest inspiration growing up – Serena Williams – and my confidence grew.
As the junior doubles Grandslam competition at Wimbledon drew near, I faced a great challenge. I did not have a partner to play with. Everyone I reached out to already had a partner. Then, I received a message on Instagram from Rose Marie Nijkamp [of the Netherlands] asking if I wanted to play with her.
"Yes, let's play," I replied, "I don't have a partner so let us try our luck!"
A win at Wimbledon, a dream for the children of Kenya
I played in the singles tournament first and lost, before going on to the doubles with Rose Marie. Leading up to the competition, I met many tennis stars who wished me luck in the singles, not knowing I already lost.
Rose Marie and I had limited time for warms ups before going into play for the doubles. Though we developed a close bond, we could not imagine a victory. When we won the junior doubles at Wimbledon, we were both moved to tears. It seemed amazing to win a title together without knowing each other well.
Besides winning, the greatest moments during the tournament including meeting tennis champions. The win is only the beginning. I am thankful to my coach Francis Lugoi, Kenya's Tennis Federation, the ITF, and the Ministry for their support. However, Kenya is not a tennis country.
Tennis remains very unpopular compared to other sports. Unlike other countries, our facilities remain outdated. Court surfaces are made from tarmac, not clay. The game remains reserved for those who can afford memberships to clubs, making it too expensive for most people. I also missed tournaments due to poor funding.
My success at Wimbledon motivates me to achieve even more, and to serve as an inspiration to Kenyan children. I hope to bring awareness to the need for funding and facilities here, to better enable other young kids to play tennis.
For more stories out of Kenya click here.
Translations provided by Orato World Media are intended to result in the end translated document being understandable in the end language. Although every effort is made to ensure our translations are accurate we cannot guarantee the translation will be without errors.
Pledge to be a #ConsciousCitizen today and demand #GlobalCooperationNow! by signing this petition. Sign Our Petition.