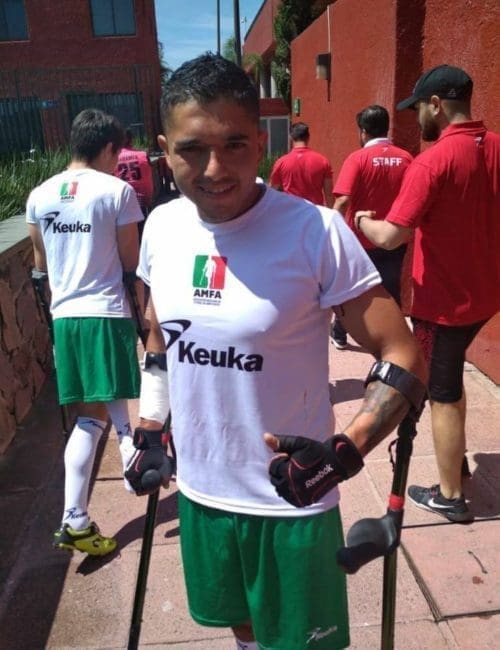 MEXICO CITY, Mexico — All my life, I played soccer. It was my passion and my profession. I dreamed of becoming a big star, representing my country in the World Cup.
I started playing soccer when I was four years old and I achieved all of my dreams, playing professionally until I was 28.
In 2014, I retired from professional soccer and continued to play in the amateur leagues. The income allowed me to support my family and in my spare time, I sold ice cream at a school.
Then, in 2016, a car accident changed my life forever. In fact, it created an incredible opportunity for me. Today, I am a professional amputee soccer player.
I woke up from anesthesia without a leg; my thoughts turned to suicide
It was 4:00 p.m. on a typical Friday. I was traveling with my wife when a taxi collided with our motorcycle. The blow was decisive and immediately caused an exposed fracture of my tibia and fibula.
As I was rushed to the hospital, I remember worrying about a semifinal match I was supposed to compete in the next day. When I awoke from anesthesia, I no longer had a leg.
A terrible sense of shock set in when I realized what happened to me. I thought my life was over and I would never play soccer again. Despair set in, and my thoughts turned to suicide. The pain was so unbearable I wanted to end my life.
My sister took me for treatment at the National Rehabilitation Institute in Mexico City where amputees take up an entire floor. After eight months of recovery, they provided me with a prosthesis.
As soon as I tried it on, I felt like I came back to life. Being able to walk without the help of a cane filled me with immense joy. I knew I was going to be me again.
Being seen by others without a leg, walking on crutches, felt unfortunate to me. When I started using the prosthesis, I felt safe and complete. It was a huge emotional boost that completely changed my outlook on life and my self-esteem.
In that hospital, they rescued me in every way, and my physical and emotional suffering disappeared.
Returing to the pitch
When a soccer player loses a leg, it is as if the meaning of his existence was stripped away. I have learned, there are always options to move forward. For me, that meant returning to the pitch, kicking a ball, and competing again at the professional level, even without a leg.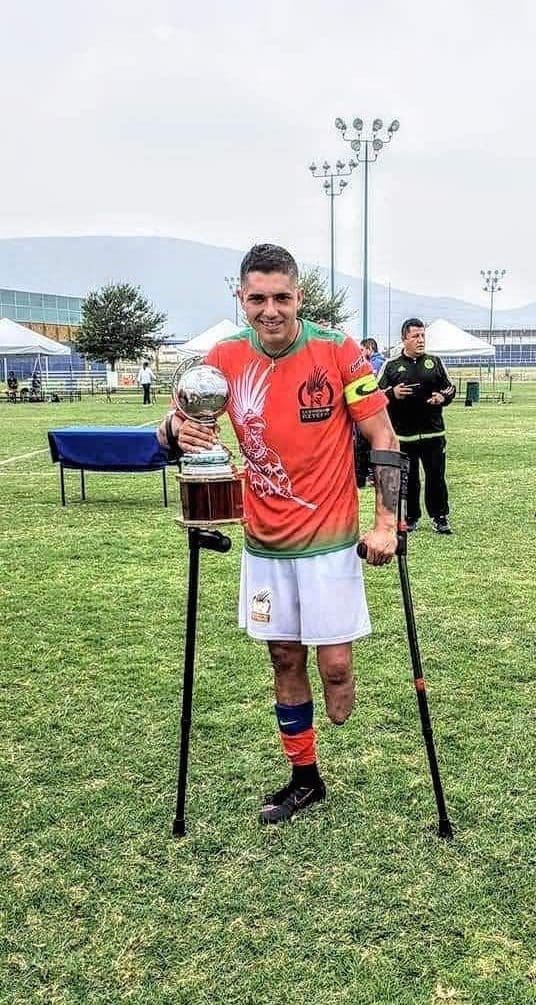 After the accident, learning about amputee soccer was a way to motivate myself. If I was going to like it, I needed to learn how to have fun with soccer again. Though I wasn't interested at first, I started researching the sport and soon became determined to give it a try.
I reached out to the coach of a team called Guerreros Aztecas. He told me I was welcome to come and train. This team is part of the National Soccer League for Amputees in Mexico, which is the highest professional level.
While there were many challenges to overcome in the early training sessions, when I felt the ball on my foot again, I knew I could play. It was like rediscovering the part of me that only exists playing soccer.
I made my debut in 2016 in one of the league's semifinal matches and from there, my career as a professional soccer player began again, but this time I was an amputee.
I became a key player and in 2017, I was called up to the national team. With this, one of my biggest dreams was about to come true. I was going to the World Cup!
I competed with the amputee soccer team in Mexico in 2018 and we finished fourth after losing to Turkey in the semifinals and to Brazil on penalties for third place. This World Cup has been the best experience I have had in my life.
Playing in front of more than ten thousand people, listening to the national anthem, and feeling the support of the crowd is something inexplicable. I will never forget it.
Ironically, if I still had my leg, I never would have made it to the World Cup. Life took me on a different path and after great suffering, I fulfilled my dream in a way I never expected. It is the best thing that ever happened to me in soccer.
Without competition, professionals turn to tricks in the streets
When the pandemic hit, everything stopped. They canceled professional leagues, closed the pitches, and we isolated, unable to train or play. In my case, the schools where I sold ice cream and popsicles were also closed, which left me totally without an income.
Some of my friends seeking to earn money began showcasing their skills at traffic lights. For a year, I have done the same – performing tricks with the ball while the traffic light is red. I work from 8 a.m. to 4 p.m. and earn between $15-20 per day. This is enough to support my wife and two daughters for now.
Beyond the money we earn, this work leaves me with a sense of satisfaction because spectators are impressed with what I can do with only one leg. Many people have told us they are motivated by seeing us and say that we are a great example of the effort and struggle to get ahead.
Soccer has given me work all of my life, and despite everything that has happened to me, I consider myself a happy person. Disability does not have to limit you; it all depends on you and how you want to live your life.
Translations provided by Orato World Media are intended to result in the end translated document being understandable in the end language. Although every effort is made to ensure our translations are accurate we cannot guarantee the translation will be without errors.
Pledge to be a #ConsciousCitizen today and demand #GlobalCooperationNow! by signing this petition. Sign Our Petition.