BUENOS AIRES, Argentina — One afternoon, I stumbled upon a photo that caught my attention while scrolling through instagram. A girl around my age shared her cancer story and urged people to seek medical attention if they noticed anything unusual in their bodies right away. Though I felt confident I had nothing to worry about, her words remained in my mind.
Months later, after one of my dance classes, I went on my phone to check my feed. The phone accidentally fell on my chest, and I felt a painful lump in my breast. I immediately thought of that girl's warning earlier in the year, and I began to panic. The next day, I went to see my doctor.
Read more stories from Argentina at Orato World Media
The diagnosis that changed my life forever
Initially, the doctor told me the lump was likely harmless, and would disappear on its own. A few weeks passed, and I noticed it grew, becoming visible through my skin. I felt my heart pounding, as I ran out of the shower to alert my boyfriend. Since our families live far away from us, we informed our close friends.
A few weeks later, I received my diagnosis. I had breast cancer. While the doctor explained my condition, it felt too surreal to process. It felt like he was speaking to someone other than me, while I watched from afar. The entire process happened so quickly. For days after, I went on autopilot. It took a lot of time to accept my diagnosis, but I managed to pull through and fight.
After I finished my treatment for breast cancer, however, I developed peripheral neuropathy which gradually caused loss of mobility in my right leg. It turned my life upside down, and I felt terrified of never dancing again. Determined to keep doing what I love, I obtained a robotic leg I can control through an app on my phone. In time, through this challenging journey, my robotic leg became a part of me. I have begun to regain my identity.
A love for dancing that never waivered
From a very young age, I would get home from kindergarten and immediately turn on the TV to watch Chiquititas, a program featuring young boys and girls in musical scenes. At just four years old, I leanred all the choreographies. I locked myself in my room and practiced in front of the mirror, laying out different costumes for each song on my bed. By taping a pen to a headband, I even created a fake headset just like the ones on TV. Every year, I performed for my family in the backyard or the dining room. I knew I wanted to be a dancer forever.
At eight years old, I started taking exams through the evaluation system of the National Dance Conservatory. By 16, I graduated and started competing at regional levels, even qualifying for tournaments abroad. In 2017, I became the runner-up in the Dance World Cup competition in the United States. It became one of my proudest moments in dance, along with an audition I did at the Gran Rex Theater. I could not believe I would get to stand on the same stage where the cast of Chiquititas had performed.
About 50 people auditioned. I stayed in my bubble, remembering every part of those shows that left a permanent mark on me. Those 15 minutes on stage felt like a dream come true. Dancing allowed me to express whatever was on my mind. Sometimes, when something happened to me and I could not find the right words to express it, I looked for music that spoke to me and helped me find the feeling I needed. Then I improvised, moving with the music and letting out my emotions through dance. It's a way for me to release myself.
Losing my leg, and having my life turned upside down
During my cancer treatment, I often danced to cheer myself up. I made it my goal to maintain as much normalcy as possible. Even if I only felt good for 10 minutes, I wanted to take advantage of it and do something I enjoyed, like dancing or hanging out with a friend. I did not sit around waiting to recover my strength. Some days I awoke and could not get up due to the pain and lack of energy. Other days, I awoke thinking, "If nothing hurts, I might as well get up and do something I love." I tried my best to live in the present moment and take advantage of every opportunity.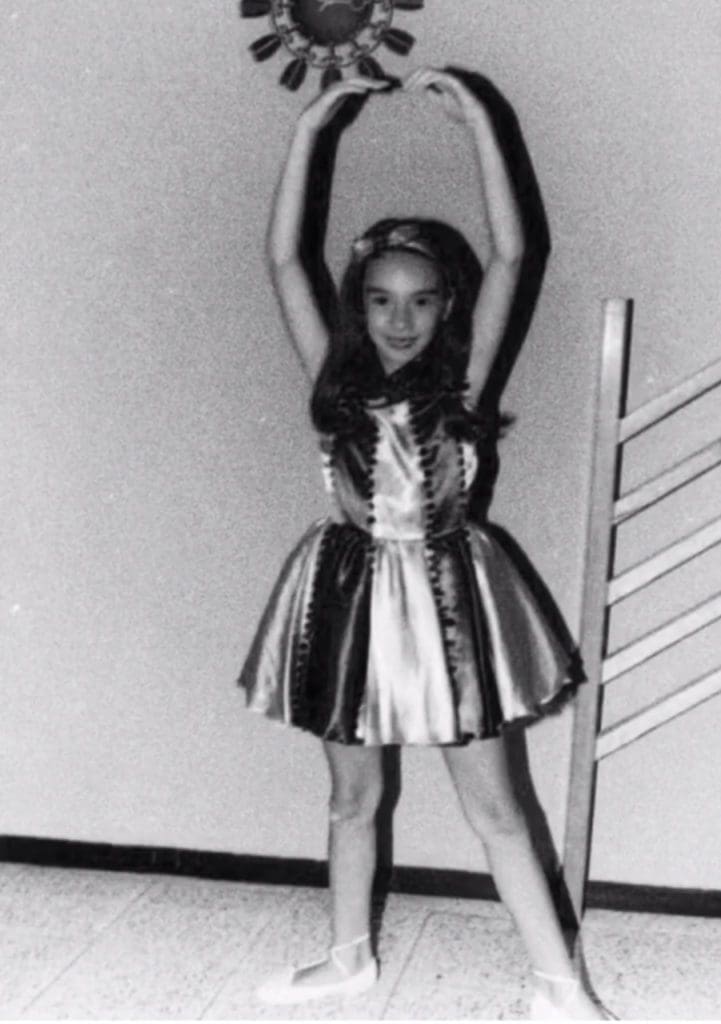 When I finished my treatment, I began to return to my normal life. Quarantine during the COVID-19 Pandemic made that much harder to achieve. I started taking virtual classes and dancing at home. Little by little, I started feeling strange sensations in my leg. I associated it with back or waist pain from standing for a long time, but the discomfort persisted for weeks. One day, I suddenly stopped my activity, feeling my leg weakening. I did not understand what was happening to me.
The doctors found my symptoms difficult to diagnose. Even today, they remain unsure of what caused it. They referred me to a neurologist, who told me I would never walk again and that I would need a wheelchair. The news devastated me. At first, I giggled nervously, but then realized the severity of her words, I nearly collapsed. At least with the cancer, there seemed to be an end date in sight. With this, it felt permanent. 
Getting a robotic leg and the return to dance
A few months later, I visited the orthopedics to request a repair on my knee brace. The kinesiologist showed me a new leg and explained I could participate in low-impact sports with it. I asked if dancing was an option, and he confirmed it was. After returning home, I registered for the next Dance World Cup online, not knowing what using that robotic leg would feel like. I thought, "If I have to choose a compass, it will be this one." Once the custom-made leg arrived, I felt a world of possibilities open up.
When I used it for the first time, I felt like I was flying. Walking became effortless, although it took some time to get used to. The system adapts to one's natural gait and configures itself accordingly. At first, it felt really challenging, but it eventually got easier and smoother. I started walking a little each day to get accustomed to it. Suddenly, I began regaining my independence, and it felt incredible. Only three months after wearing my new leg, I went on stage.
I enjoyed it like never before. After finishing the dance, I felt completely reborn. I ran to embrace my coach and friend. Dance felt like the missing piece to reconstructing my identity after so many hardships. While I accept there are things I may never do again, it still feels nice to acknowledge the things I can do. When I caress or touch my leg now, I cannot feel my own touch. Sometimes, I can feel cold or warmth. Other times it feels itchy, but nothing else. Sometimes my leg will begin to burn, and nothing provides relief.
Visibility and representation matters
One day, while taking a bath, I questioned why people with a prostheses, a leg like mine, or a catheter had little representations. While in the hospital for treatment, I saw many children with these medical problems and devices. I felt they deserved to be recognized. While I never sewed before, I began practicing and experimenting with different fabrics to make a doll to represent us.
My first doll did not look great, but I loved it. I worked hard to perfect it, creating a bunny with an orthosis on her right leg, just like mine. It moved me to see a little doll that was just like me, and I imagined that for a child with a hearing aid or an insulin pump, it would be even more powerful.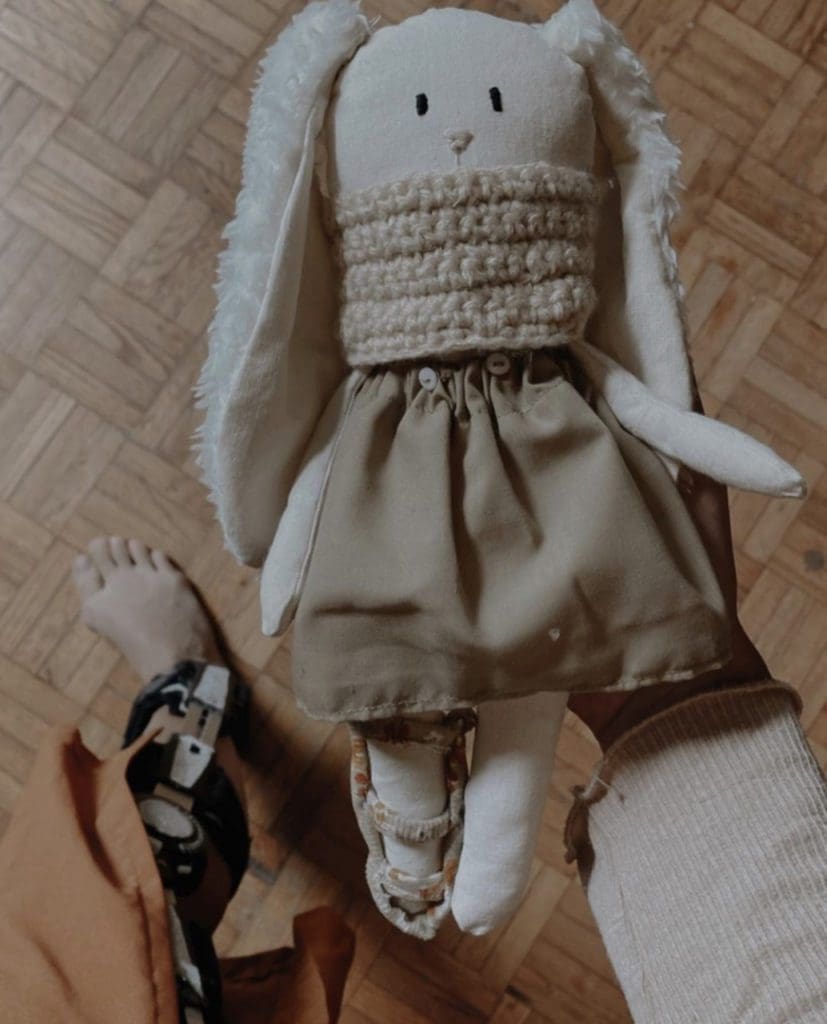 That's how my venture, Petit Moi, was born. I hope my dolls can bring joy into the lives of disabled children and adults. These dolls are not just objects to me, but a representation that feels vital. Disabilities and illnesses must be normalized and representing that diversity in dolls seems fantastic to me. My robotic leg is part of my body, and my environment now accepts it as part of me. They no longer see my leg; they see me. I want to achieve that acceptance for everyone, not just with their physical differences, but with all aspects of their being.
Translations provided by Orato World Media are intended to result in the end translated document being understandable in the end language. Although every effort is made to ensure our translations are accurate we cannot guarantee the translation will be without errors.
Pledge to be a #ConsciousCitizen today and demand #GlobalCooperationNow! by signing this petition. Sign Our Petition.