Sent to work at seven years old, she refused to be a child bride
As the third child, I feared my future might mirror my sisters'. The thought of marrying a stranger so young terrified me. When my uncle suggested sending me to work for one of his friends, I ached at the idea of being far away from my family, but I knew I had no choice. I was seven years old.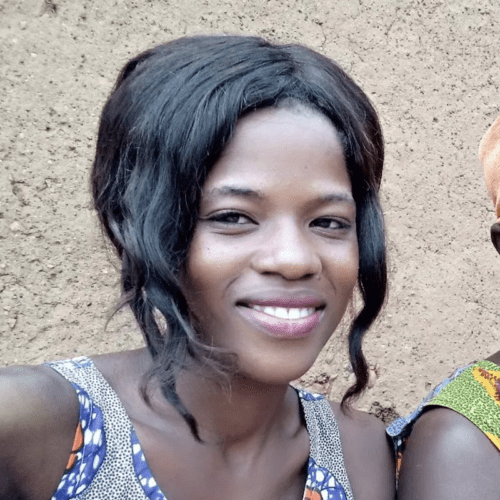 BOLGATANGA, Ghana — I grew up in a large, impoverished family of ten. We all lived together, huddled in a mud house. Whenever it rained, our refuge became a soggy mess. With no other option, we slept on the drenched floor, shivering from the cold. Our family became the subject of relentless gossip within our neighborhood, leaving us ostracized. The disdain felt disheartening. 
My mother, a child bride herself, tried her best to provide for us. She often borrowed more money than she could pay off just to ensure we had the bare necessities. As a consequence, people began avoiding her, fearful of the debt collectors who pursued her relentlessly. Every night, my mother's tearful sobs echoed in the darkness. The weight of our circumstances slowly broke her spirit. As I listened to her cries, I vowed to myself that I would do anything I could to fix things. 
Related: 15M girls worldwide become child brides annually, I nearly married at 9
With no other option, I was sent to work at seven years old 
As I grew older, I witnessed my eldest sister being sent to work as a maid. Lured by the false promise of support for her education, an aunt arranged her travel overnight. We thought the employer would care for her, but they did not. They overworked and underpaid her, and eventually she fled. She found herself living on the unforgiving streets of Ghana. Thankfully, someone helped her get home, but she ran away again when my father attempted to marry her off. 
My second sister faced similar trials, and her dreams of education soon faded. She dropped out of school due to an untimely pregnancy. As the third child, I feared my future might mirror my sisters'. The thought of marrying a stranger so young terrified me. When my uncle suggested sending me to work for one of his friends, I ached at the idea of being far away from my family, but I knew I had no choice. I was seven years old. 
Every morning before the clock struck 4:00, I woke up. I cleaned, cooked, and cared for the children. This hectic routine left me little time for an education. As I worked, I heard children playing outside and yearned to join them, but I knew I needed to earn money for my family. It all felt so unfair. "Why is my family different from others," I wondered. Robbed of a childhood, I fell ill and had no one to nurse me. Often, I laid alone in bed, longing for my mother's warmth. 
Overworked and alone, I dreamed of another life 
I rarely ever rested, and work took precedence over my well-being. Eventually, my employer allowed me to go home to ask my parents for school fees. My mother looked surprised. She thought my employers covered my education. When I told her what I did every day, she decided not to make me go back. Instead, she enrolled me in the local community school to complete my studies. The opportunity to finish my secondary education overjoyed me. 
In time, as my parents lacked the funds for me to continue, my father felt pressure from the community to marry me off. It would allow a husband to take over caring for me. The thought of it terrified me. I witnessed the impact of early marriages on the women around me and had no intention of going through with it. I started working odd jobs here and there for an entire year to save up for my university tuition. 
When an opportunity arrived at a bank in my village to promote group loans, my aunt signed us up under her name. It allowed us to make the money we needed for my schooling. The moment felt surreal. "Was I finally going to break the cycle of poverty we seemed trapped in," I asked myself. I felt determined to change things. 
I became the first person in my family to ever hold a degree
Being away from home at university proved challenging. I struggled to cover my daily expenses, often skipping meals for days. I tried my best to persevere, even when I felt so close to giving up. My focus paid off in the end. On the day I graduated, I remember feeling like I was walking through a dream. I called my mother to tell her the good news, and we both cried. Adrenaline coursed through my entire body as I informed everyone I knew. 
People who never thought I would make it were now in awe of my achievement. Everything I have accomplished I did for my mother. I wanted to show her there are other paths in life. Even though child marriage has become less common in Ghana over the past three decades, regional disparities persist. I think of all these women whose lives stopped short due to social pressure, and I pray for their happiness and safety. There needs to be more opportunities for women in my country to get a proper education.
Back home, my siblings began to follow in my footsteps and attend university. Reflecting on my journey, I find fulfilment in mentoring young girls and giving back to the community. I am currently a General Assembly member of ActionAid Ghana and a team leader at the Young Urban Organization, where I continue to make a difference. I aim to encourage girls worldwide to continue going after their dreams.
Translations provided by Orato World Media are intended to result in the end translated document being understandable in the end language. Although every effort is made to ensure our translations are accurate we cannot guarantee the translation will be without errors.
Pledge to be a #ConsciousCitizen today and demand #GlobalCooperationNow! by signing this petition. Sign Our Petition.