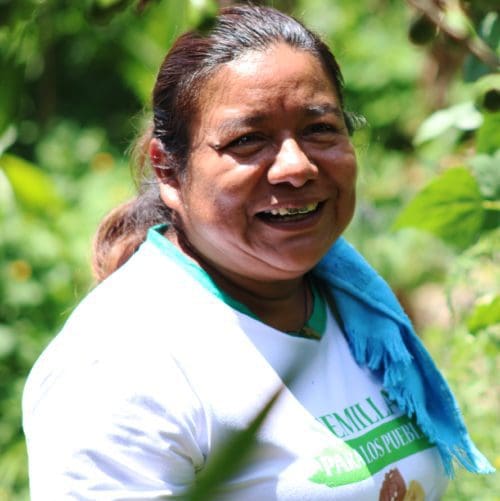 SANTA CRUZ MICHAPA, El Salvador—From the moment I pick up my tools and prepare the land, motivation fills me. It is difficult for me to describe what this feeling entails, but it is as if my passion whispered in my ear that everything will work out.
Whether under the scorching summer sun or in the cold winter wind, there is no other feeling like embracing the fertile environment with its intense smell of damp earth flowing through the air. Nature has that ability to fill you with life. I feel a strong responsibility to respond to the environment by working with organic alternatives to grow crops without chemicals.
Discovering a love of agriculture and learning
As a child, I did not have any special fascination for agriculture. My whole family has worked in farming since I can remember, but the act of working the land gave me allergies. I collaborated from my trench, taking care of them by making food.
My mother's motivation and the needs of our home slowly engaged me in the world of crops. As I learned its ways, my interest also grew.
When I turned 22, I felt so intrigued that I began to look for ways of learning new things. With the help of workshops organized by the Archbishopric of San Salvador through the Pastoral de la Tierra, my fascination for this world bloomed.
I was always at a disadvantage as I did not have the opportunity to go to school. I didn't know how to read or write, so when I started receiving training, the only way I had to retain that information was to memorize it and practice it as much as I could.
My desire to learn was so great that I began to teach myself how to write. Usually, I would make up scribbles and lines that only I understood, but they helped me organize my ideas.
I began school when I turned 30 years old; by then, I had been learning about organic farming methods for eight years. My desperate need to learn had me studying in the capital every weekend. I managed to get to sixth grade, and that was it.
I learned a lot thanks to school, including how to read and write. However, most of my personal development took place in Pastoral de la Tierra, where I learned to value myself as a human being, express myself, and, step by step, overcome my shyness.
As confidence grows, so does passion for teaching others
I fell in love with teaching when I saw firsthand its ability to transform living conditions. It feels intimate to witness how a crop grows when someone gives it their time and effort until it bears fruit.
I feel fulfilled when someone asks me for help to lead a training or course, and when other institutions take me as a reference to train in other communities.
It is even better when I see that people put my teachings into practice and that they are intrigued to keep trying.
Turning toward the organic home garden during COVID-19
The mandatory COVID-19 confinement decreed by the president of El Salvador negatively affected our community; we had very limited outings, and the closure of markets prevented us from buying food and supplies for cultivation.
That is why a local women's development association (AMFODIC) proposed training for our community's women to grow their home gardens.
From the start until the reopening of the markets, we trained about 15 women who already have their home gardens. We insist on organic supplies because we know the damage that agricultural pesticides and fertilizers can do to the environment, the land, and people's health.
Companies and even other farmers look down on the organic crops we grow, because they require a lot of preparation and perseverance. They also need more care compared to crops that receive chemicals sprayed once every 15 days. The difference is that the chemicals can poison people, reduce the nutrients in the earth, and damage the environment.
Issues like diabetes, kidney failure, and asthma abound so much, partly as a result of people not knowing what they consume. We, however, have full control over the health of the food we put on our table.
I would love for everyone to grow organic crops. It's the responsibility of all humans to preserve the earth, the environment, and, of course, our health.
All photos by Luis Rivera

Translation Disclaimer
Translations provided by Orato World Media are intended to result in the end translated document being understandable in the end language. Although every effort is made to ensure our translations are accurate we cannot guarantee the translation will be without errors.
#GlobalCooperationNow
Pledge to be a #ConsciousCitizen today and demand #GlobalCooperationNow! by signing this petition. Sign Our Petition.
Luis Alejandro Rivera Pérez is a journalist with extensive experience in politics, community development, environment, and local economy.  A graduate of the University of El Salvador, he has been a host, announcer, editor, cameraman and director of communications throughout his career, working for international media as a freelancer and for NGOs focused on community empowerment and development.