NEW DELHI, India — Kaziranga National Park is a world heritage site in India's northeastern Assam state.
Famous for its rare one-horned rhinoceros, it is also home to many wildlife, including tigers, panthers, elephants, and dolphins. Migratory birds visit its forests all through the year.
Sadly, rampant poaching, annual floods, and plastic pollution have devastated the habitat of Kaziranga National Park.
In 2004, I took matters into my own hands. I could neither stop the flow of water nor stop the vicious poachers, but I could try to transform the plastic waste into something useful.
I decided to make the plastic littering the lanes of my neighborhood and the park into traditional handloom products. That is how Village Weaves was born.
An environmental crisis
The Kaziranga National Park is visited by millions of tourists each year from India and throughout the world. A major tourist attraction, people, generate a massive amount of plastic waste in and around the park and at tourist lodges, hotels, and restaurants.
Local and international visitors leave behind heaps of garbage. They throw plastic waste everywhere without thinking about how their harmful leftovers create a climate crisis and threaten our diverse flora and fauna.
I live with the environmental problems created by litter, from pop bottles and food wrappers to plastic bags. Despite a ban on littering, plastic waste is a disturbing sight. The disposal is complicated.
Burning these plastics releases black carbon, which contributes to air pollution. Carbon not only hurts people and the environment, but it can also have a lethal effect on animals.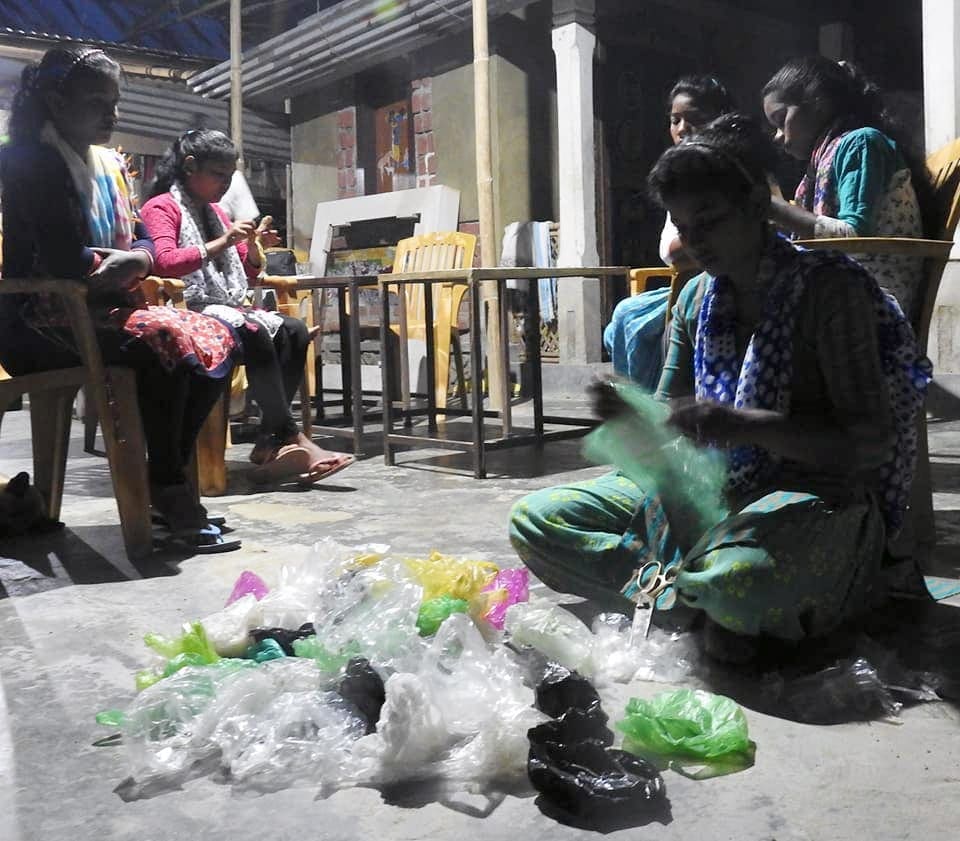 Plastics are killing our wildlife
If a person or company releases plastic waste in a river, pond, or lake, the animals in the park drink polluted water. When microplastics end up in the water, it degrades the water quality with toxic compounds and often damages the internal systems of the rhinoceros, tigers, elephants, and birds.
Sadly, we often see wildlife mistake plastic for food. Wild animals even rummage in the garbage around the park, encountering toxic plastic waste and sharp objects flung into the bins.
Plastic bags suffocate animals, and when they ingest the plastic, they develop internal complications that result in their horrific death.
Every year during the monsoon season, the flood ravages the park. Hundreds of animals die despairingly as massive floods destroy their habitat. While many animals are washed away along with the strong current of the rivers crisscrossing the park, some wild animals come out of the forest to seek refuge in the hilly areas.
They consume the plastic lying around and die a slow and painful death as they cross the village.
Indigenous women use indigenous techniques to transform plastics
Seeing this crisis first-hand, I decided to help clean up nature, rid the Earth of waste, and reduce the impact of staggering amounts of plastics in the Kaziranga National Park. I planned to integrate the plastic waste with cotton threads to weave different products on a primitive handloom.
I come from a humble background, so I did not have enough resources to procure expensive machines. Due to the lack of equipment, it was not easy to convert plastic bottles into anything useful. So, I decided to use plastic bags instead.
Women in my village do not have a good education and cannot obtain regular jobs in an office or a firm, but they have plenty of unique skills. I made the decision to help them hone their skills and earn a livelihood.
These women are bonded to the patriarchy and serve as unpaid labor. They depend on their husbands or families for almost everything. So, if they earn a living, they could become independent, empowered, and better represent themselves.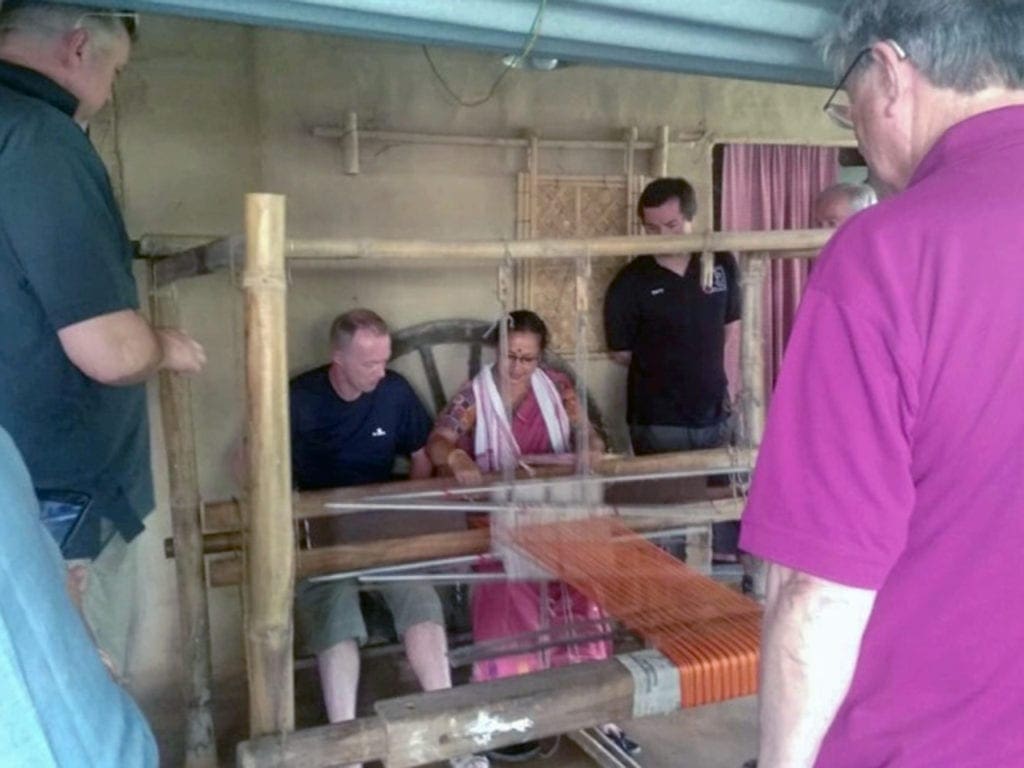 Village Weaves was born in 2004
From grocery shopping, we get a lot of plastic bags. Many toss the trash outside their compounds, or they burn it in the open. Bags are strewn everywhere.
Along with women from Village Weaves, I gather the plastic bags left behind by the tourists and locals and wash and dry them manually. The bags are cut into strips using a pair of scissors. They are then tied by hand from end to end to make one long thread.
The cotton thread is woven vertically on a traditional handloom, and they make horizontal weaves using plastic thread.
We create a durable and pliant fabric ideal for environment-friendly home decorations and craft products through our indigenous technique, including handbags, doormats, table mats, and wall hangings.
We work on handlooms because almost every woman in Assam knows how to weave clothes. However, since they lack exposure, they need ideas on what type of clothes to weave.
Helping women overcome obstacles to empowerment
The women are expert knitters and stitchers, but they lack communication skills. They have language issues and do not speak Hindi well. English is beyond their comprehension. I try to remove the roadblocks and help them find greater joy in life.
To do this, I impart communication skills so they are confident enough to promote their products themselves. I hold workshops to teach the ladies how to mix plastic with cotton threads and save the environment.
From creating designs to color combinations, I share my expertise to enhance their creative process. I train the women in the technical aspects of production too, and I do the marketing of their end products to sell their products through Kaziranga Haat, a gift shop I established in 2012.
I take care of delivery to foreigners and locals who buy the recycled products for personal use from the outlet at my home to buyers abroad who pre-order online to sell the unique products to their clientele. This way, the women can solely focus on collecting the trash and turning it into marketable goods.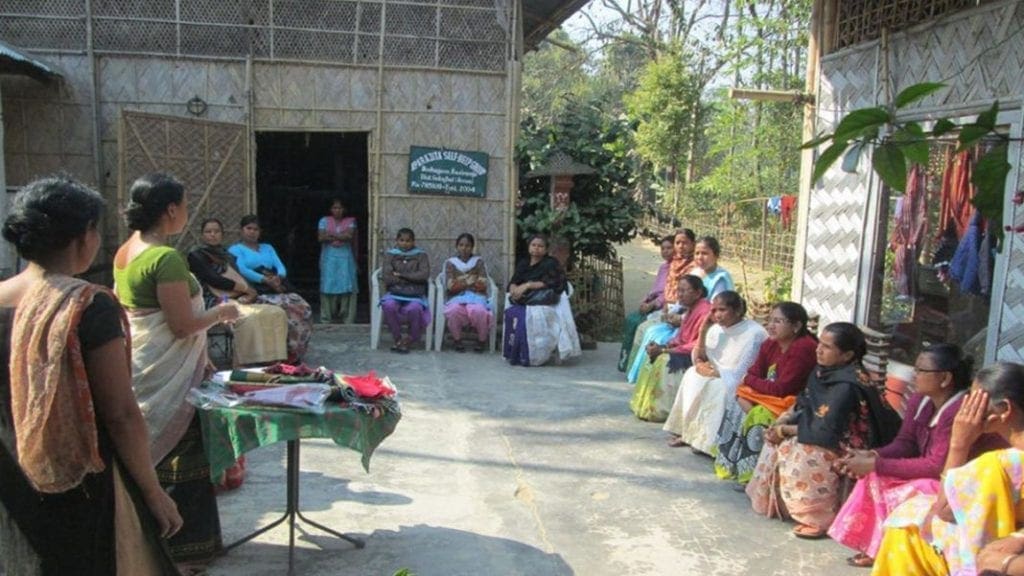 Women are earning and making progress
For the past 17 years, Village Weaves has helped empower more than 2,300 women across 35 villages in Assam.
Women in villages have traditionally been homemakers. Married in their childhood, cooking meals four times a day, taking care of the elderly, keeping the house in order, catering to the needs of their men and children, and providing clean clothes to their family members defined their existence.
They lived inside the four walls of their homes, and their movement was restricted. They could not venture out of their homes in the evening, so they could not think about earning money. Financial independence was an alien concept.
Now, women have gathered the courage to break these social confines to find their true identity through Village Weaves.
By earning and supporting their families, they are more confident and aware of their potential. They are uneducated, but they are sending their children to schools. They respectfully earn 200 rupees ($2.70) a day from no income and look enthusiastically toward a brighter future.
Hurdles remain as progress continues
While locals and tourists encourage us, the establishment is cold regarding our efforts.
We are not running a business. The success of a company would prompt industries to produce more plastic. Our motive is to recycle plastic and clean the environment. Village Weaves is a social initiative.
We do not buy plastic from shops. We collect it from our households, our neighborhood, or the vicinity of the Kaziranga National Park. Collecting, cleaning, and producing recycled products takes nearly a week. It is time-consuming and requires a lot of labor.
We cannot shift to modern techniques because of the financial crunch we experience and because women do not know how to operate machines. That is why we can only reuse plastic bags, not plastic bottles or cups.
Despite our best efforts and the ban on plastic wastes, the consumption of plastic is only increasing.
We cannot stop the industries from producing non-biodegradable plastic, nor can we prevent the tourists from creating heaps of garbage, but we can reduce it by reusing it.
Translations provided by Orato World Media are intended to result in the end translated document being understandable in the end language. Although every effort is made to ensure our translations are accurate we cannot guarantee the translation will be without errors.
Pledge to be a #ConsciousCitizen today and demand #GlobalCooperationNow! by signing this petition. Sign Our Petition.