Granddaughter of Holocaust survivors becomes rabbi in Argentina
When my name was announced, my heart swelled with happiness and pride. I was making history without meaning to.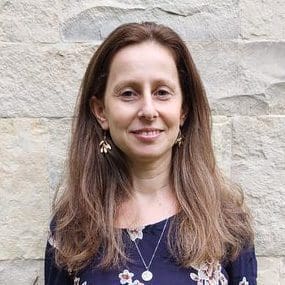 BUENOS AIRES, Argentina—My name is Deborah Rosenberg. I recently became the first ordained female rabbi at the Marshall T. Meyer Latin American Rabbinical Seminary in the last five years, and the 13th in its 60-year history.
My journey to ordination
By the time I was a young teenager, I was already participating in temple life. Over the years, I wanted to continue deepening my studies in Judaism and decided to pursue a Master's degree in Judaic Studies and Philosophy.
My journey to ordination was typical, but I was the only woman. Over the years, I developed and practiced my skills in front of the temples and institutions. I would also train boys and girls for their bar mitzvahs and bat mitzvahs. That role, in which I walked alongside and helped educate young people, filled my soul and drove me to continue training.
The formal process took five years of additional study at the seminary, including a semester in Israel. The pandemic striking in March 2020 prompted me to give my all the last year of training.
Because of the pandemic, I was ordained via a Zoom ceremony in August 2021. When my name was announced, my heart swelled with happiness and pride. I was making history without meaning to.
I expect more women to follow my path, which many others have already paved.
The legacy of my grandparents, Holocaust survivors
My paternal grandfather Mario Rosenberg was an Auschwitz survivor. In the Warsaw ghetto, he lost his wife, his daughter, and his mother.
I still remember the numbers he had tattooed on his arm. I once asked him what they meant; my grandfather replied that it was his phone number. From his expression, I could tell that this story was not the truth. In his honor, I need to keep alive the memory of what he went through.
My grandfather passed away when I was 16 years old. Around the same time, "March for the Living" began to take place, where people from all over the world demonstrated in the most iconic concentration camps. The name contrasts with the forced evacuations of prisoners from the camps in late 1944 and 1945, called death marches.
To attend one of these memorial events is one of my greatest goals.
The place of women in Judaism
I belong to the conservative Judaism movement, as opposed to the orthodox. While we cherish tradition, we also recognize modernization of our laws and religious practices. Within this ideology, women are gaining more presence and participation every day thanks to laws that are evolving to make them closer to our daily lives.
As for the rabbinical role, women are exempt from fulfilling certain ceremonies, but not excluded.
My message to women is that we have to follow our passion regardless of the circumstances. Women must have the right to act freely without having to be concerned about the reactions of others; this is how we will reach leadership positions. This paradigm must apply both in religion and elsewhere.
In my case, I am a 42-year-old woman with a daughter and a husband. Still, I was able to fulfill my dream of passing on my knowledge and love of Judaism. After I got married, while I was studying, my husband and I discussed dividing up tasks at home. Thanks to that, I was able to continue my studies.
Translations provided by Orato World Media are intended to result in the end translated document being understandable in the end language. Although every effort is made to ensure our translations are accurate we cannot guarantee the translation will be without errors.
Pledge to be a #ConsciousCitizen today and demand #GlobalCooperationNow! by signing this petition. Sign Our Petition.