BARRANQUILLA, Columbia — I participate peacefully in demonstrations in my city as a student and artist. Sometimes, it puts me in danger.
I have been involved in violent situations, where shots grazed my head and more than one colleague was injured.
I express myself through art. My weapons to confront inequality, violence, and unemployment are aerosols, paints, brushes, and rollers.
I go out to the marches and, whenever I can, I leave my artistic mark on a wall in the city but I don't believe in violence or aggression. I express myself through my art and I participate in protests to be heard.
All of us who protest in Colombia unite for the same reason: to create a better country.
Art key to protests
On May 15, students from Fine Arts of the Universidad del Atlántico and cultural groups participating in the Barranquilla Carnival concentrated their energy in the Casa del Carnaval.
We marched to the Sagrado Corazón Park in the north of Barranquilla.
Among us, the LGBTQIA+ community and feminist groups peacefully expressed their dissatisfaction with the government of President Iván Duque.
On tour, the protest manifested through dance and folkloric rhythms from the Colombian Caribbean.
The next day, dozens of people met on the main road north of Barranquilla and painted streets in the sector.
Music, friendship, colors, food, and hope all merged into a union where we tried to explain to the world the situation in Colombia.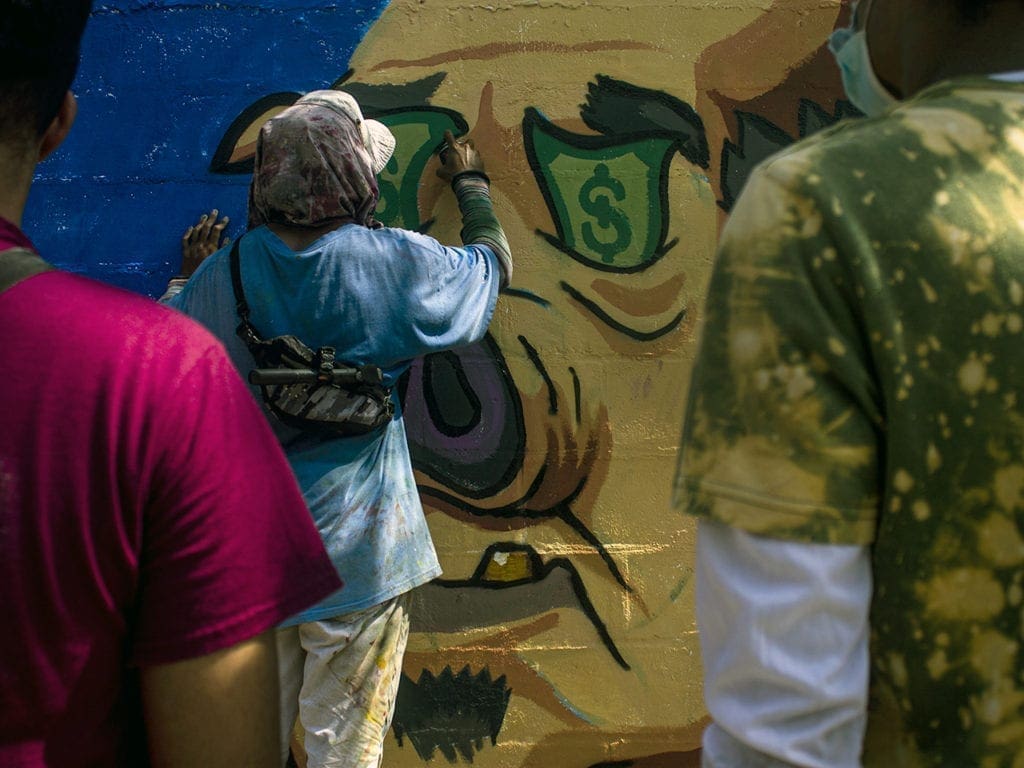 Violence too common
Unfortunately, acts of violence are commonplace in these mobilizations in the different cities of the country.
In the marches, I have come across infiltrators: individuals who do not belong to the strike and who come to generate bad publicity for the protest.
I have received death threats and insults from infiltrators, who try to encourage riots so the government will accuse us.
I have seen them break things and hit people when everyone else was protesting peacefully.
We call them infiltrators because nobody within the organized groups knows them.
When the riots begin, the police react, and they disappear, leaving us defenseless.
Not scared
It doesn't scare me. My goal is to show the world that we march peacefully for a better future for ourselves and the next generations.
I will continue to cover the city with art in each protest to express myself without violence against the attacks we endure.
In the same way, I feel the support of the citizens, and that is gratifying.
The people help the people.
On days of protest, the oppressive heat can be a major enemy. Temperatures rise rapidly, and the asphalt kicks up a hugging wave in Barranquilla.
Citizens who do not attend the marches due to COVID-19, or for any other reason, provide us with food and water on each of the protest days.
Why do we mobilize?
We express our thoughts against abuses by the authorities and human rights violations in the country.
Thousands of young people raise their voices due to unemployment, lack of education, and lack of opportunities for young people to have a better quality of life.
In my case, I remember when I was studying at the Faculty of Fine Arts at the Universidad del Atlántico, and we had to stand in line where only 30 lunches were available (we were a total of 300 students).
It was painful. Sometimes we didn't have enough to pay for a plate, and 30 lunches weren't enough. We could not have a decent meal, and several times, I spent the day on an empty stomach.
In addition to the lack of resources for higher education, Colombia has neglected the state of the neediest populations.
Therefore, I ask for solutions and live with dignity regardless of the social space in which we are.
The artistic union also raises its voice
In addition to touring the main streets of Barranquilla, I also take part in artistic demonstrations.
I am part of these spaces with my friends, designers, photographers, illustrators, and graffiti artists. We carry out commemorative events and staging to express ourselves with banners, dance, folk music, and graffiti.
During the activity, which lasts hours, the intervention of murals is also carried out, located in strategic points of the Atlantic capital.
My struggle continues, not only as a citizen but as an urban artist.
From my position, I raise my voice to demand from the local government more support for artists, more spaces for culture, and the necessary investment in the city's museums.
Translations provided by Orato World Media are intended to result in the end translated document being understandable in the end language. Although every effort is made to ensure our translations are accurate we cannot guarantee the translation will be without errors.
Pledge to be a #ConsciousCitizen today and demand #GlobalCooperationNow! by signing this petition. Sign Our Petition.