Autistic boy in Argentina fights for inclusion, reaches 100,000 followers
Looking into someone's eyes makes me uneasy, and there is a reason. One day, I told my mom, "If I look into your eyes, I spend a lot of energy. I don't want to do it; I hear you but I can't look at you."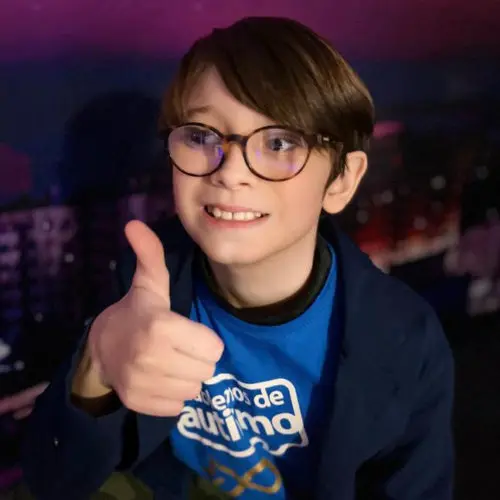 BUENOS AIRES, Argentina — At 10 years old, through my social networks, I fight for inclusion for autistic people. I am autistic child who talks about autism. Sharing my experiences through my social media, and I already exceeded 100,000 followers on my Instagram account, and the Deliberative Council of La Plata declared me a young man of promise.
Read more stories from and about Autistic people and individuals with disabilities from Orato World Media.
Beyond social media, I gave lectures in Mexico and helped companies like Disney evaluate adapted musical works. I study four languages, love Tedx talks, and read anime. My greatest inspiration is Swedish environmental activist Greta Thunberg. I want to build a truly inclusive world.
It was the three of us against an unkown world
I did not say a single word until I was three years old. One afternoon, when my mother (Marlene Florencia Spesso) picked me up from therapy, I began to repeat dialogues from commercials I saw on television. She took me to another specialist who, after one session, wrote down on a piece of paper, "He presents signs of Autism Spectrum Disorder."
My mother felt upset. She searched for other opinions, but they all repeated the same diagnosis. I wish I had someone like me back then to tell me what was happening. Often our first reaction comes in the form of denial. The path ahead looked uncertain.
My mother and Rodrigo, her partner and my dad by heart if not by blood, embraced me. I remember that heartfelt, tight hug. It was the three of us against an unknown world.
Education proved to be a challenge for me and the first school my mother looked at disappointed us. They did not accept me because of my Autism. We looked for another place.
Setting out to show the world my autistic life
In time we discovered that acting gave me tools to help me with relationships. I take musical comedy classes at an institute that, despite not being adapted, understands my unique requirements. For example, they use raised hands as a sign of applause, avoid noise pollution by working in silence, and give me my own development time without pressure.
The second tool I use is horses. Since the age of six, I have attended the Alma Mía center for free where I receive equine therapy. During the first year, I simply walked next to the horse. By the second year, I got on it, and by the third year, I rode. I love animals.
At five years old, I talked of becoming an influencer. In my own way, I did it by producing "The Life of Ian." I created a series of videos seeking inclusion for neurodivergent people. In one of my videos, I say, "Today we are going to talk about sensory overload." I illustrated the idea using a balloon. I came up with completely innovative ways to express my life and used the resource of dramatic composition.
People with autism can be hypersensitive to sounds and smells. When I hear a dog barking while I'm doing something, it almost completely paralyzes me. I yell and go to one end of the room until I calm down. Then I ask, "What is that noise?"
This inspired me to record a video on Instagram explaining, through an exploding balloon, how loud noises can produce what I call a "meltdown." I think it's important for people to know how to act when an autistic person experiences a meltdown.
I am not a sad boy sitting alone at a window
Frequently, I encounter exclusion. My parents had to go to my school to speak with the principal about the need for adapted sports for people with autism. [The school did not automatically take this on. It had to be advocated for.]
Likewise, a teacher once threatened me. She said she was going to record me when I have an attack or a meltdown and upload it to social media so everyone knows the real Ian. This caused me great fear.
I like making friends but find it hard to do so. As a result, I often draw to express myself. I get along well with the friends I have, but often face issues with teachers.
Looking into someone's eyes makes me uneasy, and there is a reason. One day, I told my mom, "If I look into your eyes, I expend a lot of energy. I don't want to do it. I hear you but I can't look at you."
Through my social media and activism, I get to show you what happens to me. You get to see how I only understand the literal. When you search for autism on the internet, the first thing you see is a sad boy, sitting alone by a window. Is that me? Do people see me like this? The answer is no, I am not like that.
Reimagining society and overcoming challenges
My interest remains in activism, and I dream of being the influencer of the year. I want to be an actor in a play adapted for people with autism and performed by a cast entirely of actors with the same condition. Furthermore, I want to change the world by incorporating inclusive plazas and silent spaces.
My world is the same as yours, but I feel differently. I want an inclusive city with adapted spaces for boys and girls with neurodivergence. You can't change people with Autism, but society will have to change its inclusion criteria.
Society forces us to follow guidelines without understanding that a single rule cannot be applied to everyone. Each person perceives it in their own way. I will leave with you this thought. Every time we come across a challenge, we should imagine a door and go through it. This is what I do and, in this way, I overcome my challenges and leave them behind.
Translations provided by Orato World Media are intended to result in the end translated document being understandable in the end language. Although every effort is made to ensure our translations are accurate we cannot guarantee the translation will be without errors.
Pledge to be a #ConsciousCitizen today and demand #GlobalCooperationNow! by signing this petition. Sign Our Petition.