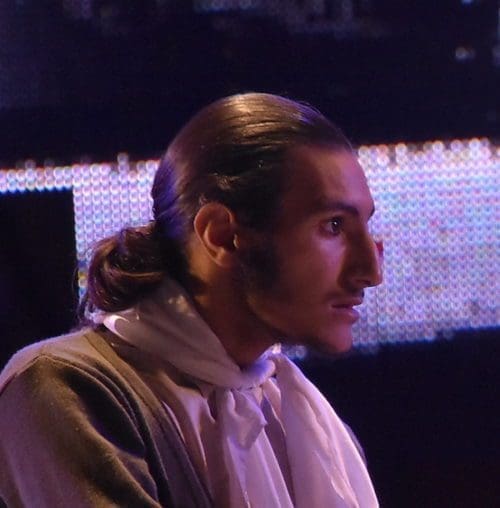 COSQUÍN, Argentina — Recently, my brother Ezequiel and I won the award for Best Stylish Dance Couple at one of Argentina's most traditional and important folklore festivals, but in doing so, we sparked a huge controversy.
At the Cosquín Festival, adrenaline filled my body as I moved to the rhythm. We danced "La Cueca de Los Amantes" as our first choreography, and I did my best to be present in the moment. At the end of the song, my brother and I kissed on stage. For days, the spotlight shined on us, overshadowing our craft as dancers.
Read more exciting dance related stories at Orato World Media
Performing for thousands, and the controversial kiss
As an artist, I believe the audience plays a crucial role. When I step on the stage to perform for two people or two thousand, I remain in constant communication with my audience. I pay attention to their reactions and involve them in the art.
At the Cosquín Festival, although we made it to the finals for the second year in a row, I never thought we had an actual chance at winning. I felt incredibly nervous the entire time. Some people said, "This could be your year." My brother and I created a bubble around ourselves, focusing solely on the performance. 
Our first choreography included a short kiss a couple minutes into the dance. When I looked out at the audience, I noticed varying reactions. Some people seemed surprised, while others looked at us disapprovingly. After finishing our second choreography, inspired by "La Colifata," a mental health institution, we took a moment to breathe.
I turned to the audience, and took it all in. The stage looked magnificent and grand, and faced a vast square filled with thousands of people. The lights made it difficult to focus on individuals in the distance, but we felt their presence. The applause, the signs, and the encouraging cheers filled the entire venue, and it felt incredible. 
The image of the brothers' kiss sends shockwaves through the nation
At the festival, few people attended specifically to see us. Most of the audience came to see certain bands or soloists who would later perform. Yet, from start to finish, we made ourselves known and captivated the audience. Though the pressure felt intense, I remained confident in our abilities. Prior to the show, we rehearsed constantly, which took a toll on our bodies. We pushed past the pain and sore muscles. For us, it served as a reminder of our passion.
When we finished our performance, we felt relieved and accomplished. Even though the judges had not yet made a decision, we felt like we already won. When they announced the results, it felt like a dream. Yet, it remained bittersweet because the winning competitors became ineligible to compete for the next five years. We made our peace with it, and said goodbye to that particular stage. We journeyed back home to Berazategui in Buenos Aires.
When I awoke the next day, I sat down with my brother for breakfast. Despite feeling exhausted from the previous night's performance, I checked my phone, which buzzed incessantly. My heart swelled with pride as I read the notifications, including one from the festival's official account congratulating us on our achievement. Then, as I scanned through social media, I noticed the image of our kiss being used by outlets across the country. The comments ranged from supportive to scandalous. Some even suggested incestuous undertones. I could barely believe the amount of attention our performance garnered. It made me feel uncomfortable and anxious.
Eliciting strong feelings from the audience is the work of an artist
While the attention felt strange, we quickly realized it presented an opportunity to explain our artistic vision and to share a message. Determined, we embarked on a two-week tour of radio and television shows. At first, we shared trepidation, unsure how we would be received. It felt amazing to be given a platform to express ourselves. At the same time, it felt disappointing to see that controversy arose simply because two men kissed in a performance.
I thought society had evolved past that point. However, I reminded myself, in another time period, we would not have done it all, much less talked about it afterwards. It felt like a chance to start a discussion. We began to tell our story.
My brother and I wanted to take on a stylized couple's dance at the Cosquín Festival and I could not find a trustworthy partner, which requires years of consistency and discipline. My brother and I looked at each other and made the decision to be partners. Living together at our mom's house made planning easier. My brother introduced me to a dance he liked, "Sin Palabritas," which we combined with the work of the poet Julio Cortázar. 
We wanted the viewer not only to see choreography and listen to music, but to see two men telling a story – to transport them in time to an image of a room at night. In this case, we showcased the 1950's rebellion to accept homosexuality. We wanted to take the viewer back to that era. We believed if someone felt uncomfortable, or if they were compelled to express themselves about what they saw, we did our work as artists. 
A journey towards freedom and self-expression
I owe much of my success to my mother. At barely 10 years old, she took me to my first dance class. At the time, I felt angry and resentful about it, convinced dancing was only for girls. I believed my destiny remained in the soccer fields. I stepped reluctantly through the door and as time went on, something stirred within me. I fell in love with the art of dancing. I met new people, discovered new things about myself, and realized dancing brought me immense joy and fulfillment.
I devoted more and more time to my craft, certain I found the right path in life. Dancing makes me feel alive. I feel like my most authentic self on a stage, lost in the movements. There is nothing in life I can recommend more wholeheartedly to people than to find release through art. Whether I am feeling joyful, angry, or sad, I can fully express it all on the dance floor. It creates no limitations and offers the opportunity to let go of everything else.
The best part about it is getting to share that love and passion with others around me. Whether I am the dancer, or the spectator, I feel completely lost in a trance. 
Translations provided by Orato World Media are intended to result in the end translated document being understandable in the end language. Although every effort is made to ensure our translations are accurate we cannot guarantee the translation will be without errors.
Pledge to be a #ConsciousCitizen today and demand #GlobalCooperationNow! by signing this petition. Sign Our Petition.