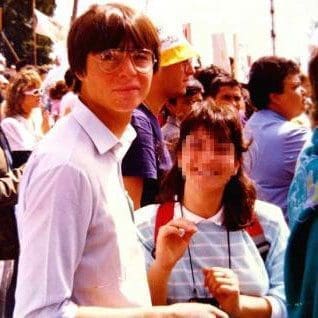 CORDOBA, Argentina ꟷ Era un sábado como ningún otro. Decidí contarles a mis hijos sobre el abuso que soporté de un sacerdote católico cuando era adolescente.
Me acerqué a la habitación de mi hijo Pablo y llamé a la puerta antes de entrar. Se sentó en su escritorio frente a su computadora. Nos rodeaban carteles de equipos deportivos. Sentado en su cama, solté: "¿Viste lo que le pasó al amigo de Agus?"
Dos cosas me impulsaron a contar mi historia por fin. Me sorprendió cuando la cobertura televisiva reveló que el actor Juan Darthes abusó de la también actriz Thelma Fardin. Al mismo tiempo, mi hija Agustina había estado apoyando a su amiga que sufrió abuso.
En la habitación de Pablo agregué: "Yo entiendo [al amigo de Agus] porque me pasó a mí".
Comparte su historia con sus hijos antes de hacerlo público
Para apoyar a alguien, a menudo decimos "Entiendo cómo te sientes". Esta vez, sabía exactamente los sentimientos que soportaban estas mujeres. Decidí no solo contar mi historia a mis hijos, sino también al mundo.
Mirando a los ojos de Pablo, continué. Siempre puedo ver lo que siente y si me entiende o no. Lo mismo ocurre con mis alumnos cuando enseño, pero este era mi hijo. Lo que dije, lo que compartí con él, de alguna manera influyó en la vida de toda mi familia.
Hablé en voz baja sin llorar ni dudar. En ese momento me sentí como un hombre decidido. Lo haré ahora, pensé, y luego decidiré cuál es la mejor manera de seguir adelante.
Pablo reaccionó con calma. Parecía preocupado pero no perdió los estribos. Su liberación de esas emociones vendría después, en las redes sociales, cuando me acompañó en las entrevistas y en el juicio que inicié.
Terminé de hablar con Pablo y atravesé toda la casa. Llegué a la segunda sala de estar que construimos cuando nos expandimos. Mi hija se sentó al lado de su mamá. Me vio entrar y supo de inmediato que sería un tipo diferente de conversación.
Ella hizo la cara que he visto antes cuando hablábamos de algo serio. Todos compartíamos puntos de vista sociales que se inclinaban hacia la izquierda y con frecuencia hablábamos sobre política y temas que eran importantes para nosotros. Esta vez, sin embargo, fue diferente. Ella no esperaba que yo compartiera lo que compartí.
Agustina absorbió mi historia rápidamente [sobre ser abusada por un sacerdote católico]. Se emocionó y me abrazó. Si bien no es fácil para ella, los jóvenes de hoy parecen cada vez más preparados para estas cosas. Están predispuestos a este tipo de abusos que los jóvenes de mi generación no sospecharon.
Sacerdote llama repetidamente a niño a su habitación
Ni siquiera sabía que estas cosas le pasaban a la gente. Los jóvenes de hoy asumen que estos hechos ocurren y se apoyan unos a otros de manera diferente. Eso me ayudó.
Dos o tres días después, como suele ser el caso, llegó la liberación emocional. Todo lo que tenía dentro salió. Solo, en la ducha, me derrumbé. Llorando, recordé lo que soporté. Unos momentos después, volví a mi estado normal.
Tal vez sea un mecanismo de defensa para experimentar brevemente de esa manera los sentimientos retrasados. Ha sucedido muchas veces. Compartir mi testimonio remueve la historia y un par de días después, me doy cuenta del impacto de hablar y lloro. La noche de mi abuso me persigue.
En 1986, a los 17 años, asistí a un seminario en la Diócesis de Río Cuarto, en la provincia de Córdoba. El sacerdote católico a cargo, Walter Avanzini, se acercó a mí. Una noche, me llamó a su habitación. Parecía normal. Poco después de entrar, instantáneamente me di cuenta de que lo que estaba pasando estaba mal.
Me tomó más tiempo entender que me hizo una víctima, no un cómplice. Cuando comenzó a abusar de mí, me quedé completamente paralizado. La sorpresa me impidió reaccionar. "Esto no puede estar pasando; no es real", pensé.
No pude procesar la primera noche de abuso y no pude negarme a regresar a su habitación. Se repitió la noche siguiente. No tengo forma de explicar el sentimiento que me impedía reaccionar, a pesar de ser consciente de lo que estaba pasando.
Parece fácil preguntar: "¿Por qué no te escapaste?" No sé. Nunca lo sabré, pero no pude reaccionar ni escapar.
Padres se enteran, abuso ignorado por la Iglesia
Lo que pasó en esa habitación, desearía poder borrarlo de mi memoria. Mi abusador una vez me dijo: "Cuando digas [en confesión] lo que hicimos, no uses mi nombre". Lo que "nosotros" hicimos, dijo. Durante años pensé que habíamos hecho algo. Hoy entiendo que no hice nada.
La culpa y la vergüenza se incrustaron dentro de mí. Pasaron tres o cuatro años antes de que hablara de ello. Las primeras personas a las que les conté incluyeron a algunas monjas (una de las cuales es mi compañera de vida hoy) y mi hermano mayor que se desempeñó como sacerdote. Entré al seminario pero me fui. No podía soportarlo más y necesitaba contar mi historia.
Más tarde, hablé con mis padres, aunque resultó difícil. Mi madre vivía con un pulmón, artritis y osteoartritis. Su delicada salud empeoró después de que compartí lo que me pasó. Mis padres no podían entender por qué dejé el seminario, así que un día los senté y hablamos. Lloré mucho. De hecho, todos lloramos. El momento, aunque extremadamente sensible, se sintió liberador.
Empecé a notar la naturaleza cómplice de la Iglesia cuando mi padre le dijo a un sacerdote amigo de la familia. Se desempeñó como párroco en la localidad de Canals y viajó a Río Cuarto para pedirle al obispo que se llevara a Avanzini por un tiempo.
Descubrí que internamente, Avanzini era un conocido pedófilo. Otro sacerdote con antecedentes similares también fue ordenado. Con Avanzini, la Iglesia le dio seis meses para "recuperarse".
Sacerdote resurge, joven enfrenta consecuencias de su trauma
Tuve una experiencia interna de la Iglesia que me ofreció una ventaja: una perspectiva verdadera y objetiva. En cierto sentido, viví dentro de la iglesia, aunque estaba alienado de ella. Mirando hacia atrás, desearía no haber conocido a tantos personajes nefastos allí, pero lo hice. Sabía de sus acciones y me convertí en una víctima.
Desde que era adolescente, no supe más de Avanzini hasta 1998. Entre el momento de mi abuso y su reaparición en mi vida, fui a misiones a África y Nicaragua. Un día encendí la televisión y vi a mi abusador en un reportaje sobre prostitución infantil. Apareció en las imágenes con los clientes de la red de prostitución.
Rápidamente la comunidad protestó en su contra y yo me uní, aunque todavía no había contado públicamente mi historia. Después de que mi papá lo denunciara, Avanzini nunca dejó de ser parte de la Iglesia ni de tener contacto con menores de edad.
En los años que siguieron al abuso, pensé que llevaba una vida normal, pero algo parecía estar mal. Mis relaciones con las mujeres se sentían anormales. En una relación con mi pareja actual, viviendo juntos, aparecieron las primeras consecuencias. Sufría de disfunción eréctil.
Una psicóloga a la que sentía cercana me ayudó. Cuando le conté lo que me pasó en Río Cuarto, casi al instante, retomé las relaciones sexuales sin problema.
Esa sesión resultó suficiente en el momento, pero pasaron años antes de que volviera a hablar. Hablar sobre mi abuso desbloqueó problemas más profundos.
Periodista detalla la historia de los crímenes del cura
Entre 2018 y 2019 se produjo el punto de quiebre definitivo y, con él, el final de mi silencio. Cuando les conté a mis hijos lo que me pasó, simultáneamente me acerqué a la Red de Sobrevivientes de Maltrato Eclesiástico, una organización que asesora y acompaña a las víctimas.
Leí algunos artículos periodísticos vinculados a mi caso sobre una ex monja y miembro de la Red. Otra historia salió de dos sacerdotes que se casaron. El periodista Lisandro Tosello escribió ambas historias. Le envié una nota para proponerle que me entrevistara y aceptó.
En la mesa de un pequeño bar de la universidad de Córdoba capital, hablé durante tres horas con Lisandro. No miré a mi alrededor ni vi ni escuché a otras personas. Mi mundo quedó reducido a esa mesa donde saqué a la luz una historia que escondí durante más de 30 años. Por primera vez dije en voz alta y en público que Walter Avanzini abusó sexualmente de mí. No pude evitar llorar.
Cuando terminé de contarle todo a Lisandro, sentí la tensión acumulada en mi cuerpo y el peso de mi historia. Hasta el día de hoy, cuando paso por ese bar, pienso: "Aquí es donde comenzó todo". En ese momento, en ese lugar, me convertí en una figura pública, una referencia en la lucha por la justicia.
Por consejo del abogado de la Red, avancé con una denuncia eclesiástica y una denuncia penal. Lo que vino después resultó ser una de las cosas más horribles que puedo recordar y uno de los momentos más difíciles para mí.
La historia de los abusos de los sacerdotes irrumpe, se producen repercusiones
El domingo 2 de junio de 2019 caminé al quiosco de mi barrio sabiendo que mi entrevista saldría en La Voz del Interior, el periódico de más importancia en la provincia de Córdoba.
Me llenó de sorpresa cuando descubrí no solo mi historia en el periódico, sino también mi foto en la parte superior de la portada. Me sentí desnudo, como si todo el mundo supiera mi historia y me conociera. Aunque busqué la oportunidad, no la anticipé. El primer pensamiento que cruzó mi mente fue: "¿Qué hice?"
Me fui a casa con la esperanza de no ver a nadie. El primer mensaje llegó a mi celular. Un compañero mío envió una foto del periódico y un mensaje: "Hoy amanecí valiente". En la foto me pueden ver de pie frente al seminario donde estudió Avanzini, ahora el Instituto Católico.
Entonces comenzaron los reproches, principalmente hacia el periodista. Las repercusiones solo sirvieron para confirmar que tomamos la decisión correcta. Toda la semana se convirtió en un desastre caótico lleno de llamadas, mensajes, aliento, apoyo y solicitudes de entrevistas.
Aunque lo busqué, no me sentí acostumbrado a la atención. A veces, podía hablar. Otras veces, mis emociones se interpusieron en el camino y lo impidieron.
Pérdida de la familia y una voz para las víctimas
Hacer público me alejó de mi hermano y mi padre, quienes son sacerdotes católicos. Se sentía como si nunca se pusieran de mi lado. En enero de este año, después de décadas, finalmente me senté con mi papá y le pregunté por qué nunca me defendió. Simplemente levantó los hombros.
La próxima vez que vi a mi padre, fui a la parroquia donde trabajaba. Sentí miedo de estar en un lugar como ese, uno tan parecido al lugar donde experimenté el abuso. Mi compañera de vida se unió a mí, lo que me dio fuerza en el momento. Aunque no quería estar allí, no estuvo mal y me sentí cómodo.
Una mezcla de tristeza e ira se quedó después. Me siento triste por la relación que tengo hoy con mi papá, una relación rota. Mi padre, un anciano, representa la jerarquía eclesiástica que condeno. Siguen siendo cómplices de lo que me pasó a mí y a tantos otros. Como resultado, me enfrento a un dilema. Rechazo la iglesia y sus manifestaciones religiosas.
Desde que estoy en público, me convertí en un ejemplo para los demás. Doy entrevistas y actúo como portavoz de mi organización. Como consecuencia, muchas personas piensan en mí simplemente como "el hombre que fue abusado". Quiero ser visto como algo más que lo que me pasó a mí. No estoy reducido a ese momento.
Las víctimas de abuso muestran una cicatriz que tal vez nunca se borre. Permanece contigo y te recuerda lo que experimentaste, aunque no es una cicatriz física. Lo aceptamos y aprendemos a lidiar con él para que no arruine nuestras vidas.
Ya no encuentro fea mi cicatriz. Vivo con eso. No contar mi historia arruinó mi vida temprana. No me gusta hablar de mi historia. Me cansa, pero lo hago por las personas que conozco y las que no conozco que pueden beneficiarse de mi testimonio y mi lucha< /a>.
Nunca dudo. Lo que hago hoy sigue siendo importante. Hago lo que tengo que hacer.
Translations provided by Orato World Media are intended to result in the end translated document being understandable in the end language. Although every effort is made to ensure our translations are accurate we cannot guarantee the translation will be without errors.
Pledge to be a #ConsciousCitizen today and demand #GlobalCooperationNow! by signing this petition. Sign Our Petition.