Artisanal grills grace World Cup Qatar, man's hobby becomes top choice of celebrities
It all started with a private message I received on Instagram on September 14th while buying meat at the butcher's shop. The Argentine Football Association wrote to me asking me to provide a budget to take my grills to the World Cup.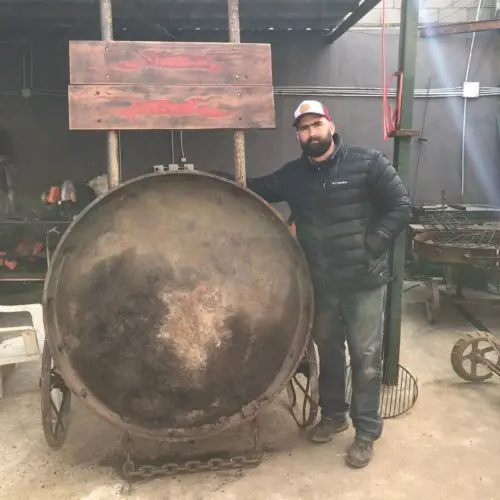 BUENOS AIRES, Argentina ꟷ The Argentine soccer team brought more than 2,600 kilos or 5,700 pounds of meat to Qatar – meat cooked for them on grills I made. Had someone asked me a few years ago, when I started this enterprise, where I would want my products to be, I would say at the World Cup. There was a different kind of energy around this project.
It all started with a private message I received on Instagram on September 14th while buying meat at the butcher's shop. The Argentine Football Association wrote to me asking me to provide a budget to take my grills to the World Cup. At first the butcher did not believe me, so I showed him the message.
Read more stories about the 2022 World Cup in Qatar at Orato World Media.
"Boludo, the national team will be eating food made on your grills in Qatar," he said excitedly. We were both in shock. My company designed the grills to precise specifications and produced them in record time. While I cannot necessarily compare my product to the success or loss a sports team experiences together, I do feel forever bonded as part of Argentina's national soccer team.
A hobby turns into a thriving artisanal grill business
Some people call others when they need something, but not me. I build things. Once, I made my own furniture for the house. Another time, I made myself a barbeque grill. I plugged away at it slowly when I wasn't busy with work, family, or rugby. It took me eight months to make my first grill.
People began asking constantly for me to make more grills. I wanted to stop the requests, and I thought if I built a grill (or a steakhouse) for my rugby club Mariano Moreno, it would be something for everyone. I took the grill to the club on a Saturday morning. We played a first division game and I returned to the locker room to shower and change. As I left the locker room, I could see several people surrounding the grill and taking photos of it. I felt shocked to see people so amazed by something I made.
The next day I had fifty messages for orders of steakhouses. I explained that I had a job already, and did not sell the grills, but on the fifth day of inquiries, I began investigating starting a business. From this, Fuegos JL was born.
I began venturing out to junk dealers and looking for wheels from old field carts and bought forty of them. I accumulated the raw materials and launched the project on Instagram. In the first week, I sold 20 grills. Unable to keep up with the demand for specific parts like the field cart wheels, I began manufacturing them myself.
Followers climb and climb on Instagram
The whole thing went viral very quickly. I had my first 50,000 followers in three months. Then I got a call from Locos x el Asado, a well-known YouTube channel. As my visibility grew and I began appearing on television, the followers multiplied. Another leap in recognition took place when former NBA player and member of the Argentine basketball team Nicolás Laprovitola published photos on Instagram cooking on one of my barbeques at his home. In time, more and more well-known athletes began to buy my grills including some players who are now World Cup champions like Nicolás Tagliafico and Rodrigo De Paul.
My whole life, I worked in my family's industrial hardware store, where we sell gardening machines. I liked my work, but this venture is something completely different. It feels great to create something people love so much. The produce not only gives me pleasure, but affords that same joy to those who buy it. We say that we do not sell happiness, but the closest thing to it. We sell a product that allows people to share moments together. When we need to create content for our social media, we simply get together and barbeque!
From the World Cup to seeing his idol, business delivers iconic moments
This company delivered many amazing moments in my life. On July 20, 2021, as I celebrated Friends Day at a bar in Bariloche, a video call came in on WhatsApp. The video came in from my partner Alejo but when I answered, I saw the face of famous Argentine basketball player Manu Ginobili – my greatest idol. We had sold him a barbeque and because I could not travel to deliver it to him, he wanted to call and thank me.
Manu's call and AFA's request for the World Cup proved the most remarkable moments in my life this year. I never imagined things like this could happen to me. Although Fuegos JL only has four years of brand history, things happen to us that rarely happen to others. I attribute this to the fact that I never meant for it to be a business. Constructing grills and steakhouses was my hobby. It contained a different kind of energy and positivity.
We do it for the pleasure, and nice things happen. People buy our products not just to own a grill, but because they want to be a part of something. It is the only explanation I have.
Translations provided by Orato World Media are intended to result in the end translated document being understandable in the end language. Although every effort is made to ensure our translations are accurate we cannot guarantee the translation will be without errors.
Pledge to be a #ConsciousCitizen today and demand #GlobalCooperationNow! by signing this petition. Sign Our Petition.