SAN SALVADOR, El Salvador ꟷ Traditional vendors move through Plaza Libertad in the city of San Salvador with carts full of coffee. A cup of coffee costs between $0.25 to $0.50 cents. They also sell a variety of sweet bread.
In the square, you can see everything from carts made with supermarket trolleys, to baby strollers adapted to mobilize sales. For hundreds of workers around the center of San Salvador in El Salvador, their traditional cart sales make up their livelihood.
This series of photographs shows three generations of coffee women, from 60-year-old veterans to 40-year-olds, and finally to a new generation of 20-year-old women.

Translation Disclaimer
Translations provided by Orato World Media are intended to result in the end translated document being understandable in the end language. Although every effort is made to ensure our translations are accurate we cannot guarantee the translation will be without errors.
#GlobalCooperationNow
Pledge to be a #ConsciousCitizen today and demand #GlobalCooperationNow! by signing this petition. Sign Our Petition.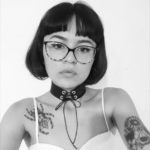 Fatima Lourdes Padilla Acosta, 23, goes by the nickname Amaranta. Armanta has worked primarily in audiovisual mediums for agencies, foundations, and on short films. She is passionate about producing documentaries and the audiovisual process around themes of social reality, human rights, and gender perspective. Armanta has worked as a camera assistant, in lighting, and photography for short films about forced motherhood in adolescents and young people, lesbian visibility, and the prevention of gender violence. She currently works as a Communicator and Audiovisual Production Consultant for the "I Control - Stop Violence" program with UN Women, the Many More Foundation, and the Spotlight Initiative.