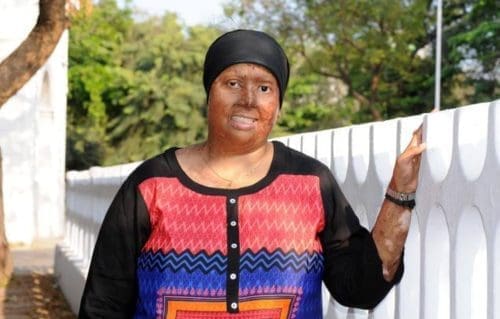 NEW DELHI, India — I married my husband on April 18, 2006. Twelve days later, I traveled to Delhi to interview for a post-graduate placement in Apparel Management. I hoped to make it big in the fashion industry.
The same evening that I left for Delhi, my grandfather passed away. I was reluctant to leave, but my parents convinced me to go.
I should have stayed home. No one could have imagined what was in store for me.
At 2:00 a.m., I was jolted awake in immense agony. A jilted man, whose marriage proposal my parents denied, threw acid on me while I slept.
It felt like I was on fire, and I lost consciousness. For 17 days, I swung between life and death while the medical team at the Intensive Care Unit burn ward tried to save me.
The cruel road to recovery instills a passion for advocacy
The attack and my long stay at the burn ward in Delhi changed me. Today, I realize the value of every breath I breathe.
In the ward, I watched patients come in screaming and then leave silently, shrouded in a white cloth. Every day, I saw different kinds of burn cases and heard stories that shook me to my core.
Night after night, I listened to the painful screams of patients. I heard crying relatives whose loved ones lost their lives. I realized how tragic life is for burn patients and how badly they are treated at times.
I could not comprehend why these patients would come to the hospital alive and, within a few days, they would pass away. Some of the patients who died had comparatively minor burns than mine. Some died soon after surgery or after contracting an infection.
At times, I was furious and blamed the doctors for not saving those precious lives, but the truth dawned on me. We do not have a good infrastructure for treating burn patients in India.
Money is also an issue. It took almost two years to reconstruct my lower and upper eyelids, nose, lip, and ear, through a series of surgeries. My surgeries cost 70,000-100,000 Indian Rupees each ($943-1,348 USD). My parents bore the entire expense. There was no government support available.
After my acid attack, I discovered my life's purpose
I decided to dedicate my life to the service of acid attack and burn survivors who need support to live a dignified life. I believe God made me face this adversity to come out stronger and help others who are less fortunate than me.
I matured as a person through all of this and realized that taking care of others dulled my pain to some extent. There have been times since my attack that I wanted to give up on everything – my life, my husband, and my family.
My cousin Chetan would always stop me by saying, "God has different plans for you. You have a bigger role to play – bigger than any one of us. You can be a savior and a face of courage for many. I am certain you are going to do even more than what God had planned for you."
One day, I cried my heart out and every word Chetan said suddenly felt real. I knew my purpose and it was bigger than survival. I wanted justice and to live a life of gratitude.
After the attack, I was furious. If you asked me what I wanted then, I would say to throw a tub of acid on that man. Eventually, I realized this grudge would hold me back from living.
My attacker will face his own karma for committing such a destructive act. It is my karma that, even after being completely disfigured and nearly losing my life, I can build lives for others like me.
Until you forgive and find peace with yourself, you cannot move on.
Teaching my children to stand proud of their mother
After a year of treatment, I moved to Bangalore with my husband to start a new chapter of my life, but society would not allow it. Beauty is an essential part of life, after all.
Despite my qualifications, I was rejected by many companies due to my disfigured face and disability. People always look away. Some children shout when they see me, and others ask their mothers what happened.
Children often follow me, or they hide. One child in my neighborhood even said she hates me. I don't blame the child. Her mother did not teach her to be compassionate or sensitive to someone who is disabled.
I believe children are taught to stay ignorant. In due time, I had my own children. They gave me confidence and a new purpose. Holding them in my hands and watching them smile made me forget all my pain.
At the same time, I wondered what questions they would have for me and would face when they started school. Sure enough, questions arose like, "Why does your mother look like a ghost," and "Why is your mother so ugly?"
Teachers would often stop them and ask about my story, pressuring them to talk about my attack. So, I decided to teach my children about my perseverance, hard work, and how I help others. I made sure they created their own way of telling my story proudly.
Atijeevan Foundation gives burn victims a new lease on life
Today, I dedicate my life to acid attack victims and burn survivors who need support to live a dignified life. In partnership with doctors, nurses, volunteers, and philanthropists, I launched the Atijeevan Foundation.
Atijeevan facilitates reconstructive surgeries and non-surgical cosmetic procedures for survivors. We offer counseling so that survivors can receive the best possible personalized treatment.
We empower survivors through educational and vocational training so they can become successful entrepreneurs, and organize exhibitions to display products they make.
The Foundation has touched the lives of more than 300 burn and acid attack survivors to date. We focus on creating champions who inspire other survivors to live life with the same zest and happiness, despite their traumatic past.
Our team holds workshops and closed group meetings where survivors share their problems and success stories. Several girls have told us they look forward to the meetings because the group doesn't judge their looks or their past.
Apart from mental, emotional, and financial support, the foundation also provides survivors a platform to explore livelihood, employment, and entrepreneurship opportunities. Women enrolled in our services have been placed in the hospitality, information technology, and garment industries. A couple of our survivors are successful entrepreneurs now.
Due to the ongoing pandemic, we conduct training, workshops, and groups online. Survivors join us from across the country. The next problem we are solving is how to provide support to women who are in remote areas without access to smartphones or high-speed internet.
Education is better than painful scars
Through my experiences, I also promote important educational concepts.
First, many people are unaware they can donate skin taken from their thigh or lower back to give an acid attack or burn victim a new lease on life. With the help of donated skin, we can save up to 80 percent of burn patients.
Second, it is critical to use proper first aid and treatment practices to expedite recovery. Putting freshwater on a burn until the painful sensation subsides provides relief, and the right wound management can prevent further scarring and disfigurement.
Third, it is vital to tell your family when a stalker or an ex-partner makes threats. When acid attacks happen, they aren't isolated events. There are signs of aggression, violence, and possessiveness leading up to an attack that should never be ignored.
Fourth, parents can create a happy environment at home, so we are raising healthier adults. Parents should create spaces inclusive of gender equality, and where both parents work toward the development of the children. Such changes can undoubtedly end these dreadful crimes.
I have a message to survivors: Do not stop living after an acid attack. This may be life's way of showing you how strong you are. You can still dream and live happily. I know because I have.
Translations provided by Orato World Media are intended to result in the end translated document being understandable in the end language. Although every effort is made to ensure our translations are accurate we cannot guarantee the translation will be without errors.
Pledge to be a #ConsciousCitizen today and demand #GlobalCooperationNow! by signing this petition. Sign Our Petition.