Meet the first woman to lead the prestigious London Symphony Chorus
During the concert, I step to the side like a technical director, offering guidance and encouragement to the choir. It becomes their moment to shine, and I gradually let go, knowing that it is no longer my rehearsal. Witnessing the choir take flight with their passion and talent feels deeply gratifying.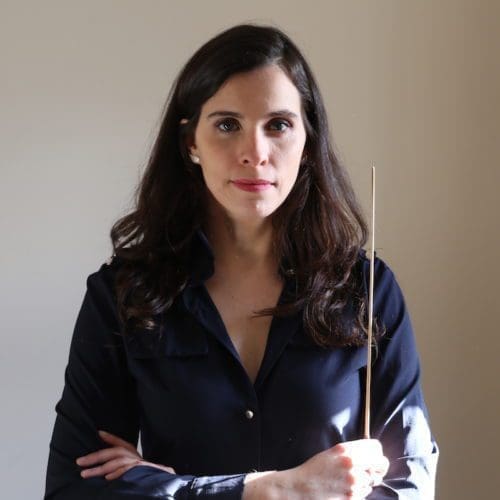 LONDON, England — The London Symphony Chorus (LSC), renowned globally for its artistic excellence, stands on the brink of a momentous milestone. For the first time since its inception in 1966, this iconic ensemble will be led by a female director.
It feels surreal to be chosen for this task. This opportunity is made even more meaningful by the challenges I faced to get here. Since 2018, I worked extensively throughout Europe, but my journey began in the vibrant city of Buenos Aires. From a young age, I felt drawn to the world of music.
Read more stories from England at Orato World News 
Embarking on a global musical journey at a tender young age
When I turned 17, I received a scholarship to complete my high school education in Italy and stumbled upon the opportunity to direct a choir. Though I had never directed anything before, I seized the moment and led my first rehearsal. The experience felt magical. A rush of adrenaline flooded me as I focused on the beautiful melody bouncing softly around the room.
It felt as though all the things I loved – music, singing, and acting – coalesced into one single moment. My body felt restless with overflowing joy. My cheeks lit up from within, as though I'd swallowed the sun. I never felt so excited about anything before. Right then and there, I knew this was the only path I wanted to take.
After completing my studies in Italy, I returned to Argentina to pursue higher education at the National University Institute of Arts. Afterwards, I devoted myself to rigorous training and hard work while teaching at the university. I even led my own chamber choir called Project 13. To develop my skills as a choir director, I sought guidance from Simon Halsey, who came highly recommended. I reached out to him and applied for the master's degree program he taught at the University of Birmingham. At that time, Simon also directed the London Symphony Chorus. 
As a leader, I balance confidence with a willingness to make mistakes
It felt amazing to surround myself with like-minded people who shared a profound passion for music. The past five years have been a whirlwind of experiences and opportunities that arrived naturally but unexpectedly. It felt like the universe aligned to bring me to this point. When I first received the news that I would take over as the director of the London Symphony Chorus, strong emotions surged inside, like when a pitcher steps up to start the game.  
I felt a mix of fear, uncertainty, and nerves, but at the same time, I felt confident. I spent my whole life preparing for this moment. Armed with a commitment to give it my best, I also acknowledged mistakes might happen. They remain part of the learning process. Though somewhat intimidated, I became determined to face the opportunity with openness, dedication, and continuous learning. I would evolve as a director.
Experiencing the music resonate through the room feels life-changing
The work I do varies depending on the piece. Typically, we have around eight to 10 rehearsals with a piano to familiarize ourselves with the music. Then, the choir holds a rehearsal with the conductor and pianist, where they add their unique interpretation, infusing the performance with their artistic stamp. This process requires the choir to re-learn the piece, but it also demands flexibility to adapt to any changes or artistic choices made by the conductor. This adaptability is what makes music truly magical.
During the concert, I step to the side like a technical director, offering guidance and encouragement to the choir. It becomes their moment to shine, and I gradually let go, knowing that it is no longer my rehearsal. Witnessing the choir take flight with their passion and talent feels deeply gratifying. It becomes a testament to the power of collaboration and the beauty of music. Each performance presents a unique and memorable moment, a true celebration of artistic expression.
On the day of the concert, my nerves spike. I usually find myself sitting in the audience, observing my choir as they work alongside the conductor. As the moment arrives, the lights dim, and the curtain opens, I feel the culmination of all the hard work we put in. There is no turning back, and at that moment, I am completely immersed in the music. It's as if my entire body and mind become one with the melodies, and I follow the performance in an almost analytical, meditative state. Music envelops me, transporting me back to my childhood home, singing and playing instruments with my family.
Being the first woman to land this position bears a heavy weight 
The fusion of lyrics and voices sounds marvelous. My role is to facilitate the path for the choir members, helping them discover their voice and embrace the power of music. Group singing holds a special place in my heart. There is something incredibly powerful and uniting when we all come together to express our feelings through song. Being the first woman to hold such a position feels incredible, yet also sad. It reminds me how slow the wheels of change move. 
In this industry, like any other, women work so hard to claim their place and to be acknowledged rather than belittled. I felt determined to show my worth regardless of what anyone else thought. This places a great responsibility on my shoulders. Stepping into a position that has historically been dominated by men, I have the opportunity to showcase my abilities and skills, proving that gender should not be a factor in determining competence and talent. 
My goal remains to excel in my role and lead the London Symphony Chorus with passion and expertise, setting a powerful example for women in music and beyond. As I succeed as a female director, I hope to contribute to the progress of gender equality in the music industry, sending a resounding message that women can thrive and excel in any position they choose. My journey and accomplishments empower others to challenge gender norms and strive for their dreams, no matter what field they choose. I embrace this responsibility with pride and confidence, knowing that I am playing a vital role in shaping a more equitable future.
Translations provided by Orato World Media are intended to result in the end translated document being understandable in the end language. Although every effort is made to ensure our translations are accurate we cannot guarantee the translation will be without errors.
Pledge to be a #ConsciousCitizen today and demand #GlobalCooperationNow! by signing this petition. Sign Our Petition.