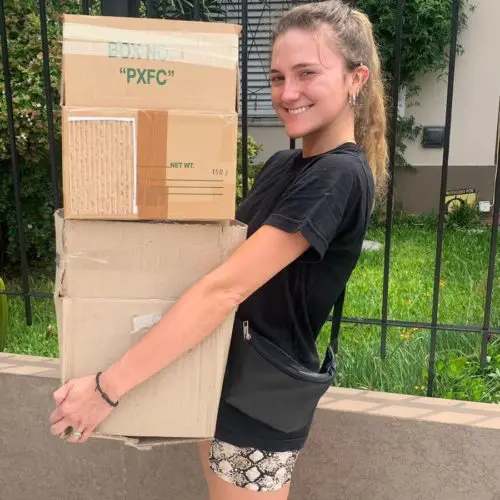 LOMAS DE ZAMORA, Argentina — I designed a line of self-defense products for women after two armed men in face masks broke into my home.
At 15 years old, I spent an ordinary day at the house with my parents. As we chatted in the dining room, I heard someone forcing our door open. Two men with weapons in face masks burst inside.
"Is there anyone else here," they demanded. I immediately began crying. A horrible fear overwhelmed me, like nothing I ever felt before.
Family endures devastating break-in
My mom told the armed men that my brother was upstairs, but he could not hear anything because he was listening to music. This made one of the men become more violent.
He pulled my mother forcefully, demanding to see my brother. Faced with an onslaught of violence, my fear turned into terror. We did not struggle or become confrontational. Throughout the ordeal, we remained calm, trying to get through this nightmare the best way we could.
Read more Sex & Gender stories from around the globe at Orato World Media.
The armed men stole money and belongings before they fled our home. While no one was hurt, the entire family endured post-traumatic stress, not wanting to go back into our house for a very long time.
Before that terrible day, I never saw a firearm in person. It left me with a sense of immense helplessness to watch these criminals drag my mother around. They made my father appear fragile and unable to protect us. I decided to do something about it.
Women, especially, face a stark reality: a violence immersed in the systems that surround us. If you think about it, we are often exposed to dangerous and vulnerable situations. We may feel weaker in the face of an attack and find it difficult to defend ourselves.
Before that fateful day, I would carry a bunch of keys in my hand for protection, or I might have a bat nearby. My sister even showed me how to use pepper spray, but it wasn't enough. I began learning everything I could about self-defense.
She follows all the warnings, but it's not enough
Before the break-in, people often told me things like, "Be careful when you go out," and "Let me know when you'll be back." I selected my clothing carefully when I left the house at night to avoid provoking harassment. The women in my circle often shared their locations with one another before getting in or out of a cab.
Like many women around the world, I grew up learning to be afraid, rather than being educated about the system and the people around me. My trauma taught me a stark reality: even if you follow the warnings, you can end up in a situation far worse than you imagined.
Read more stories from Argentina at Orato World Media.
As I got older, I began going out alone and right away, I encountered harassment and teasing. The things men said to me made me feel inferior and overwhelmed. All sorts of people will harass women, but I still felt surprised when an adult, well-dressed man in a suit confronted me. On another occasion, a man followed me to my house.
It had to stop. I decided from then on, no woman should live in constant fear. We should not have to avoid doing the things we love because of what might happen. No longer would I have to be dependent on others to feel safe. I began extensively researching self-defense products.
I get to do something for the safety of women everywhere
As I scoured the internet for the right self-defense tool, I came across several American companies manufacturing personal defense items for women specifically. Seeing the accessories, made with women in mind, I felt a surge of confidence. I knew what I needed to do to take care of myself, and if I could do that, I could out on the streets alone. Excitement ran through my body.
As a graphic designer, I quickly decided to personalize products I sourced in Argentina and launch my company Mama Llegue, which means "Mom, I'm back." In Argentina [and all around the world], women face overwhelming violence, femicide, and rape. The name of my company and the feminine, visual aspect of my products are designed to empower.
As I created the first item in my line – a self-defense keyring accessory – I considered not only my bond with my mother, but I imagined all the women who share that strong bond. I also thought about moms who worry endlessly at home when their daughters go out. I poured all of these feelings into my work.
By November I began selling everything from keyring accessories to pepper spray, ribbon cutters, retractable knives, razor cards, and pocket flashlights, managing the entire business on my own. I was the sole investor, but then something happened. Media outlets began showing interest. Word of my work spread across local media, blogs, radio stations, and websites.
Then, I got onto television! An exponential growth in sales followed, so I added a partner. I could no longer handle distribution on my own. In time, Mama Llegue took off on Instagram and TikTok in other countries. I had to begin learning about exports.
We have to be extremely cautious and cannot overtly advertise because some of these products are considered weapons. However, we continue to grow and grow. When I look at all I achieved, a sense of happiness fills my heart.
I get to do something for my own safety and the safety of all women, everywhere.
Translations provided by Orato World Media are intended to result in the end translated document being understandable in the end language. Although every effort is made to ensure our translations are accurate we cannot guarantee the translation will be without errors.
Pledge to be a #ConsciousCitizen today and demand #GlobalCooperationNow! by signing this petition. Sign Our Petition.