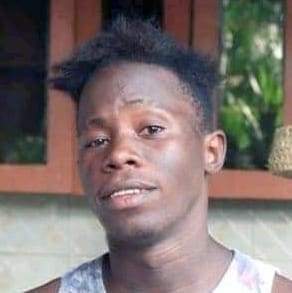 NKOKOIJU, Kenya — I sit at the shore of the Indian ocean. The sounds of the water and cracking of the waves stir my heart, inspiring my imagination and bringing me joy as I remember how far I have come since I reformed as a sex worker.
I take a deep breath and dive into my past life, which breaks my heart every time I remember.
You may look at me and wonder if what I am saying is true because of my young age.
Yes, it is true that for three years I worked as a male sex worker. I traded myself for money. I cared about nothing but getting money to support myself and my family.
Born into poverty
I grew up in an impoverished family, raised by a single mom focused on our basic needs. It was not easy.
We struggled with everything. Being the first child and big brother to my siblings, I could not stand seeing my mom's struggles and suffering without doing something.
Every day, I watched her leave us at home to look for manual jobs. I would dream of helping her to support our family – a family living hand-to-mouth.
My dad, who had abandoned us, was not around, leaving my mother as our only breadwinner.
This situation seemed wrong me, and through those moments with my siblings, I started looking for a job. The first thing I discovered was sex work.
My sex work journey
I started as a sex worker in 2018 in the coastal part of Kenya at a very tender age. It was immediately after my high school education.
I was introduced to this job by a friend who had links to sex work.
Through the information he gave me, I joined a group on Facebook that connected sex workers to potential customers.
I used the link to enter a WhatsApp group where many sex workers were looking for clients.
Through the group, I could get clients who would pay me after having sex with them. The clients were older women, some old enough to be my mother or grandmother.
The age of my clients did not bother me as a struggling child looking to support his family.
Knew what I wanted
I focused on the money I would get after every meeting. Because I needed the money, I opted for sex without protection which paid more than sex with protection.
I never cared about getting sexually transmitted diseases like HIV and AIDS. All I cared about was providing for my family, so nothing else mattered.
Every day was a new day to hunt for sex clients. On bad days, I could pay brokers to connect me faster to clients to get money quickly.
I used most of the money to provide for my family and I used the remaining to buy myself clothing and accessories to impress my clients.
I focused on the end product and not on the age of the clients.
Pay depended on the service I offered, and it varied between $10 and $50.
Hiding the trade
As much as I was happy about providing for my family's basic needs, how I was earning a living became difficult for me.
I feared what my helpless mother would think if she found out what I was doing.
She questioned me day in and day out about the source of my money. I never had the courage to face it and open up to her about trading myself for sex.
Every time she asked, I confidently lied and said I was doing manual jobs.
Living a lie
I never wished to lie to her, but felt shame and fear of being a bad example to my siblings. I never had the courage or nerve to open up to her, and I regret it even today.
I lived a lie in front of them. I presented myself as a respectful, disciplined boy, but in reality, I was a poisonous human rotting with the shame of what I was doing.
As the first child, I wanted to lead by example, and I wasn't.
I tried everything possible to keep my sex work under wraps. However, they likely had suspicions.
I became ready to reform when my mother found out about my sex trading life.
I still remember the shock on her face when she knew. It was unexplainable.
Turning point
Life as a sex worker for either gender is not an easy one. It requires a lot of patience and thick skin to handle all the troubles you will encounter.
I can not tell you the number of times I was violated by clients because I didn't satisfy their needs. It was not once or twice, it happened many times.
I vividly remember this one incident very clearly like it was yesterday.
After the job, I met a client, and she refused to pay me, saying I had failed to perform to her expectations. The woman refused to pay even a tiny amount.
That day I went home empty with nothing in my pockets.
Shocking scenarios
That's not the only time. I remember a day an agent hooked me up with a client, but upon reaching the meeting point, I found out there were four women who wanted my services.
I was shocked with many worries on how to sexually satisfy four older women. It was risky because if I could not, they could attack me and withhold pay, so I surrendered.
These incidents and my growing fear of exposure to high risk STDs and HIV pushed me to reform. After all, I never knew the backgrounds of the women I was meeting.
Some were wives and even mothers, which posed a great risk to my life.
If I got caught with someone's wife, it could end badly. I might have been killed.
Change my ways
I decided to shun the sex trade to save myself from the threats I was exposing myself to at a young age.
One day I visited an organization named NKOKOIJU AFRICA, which is in coastal Kenya.
The organization advocates for the rights of sex workers and also acts as a rapid response team to combat violence against sex workers, like in cases where a client fails to pay or becomes abusive.
I visited the organization headquarters to collect condoms and get tested for HIV.
Before the test, we had a sit-down with one of the organization's social workers at the office. She offered me counseling and advice about the sex trade.
Touched by advice
Like never before, I was touched by her advice and decided to open up about my life as a sex worker, which I hid because of shame.
That day we talked and talked for hours, and before the visit ended, I vowed to change my ways.
That was my first time opening up about my life. It became a turning point.
I told my mother everything, and though mad and angry, she understood me. She vowed to forgive and support me in the next steps of my life.
From that day, I started working with the organization as a volunteer, creating awareness about the dangers of the sex trade.
Raise awareness
The organization became my new home giving me hope, ready to face the world and use my story to create awareness about sex trading as a male youth.
Through the organization's help, I became a voice of hope to others. I started making music, which has always been my passion. I sing alongside a group of other boys who are also former sex workers.
We sing songs of hope, speak about our past lives, and create awareness of the dangers of the sex trade to help youths shun this unethical trade.
We are a group of reformed sex workers using our stories to advise children and change the narrative of sex work. The group is called Watukutu culture.
Made a vow
After reforming, I also vowed to help the friends I was working, so they could get help in Nkokoiju, Africa.
We went through a series of transformations through guidance and counseling. After we all reformed, the organization sponsored and supported us in our musical projects showing us that we do not have to go back to sex work to make it in life.
It's something I am so grateful for, and I will never take it for granted because it has saved me and many other youths from a dangerous life and related health threats.
Options out there
I want to let the youths know that it's not okay to do just anything for the sake of money.
I know and understand how poverty can push one to do things that are not right because I have been there.
Be focused, and don't allow yourself to be a victim of heinous activities for the sake of getting paid.
Work on your talent. It pays clean money. And remember, HIV and AIDS are real, and there is still no cure.
Protect yourself if you have to perform sex with strangers.
Though it takes time, you can eventually win.
Please don't allow your past life to define who you are, It is not who you were that matters but who you become and where you are heading as a person, so be focused on your goals and inspire others to change.
Translations provided by Orato World Media are intended to result in the end translated document being understandable in the end language. Although every effort is made to ensure our translations are accurate we cannot guarantee the translation will be without errors.
Pledge to be a #ConsciousCitizen today and demand #GlobalCooperationNow! by signing this petition. Sign Our Petition.