Female artist sees work featured in Argentina's National Palace of Arts
Annual 8M Visual Arts Acquisition Awards seek to increase gender diversity of national cultural heritage and public art collections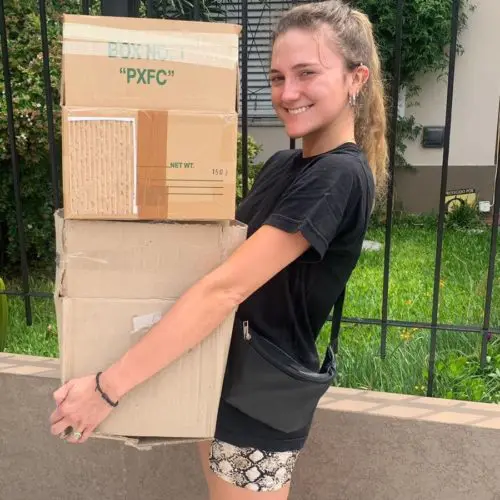 BUENOS AIRES, Argentina—The day I found out my work was selected to be featured in my country's national heritage collection was a busy whirlwind of activity.
I had arrived to Buenos Aires just a few days earlier to simultaneously present pieces in four different art exhibitions. With so much to do, I was nervous and excited, wondering if I would manage to make it to all my commitments on time.
I first dropped off one of my pieces at the Bicentenary Museum, then headed to the Modern Museum of Art for a guided visit with other artists and the curators. From there I rushed to meet my friend at the entrance of the Kirchner Cultural Center, where the 8M Visual Arts Acquisition Awards were taking place.
It was about 6 p.m., but once in there I completely lost the sense of time. I remember the blue lights of the Center, No sunlight penetrates the interior, so it feels nearly impossible to follow the passage of day into night.
An hour later, organizers invited the artists and members of the public to learn the identities of the 16 winners whose work was chosen to represent Argentina's cultural best.
Hearing my name called as a winner
The artists present all knew each other. We were happy to celebrate each other and our work, no matter who won. Finally, the organizers named the winners in four groups of four.
My name rang out in the last group. My friend Carla was also selected—the fact that we achieved this accomplishment together made it even more touching for me.
When I heard my name I felt surprised and a bit shocked—It took me several moments to make my way to the front of the crowd. It still strikes me as funny; my very first prize, and it's an admission to the National Palace of the Arts. It is a true honor.
I heard someone saying that this award—now in its second year—should be presented until at least 2040 to compensate for the heavy emphasis on works produced by men over women and other gender identities in the national heritage collection. I totally agree.
In addition, winning this distinction makes me feel others have recognized and validated my pathway as artist.
'Earth effects' comes to life
The work chosen for inclusion, Earth effects, came from a residence that I did last year called MUNAR. As a result of that experience, I could change the scale of my production. It used to be smaller—house sized—but in that huge, open, industrial warehouse, I started playing with giant structures.
I like the tension between the materials I use—fabrics, cotton, natural dyes—and iron structures. The iron is a dangerous element for the fabrics; as time passes, it will inevitably rust and damage its surroundings.
The call for the 8M exhibition was in January, and I applied just after it was published. When I found out I was in the 60 artists selected, I started feeling the pressure of the time crunch.
There was little time to rebuild Earth effects, but I managed to complete everything in time. The idea of winning one of the awards didn't cross my mind—but now it is one of my proudest achievements.
The piece no longer belongs to me; now, it is part of something much bigger.
María Gabriela Cisterna is a member of Orato's Spring 2022 Writer's Workshop & Internship Program.
Translations provided by Orato World Media are intended to result in the end translated document being understandable in the end language. Although every effort is made to ensure our translations are accurate we cannot guarantee the translation will be without errors.
Pledge to be a #ConsciousCitizen today and demand #GlobalCooperationNow! by signing this petition. Sign Our Petition.