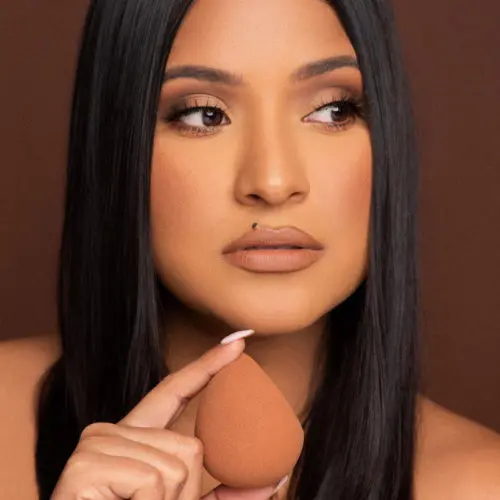 SAN PEDRO SULA, Honduras — I have a mind full of dreams, goals, and new ideas. I love everything I do, but what I enjoy the most is designing the packaging for the makeup products I create.
I think about colors and shapes, imagining the first impression my clients will have. Bringing a smile to their faces remains extremely important to me.
Read about more influencers and online entrepreneurs at Orato World Media.
My name became my brand. I feel full and happy, but it wasn't always like that. I overcame many fears and to grow as a person.
A chance assignment led to becoming the first Honduran cosmetics influencer
I still remember my 20-year-old self – carefree and simple. I never used makeup. In fact, I wasn't one of those girls who experimented with her mother's eyeshadows and lipstick. A college assignment led me to YouTube. When I saw a makeup tutorial video for the first time, I felt excited to discover something new.
The popular video showed a person creating a design with many colors on her eyelids. It fascinated me. I had only seen women using a single shade for eyeshadows. I immediately said to myself, "I have to do that!" It looked easy. The next day, I took the little money I had as a student and went to a store to buy cheap makeup.
I tried to replicate the design on myself over and over again, excited to see the results. The first try turned out horrible, but I never gave up. Far from thinking this might not be for me, I kept trying until I felt satisfied.
After finishing my university homework, my nights turned into a time for creativity. I became obsessed with replicating other designs. Every time I bought a new cosmetic, I experienced great satisfaction. A time came when I had so much makeup!
Eventually, I decided to create my Facebook page and YouTube channel. The content I created spoke of my experience with products and gave recommendations on where to find them. I saw other people doing something similar on YouTube, but they came from other countries. Nobody in Honduras established themselves as a cosmetics influencer, so I knew it could work out well for me.
Visiting up to 17 clients a day as a makeup artist
My family, friends, and acquaintances supported me. Slowly, my work began getting recognition. I grew, little by little, as I uploaded content. Progressing to the next step, I started doing other people's makeup and sold products I recommended. I created a community of makeup lovers just like me. Although everything felt like a coincidence initially, I fell in love with makeup and discovered what I wanted to do for a living.
While still a college student, I divided my time. As a make-up artist, I gave reviews of products I found in stores. Additionally, I started bringing in products from abroad. I would try them on, and if I thought they had good quality, I sold them. Back then, I applied makeup for several people a day, sometimes visiting up to 17 clients.
One day in December, I made it to only five. I provided home delivery and had no car, so I took a taxi. When I arrived at a client's location, assembled my kit, applied the makeup, disassembled my kit, and took another cab. I repeated this at every location. That day, I had three weddings in three different places. It became clear the process was not practical nor sustainable. At the end of the day, I felt incredibly tired, but for the wrong reasons. That was when I said: "I need a retail location!"
A line waiting at my first retail location
Now that I think about it, I realize how one often tends to think small. I aspired to rent an apartment, wherein a space in the living room would serve to showcase the products I sold and where I could do clients' makeup. It proved impossible at the time, and everything took a different course. Steering away from my original plan became the best thing for me.
We cannot always understand why our plans fail, and we complain. In my case, the owner of the apartment did not want to rent it to me, even though my father offered to be my guarantor. I felt frustrated and disappointed, but now, I thank that person. Without that refusal, I may never have looked for a business location.
Instead of an apartment, I found my first store. On the main avenues of San Pedro Sula, it spanned 39 square meters. Less visible to the public, the location felt hidden, but with so many insecurities still, it seemed safe.
My business grew and I gained more and more customers over time. On special dates, I launched promotions which brought great success. On one occasion, so many people came to buy products, they could not fit inside the store.
The joy of growing, one step at a time
I had a mix of feelings at that time. While I felt happy and satisfied to see people choosing my store, I also cried sometimes, unable to give them all the comforts they deserved. In Honduras, we small businesses lack support, but I never experienced that. I feel great support from the people in my country.
Despite a lack of parking, they kept coming. I soon moved to a second location and eventually to a third, where I am now. This store boasts a larger more modern space and ample parking. It feels like the process has been perfect. Life is like a book that progresses in chapters. We cannot reach chapter 50 without experiencing 48, 49, and so on. I know without that first small store; I would not be where I am now.
Launching a cosmetics line with lashes
I studied industrial chemistry, without imagining that education would lead to creating new makeup products. By merging my two passions, I brought my ideas to life. In 2019, I launched my lash line – another dream come true. It became the first product in my brand Krizreales Beauty. It took two years to finalize the market launch, a time of hard work and dedication.
We created these lashes because it lashes proved a best-selling product at the store. Having done makeup for many clients, I knew their preferences for this type of product. Several styles exist that satisfy the most demanding tastes.
Even though the COVID-19 Pandemic arrived a few months after launch, the lash line becames a complete success. I received many orders. Contrary to what I believed, the clients, although stuck at home, wanted to wear makeup and eyelashes. I helped them look and feel good during the lockdown and I felt overjoyed.
When I realized quarantine would confine us to home, and I could not open the store, I wondered how I would do. We had a lot of money invested in the new project, but that differentiated us from many other businesses. I believe the Lord sent help to keep me afloat. I had work equipment, salaries, and rent to continue paying and the products from the brand made a huge difference.
Celebrating life and the key to creativity
In time, more and more ideas arose. For example, every time I did someone's makeup, the sponge used to apply the foundation (usually black or pink) ended up stained. I thought, "Here is an opportunity!" I wanted to create a sponge that could camouflage the dirt. I began testing colors. Based on skin tones, we found a brunette/ brownish skin tone most universal to people, and it camouflaged the dirt best. It also happened to match my skin color.
The team and I worked on the texture, size, name, and packaging. I asked several people for opinions on each new challenge I set for myself. They led me to the idea of giving the sponge a face. We applied personality to the product and our clients loved it.
The product I recently launched has created the most excitement for me. I just hit my 30s and found no better way to celebrate than by launching my makeup palette. It contains 30 colors. Each color represents a year of my life. With this product, I celebrate living.
I think the key to my creativity is to take breaks whenever ideas are not flowing smoothly. I color, watch a movie, and wait a while to clear my head. Doing this, I managed to launch seven products with my team so far, and we continue to work on others.
I am living a beautiful stage of my life, not only because I have achieved many of my professional goals but also because I have a wonderful family by my side. I recently became a mom, and my son serves as the source of my inspiration today. My husband plays a key role in my empowerment. He helps me strengthen the business and takes care of the administration, giving me time to be creative.
As a woman of faith, I thank God for all we accomplished, but I feel many things are yet to come. I have much more to give to my country.
Translations provided by Orato World Media are intended to result in the end translated document being understandable in the end language. Although every effort is made to ensure our translations are accurate we cannot guarantee the translation will be without errors.
Pledge to be a #ConsciousCitizen today and demand #GlobalCooperationNow! by signing this petition. Sign Our Petition.