At 15, she plays the violin with the greatest in the world
When I play the violin, joy overwhelms my entire being. It's a reason for celebration, whether I play for an audience or just myself. I like to share what I learn with others, since it takes great effort to achieve.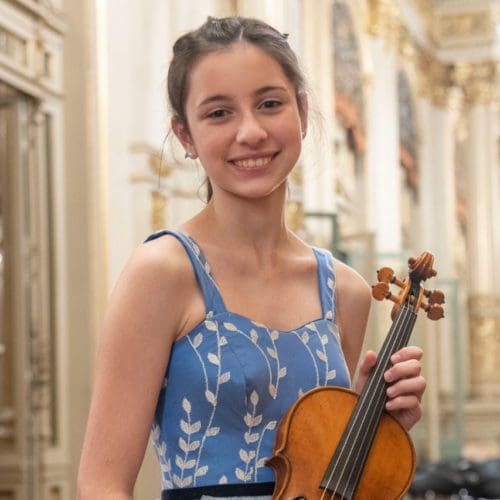 VIENNA, Austria — My mother called me early one day at the Morningside Music Bridge in Boston to deliver the news. I became the youngest violinist to win the prestigious Mozarteum Argentino scholarship to study abroad.
My hands began shaking and my legs trembled. I could not believe my ears! At 15 years old, I moved to Vienna to continue studying and playing the violin.
Learning from a world master
When my parents, brother, and I arrived at the Vienna airport, the place felt so familiar – like a reunion. I took in the small but elegant airport, full of voices and people walking quickly. Everything seemed so organized. It fascinated me how the tap water came out of the spicket so warm.
I loved seeing all the wiener schnitzel posters (a breaded veal cutlet). They reminded me of our milanesas back home in Buenos Aires.
Joy came over me as I met my new teacher Boris Kuschnir – one of the best in the world. I know what a phenomenal opportunity this is. Every week, I take two or three lessons with Boris. We have no time to lose.
With great dedication, he teaches me every detail of music and sound. I have to listen and pay close attention with extreme focus. We structure sound like a building, from the ground up, concentrating on every millimeter of detail. He remains patient and warm.
I enjoy the lessons, as he talks and tells me many important things. He narrates wise anecdotes while he teaches me violin. I can tell he is a man who has studied so much. Learning from him brings a smile to my face.
Little girl learns and grows as a violinist
My journey with the violin began over a decade ago, at six years old, when I played the "Happy Birthday" song. I grew up surrounded by music, feeling notes vibrating in the air. Born to an extraordinary musical family, my parents supported me and stimulated my interest, with music at their fingertips.
I began studying at the Lanus Orchestra school in Buenos Aires, where my mother Laura Minniti served as the director of the orchestra. The opportunities abounded and I began playing concerts. When the lights brighten on stage, you can see every musician's movement. I feel the music filling the room with incredible melodies.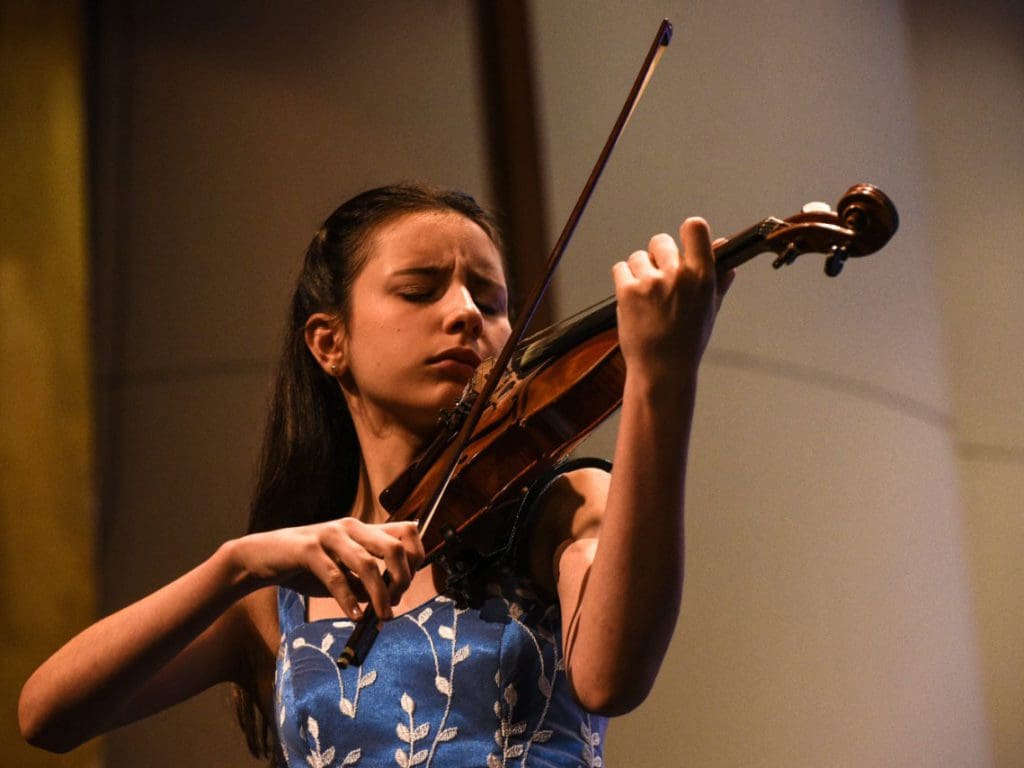 We frequented the opera and various concerts, where goosebumps covered my skin. Soon, I began touring. Playing music on tour brings wonderful people into your life. I have traveled to many beautiful places.
In 2020, everything stopped when the Pandemic it. We transitioned to high school classes online. I used the time to study my instrument even more, and to meet distance-learning students from around the world. So, when I heard we were moving, I immediately got so excited, I could imagine myself traveling to new places and honoring music. On top of that, it would be my entire family coming along and not just my mother. It filled me with great joy.
Pursuing the path of music
Right now, my favorite violinist is María Dueñas, a professional violinist from Spain. As Boris' student herself, we get to study together. It feels incredible to study with people I admire. I like music that challenges me, like Mendelssohn's violin concerto and the compositions of Jean Sibelius. Their work remains highly complex.
I make best use of my time here, experiencing important concerts and gaining achievements in competition. Recently, I won the Grand Prix of the Yankelevitch International Violin Competition and the special prize at the Nouvelles Etoiles International Competition. My heart leapt at the news that day.
When I play the violin, joy overwhelms my entire being. It's a reason for celebration, whether I play for an audience or just myself. I like to share what I learn with others, since it takes great effort to achieve.
When I play, I see many colors and lights. I can't distinguish the audience, only the first seats. I do not pay too much attention to the audience, although I like their presence. While playing, I focus on the strings, how they feel against the bow, and the bow itself in my hands. I try to perceive the harmonious sound that arises from their contact.
When I play the violin, I am in a world of my own. I am calm, doing what I do best. The sensation of the strings generates peace, happiness, and above all, emotion within me. For me, the violin is my greatest passion.
Translations provided by Orato World Media are intended to result in the end translated document being understandable in the end language. Although every effort is made to ensure our translations are accurate we cannot guarantee the translation will be without errors.
Pledge to be a #ConsciousCitizen today and demand #GlobalCooperationNow! by signing this petition. Sign Our Petition.