Médica argentina viaja para ayudar a refugiados en hospital cerca de frontera con Ucrania
Si bien el tratamiento y la contención formaban una parte importante de mi trabajo diario, a veces solo implicaba hablar con la persona. Teniendo en cuenta la angustia por la que han pasado, algunas personas solo necesitan hablar, narrarnos lo que les pasó o lo que les preocupa.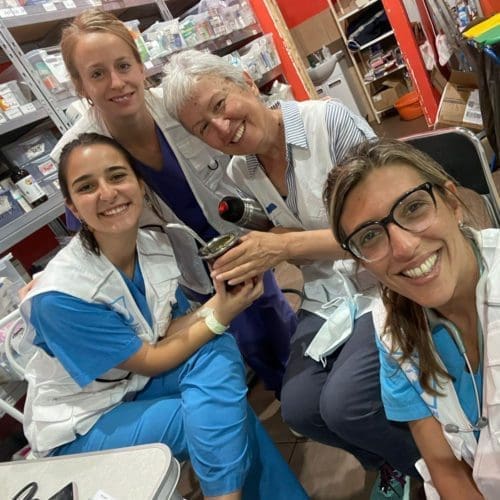 BUENOS AIRES, Argentina—Cuando Pablo Pratesi nos invitó a un grupo a una misión humanitaria para ayudar a los refugiados ucranianos en Polonia, no sabíamos cuán profundamente impactaría en nuestras vidas el viaje.
Pablo se desempeñaba como jefe de la Unidad de Cuidados Intensivos del Hospital Universitario Austral. Se acercó a mí y a otras dos colegas para invitarnos a hacer un viaje de tres semanas para ayudar a un centro de refugiados en Przemyst, Polonia. Financiado por la Fundación Adassa Adumori, nuestros viajes nos llevaron a la ciudad a solo nueve kilómetros de la frontera con Ucrania.
Un día en el centro para ayudar a los refugiados de la Ucrania devastada por la guerra
Preparadas para ayudar a las personas que sufren por la guerra Rusia-Ucrania, partimos de Ezeiza. La situación en la que nos encontramos parecía inimaginable.
Trabajábamos en un centro comercial convertido en hospital de campaña. Todos los días llegaban nuevos refugiados. Mis compañeros y yo atendíamos a unos 150 pacientes por día, y otros 40 a 50 por la noche. Aunque el centro permanece casi completamente ocupado y es difícil de manejar, se siente más tranquilo desde nuestra llegada.
Hacíamos turnos rotativos de 12 horas, día y noche. Por lo general, me despertaba y me dirigía al centro para trabajar o servir como guardia, si era necesario. Si tenía un turno de noche, descansaba durante el día.
El centro comercial reutilizado incluía oficinas que representaban a cada país de la Unión Europea. Por ejemplo, el espacio de oficina contiguo al nuestro representaba a Alemania. El siguiente representó a Italia. Cuando un refugiado llegaba al centro, se registraba en una oficina correspondiente a un país en particular.
Después de recopilar sus datos, el refugiado recibía un lugar para dormir y atención médica. Eventualmente, durante los días siguientes, el centro proporcionaba el transporte al país en el que se registraban.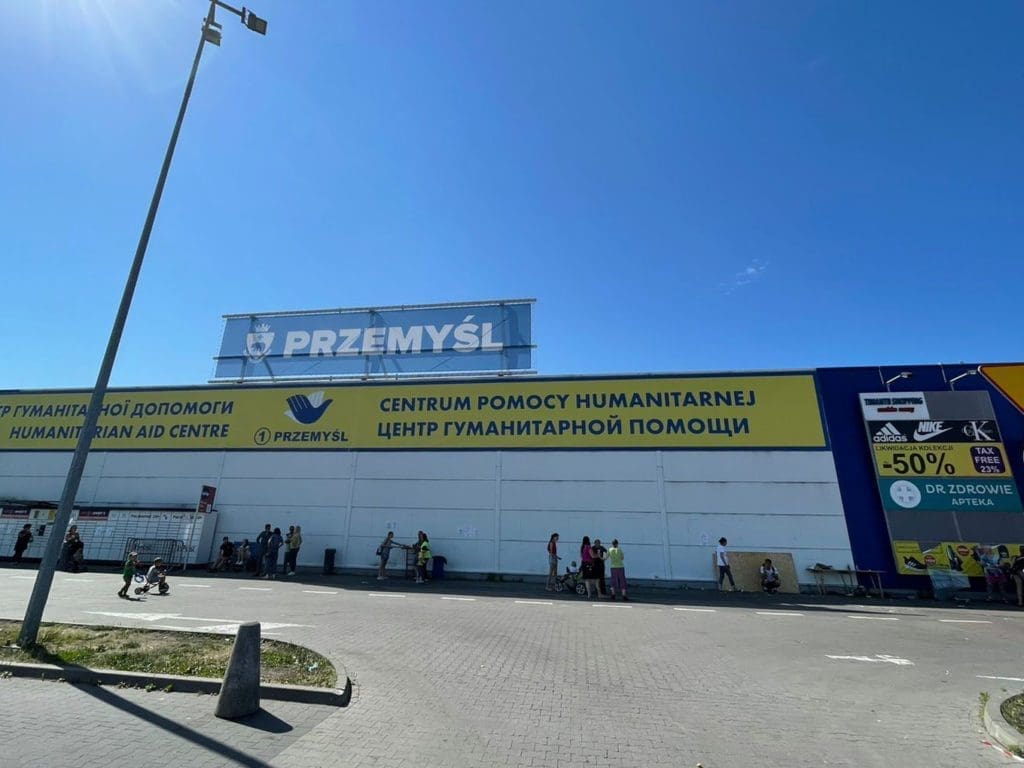 Organizaciones como UNICEF y fundaciones que se ocupan específicamente de los niños atrapados en la guerra permanecen en el lugar. Como parte de la Fundación Hadassah, junto con INTERSOS, montamos una clínica. Mis compañeros y yo atendíamos a personas que huían de sus casas, a aquellas con patologías crónicas y a personas que no recibían ningún tipo de tratamiento. La mayoría de los refugiados con los que nos encontramos venían en busca de medicamentos crónicos o atención primaria de salud.
Historias de terror y momentos conmovedores.
Si bien el tratamiento y la contención formaban una parte importante de mi trabajo diario, a veces simplemente hablaba con la persona. Habiendo experimentado una angustia extrema, algunas personas solo necesitan hablar y narrar lo que les sucedió. Compartían sus preocupaciones. Después de todo, estas son personas que lo perdieron todo. Dejaron sus hogares con sus pertenencias para ingresar a una tierra nueva y extraña con la esperanza de encontrar seguridad.
Durante mis tres semanas en el centro, fui testigo de la angustia y escuché historias sobre los horrores por los que pasó la gente. Una familia habló de pasar dos meses completos en un sótano, encerrada con soldados rusos.
Me encontré con hombres de países latinoamericanos que trabajaban bajo contrato en Ucrania pero de alguna manera escaparon del país. Muchos sufrieron bombardeos, llegando al hospital con quemaduras, dolor de oídos u otros traumas. No me tomó mucho tiempo entender que son sobrevivientes en el verdadero sentido de la palabra.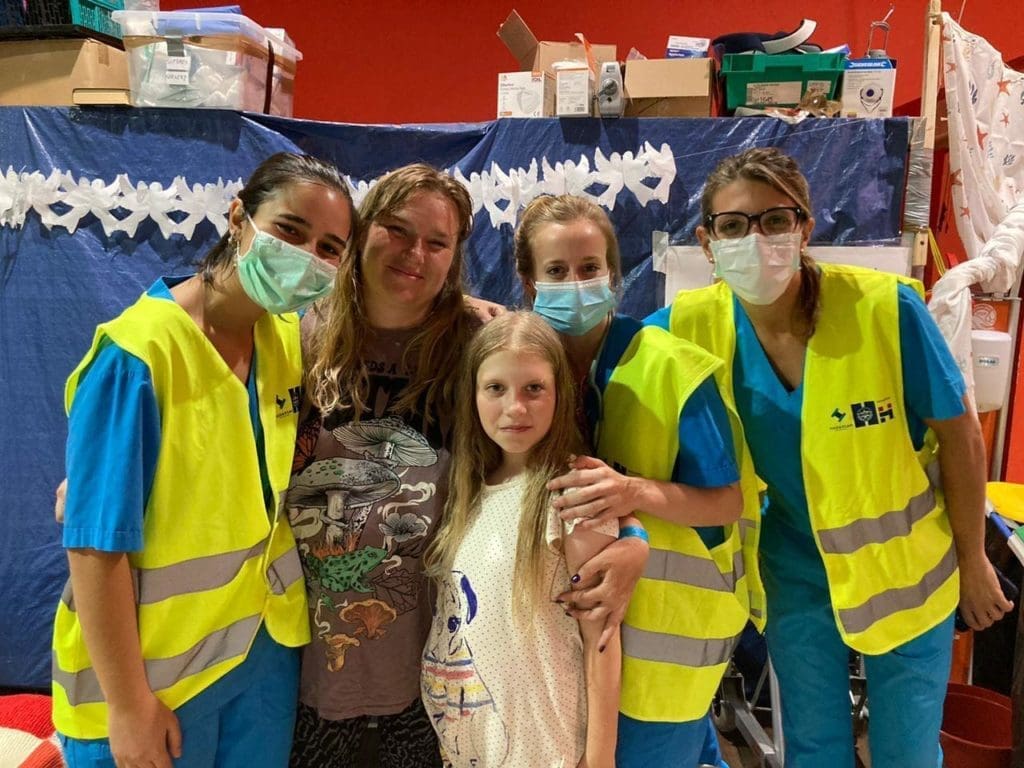 No todo se sentía oscuro y lúgubre. Aunque pocos y distantes entre sí, disfruté de momentos más alegres en el centro. Un día, mientras atendía a una madre y su pequeña hija, supimos que era el cumpleaños de la niña. Encontramos una vela y organizamos una celebración para ella, a pesar del caos que había alrededor.
En medio de historias aterradoras y simples momentos de alegría, experimentamos claros retratos de desesperación absoluta. Conocí a un hombre de 32 años. No hablaba muy bien ruso, ucraniano o inglés. Nos costó entenderlo. Me tomó algún tiempo deducir que probablemente había estado en diálisis en Ucrania.
No había recibido tratamiento en semanas. Queríamos enviarlo a un hospital, pero se negó a moverse porque pronto lo llevarían a Alemania. Mis colegas y yo tratamos de explicar el riesgo para su vida. Sin embargo, su desesperación por irse lo venció. Se negó a abandonar las instalaciones para recibir tratamiento que le salvó la vida.
Trabajando por un futuro mejor
Si bien el idioma representa una barrera, los intérpretes apoyan al centro. Aún así, con tantos dialectos, surge la dificultad. Los refugiados llegaron llenos de miedo, desesperación por huir y el grave impacto de sus casos individuales. A menudo, sus vidas corrían peligro, incluso en el centro.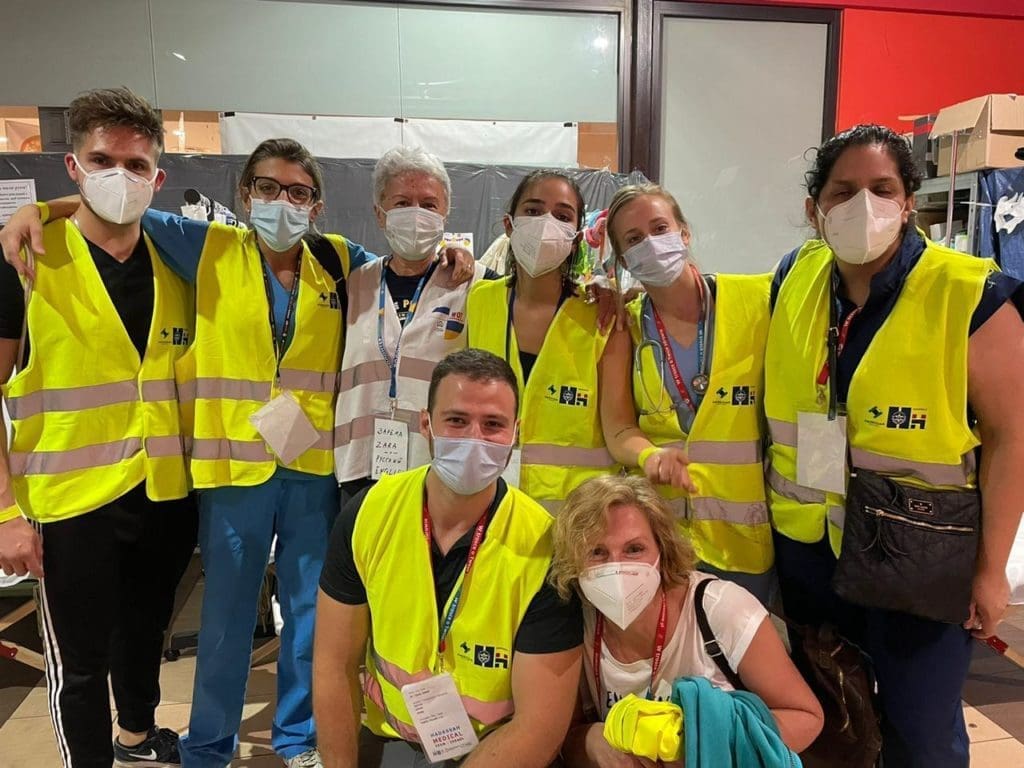 El centro sirve como un proyecto de respuesta de la Unión Europea, allanando el camino para muchas donaciones. La efectividad del trabajo acerca a las personas, luego las reubica en otros países. Incluso me encontré con rusos que no apoyan la guerra. Se ofrecieron para ayudar a traducir y otras actividades.
En tiempos como estos, cada eslabón de la cadena sigue siendo importante. La gente donó para que yo pudiera viajar como voluntaria. Como resultado, ofrecí ayuda. Cada persona puede desempeñar un papel para apoyar a los refugiados afectados por el horror de la guerra. Dar una mano puede cambiar al menos una pequeña parte de este mundo injusto.
En el futuro, espero montar una fundación en Argentina, conectando el sistema público con el privado. Esto puede garantizar que no falten recursos en los servicios de salud. Puede crear igualdad de acceso a la atención médica de calidad. Si bien puede sonar como una idea utópica, creo que puedo hacer que suceda.
Translations provided by Orato World Media are intended to result in the end translated document being understandable in the end language. Although every effort is made to ensure our translations are accurate we cannot guarantee the translation will be without errors.
Pledge to be a #ConsciousCitizen today and demand #GlobalCooperationNow! by signing this petition. Sign Our Petition.