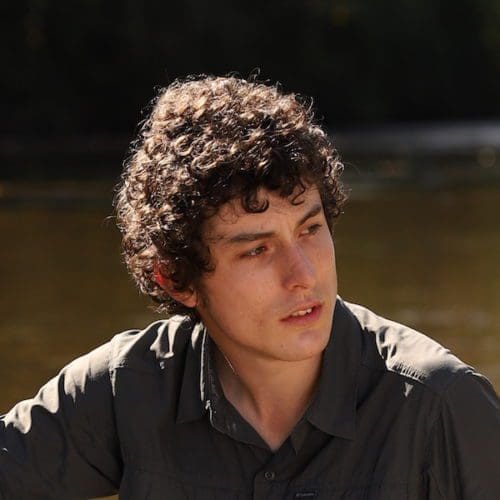 MONTEVIDEO, Uruguay — My passion for animals means everything to me. These creatures saved my life and provided me with a sense of purpose. During the pandemic, I pursued a project focused on wildlife and human diversity. I launched the documentary series Bichero, picked up by National Geographic and broadcast for families, especially those with loved ones on the autism spectrum. It feels like a dream come true.
I always had a strong desire to share my knowledge and educate others when it comes to the animal universe. My fascination with diverse species and their habitats made me an expert in the field.
Read more stories from Urugay at Orato World Media
I grew up surrounded by bullies, and animals brought me comfort
As a child, people often teased me, but I felt comforted around animals. They quickly became an escape for me. I knew I wanted to pursue a career in biology or zoology, but due to the trauma I experienced from bullying, I did not pursue my education through traditional learning systems. Instead, I focused on my secondary dream, to be a narrator and present animal documentaries.
From a young age, I felt drawn to the animal kingdom, intrigued by The March of the Penguins, narrated by Morgan Freeman. I fell in love with the diversity of species, like birds, reptiles, amphibians, fish, and vertebrates in general. My passion for animals helped me find my voice.
Although I am on the autism spectrum, I do not define myself solely by that label. While it remains part of me, I believe we all fall victim to a system that remains mono cultivating, designed for one type of human being. By pursuing my passion for animals and sharing my knowledge with others, I hope to break down these barriers and create a more inclusive and diverse world.
For the chapters of the project which I took part in, we filmed in Argentina, Uruguay, and Costa Rica. Along the way, I explored the beauty of nature and its fascinating creatures. The experience felt incredible. I woke up every morning and discovered new sounds and colors. Everything I saw remains registered in my brain forever, and I feel extremely lucky.
As I looked up, I noticed I was standing in the heart of a Magellan penguin colony
One of the most unforgettable moments of my life happened on the day we filmed penguins. For almost two decades, I dreamed of seeing a colony of penguins in their natural habitat. The team planned a surprise strategy to capture my un-staged reaction on camera. They blindfolded me and guided me 100 meters until we arrived at the location. I heard unfamiliar sounds and the scent of the environment changed. When they removed the blindfold, I found myself in a clearing, and as I walked, the cameras began to roll. The first thing I saw was a penguin sitting on a beautiful egg in its nest.
I felt overwhelmed with happiness and amazement as I engaged in a conversation with the penguins, imitating their sounds and receiving responses. Soon after, the entire colony of 600,000 Magellan penguins surrounded me. I stood in the heart of it all – a dream come true.
Another time, we studied elephant seals on the Valdez peninsula. Our team stood on the beach, watching the seals as they basked in the sun and played in the water. Suddenly, out of nowhere, a massive Orca lunged forward and attacked a seal, biting and thrashing with incredible force. We heard the sound of their bodies slamming into each other and the water around them churning with their movements. The smell of salt and seaweed filled the air as we watched, completely mesmerized by the violent yet awe-inspiring scene. For 15 years our main biologist, Soledad Leonardi, studied these creatures but we never saw anything like that before. It felt truly unforgettable.
Breaking down barriers for people with autism
No matter the project, I dedicate myself fully and strive for excellence. Recently, I undertook a challenging job that ran over three years. I wanted to propose a different interpretation of reality, one that highlights the importance of diversity. I did not want to simply present encyclopedic data. Instead, I wanted to show how all species on Earth, including humans, share a common thread that enriches life.
Revealing that I am autistic person proved a very personal decision. It felt important to use my voice and experience to debunk myths and stereotypes associated with autism. Like everyone else, we have different strengths and weaknesses and may require assistance in certain situations. That is a reflection of diversity. Autistic people remain more prone to bullying. Keeping silent may be the worst response for us, because storing and keeping so many things inside tears you apart. I decided to be open, unafraid, and unashamed. I needed an escape route, a new place to learn, and I found it.
Throughout the project, I worked closely with a production team that paid attention to every detail. Together, we made sure the music, expressions, words, colors, and pictograms used would create a safe and engaging experience for autistic people. Working alongside specialized professionals, we overcame every obstacle. It wasn't always easy, but I felt lucky to have such a supportive team of sound engineers, cameramen, and other experts.
Finding happiness after years of uncertainty
Although my routine varies every day, certain common activities remain. When we travel and film, we arrive at the location and change into our non-work clothes. We wake up very early and have breakfast at 6:00 a.m. While the team sets up, I change into my recording gear. Then, we go out to record until noon. After lunch, we resume our work until sunset or night, depending on the species. It becomes a long process, but it makes me happy.
I carry so many unforgettable memories with me, like the time we witnessed a family of orcas hunting with the stranding method. We stood on the lookout and finally saw it. We couldn't believe our eyes. Two families of orcas waited in the water, keeping a close eye on a nearby colony of elephant seals. Suddenly, a young seal pup started to swim in the water, and the orcas sprang into action. One of them grabbed the seal pup in its jaws before quickly returning to the water. We could feel the excitement and adrenaline pumping through our bodies as we witnessed this incredible scene. The sun shined down on us, and the water sparkled with light.
It feels incredible to think about all of the experiences I enjoyed while studying amazing animals. They teach me so much about the natural world, and I feel fortunate to witness these moments firsthand. When we watched the orcas hunt, it blew our minds and we discovered that other research teams witness little in comparison to ours. We feel like the lucky ones. That day, in celebration, we jumped up and down on the beach, hugging each other through tears of joy.
Translations provided by Orato World Media are intended to result in the end translated document being understandable in the end language. Although every effort is made to ensure our translations are accurate we cannot guarantee the translation will be without errors.
Pledge to be a #ConsciousCitizen today and demand #GlobalCooperationNow! by signing this petition. Sign Our Petition.