Hurricane Idalia flooded our home while we slept, we dragged a kayak through waist-deep water
I woke up groggy but as soon as my feet hit the water, I felt instantly alert. I walked into the dining room where we have a workstation. The power strip on the floor smoked and sparked. My husband ran to flip the power off and, in the darkness, we grabbed flashlights and candles.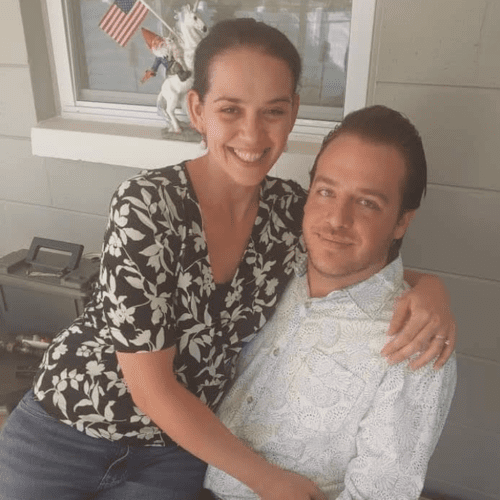 NEW PORT RICHEY, Florida ꟷ As my husband and I listened to news reports about the impending hurricane in Florida, it seemed every other weather person said something different. I looked outside our house and the winds remained low. It wasn't raining or thundering, which made Hurricane Idalia seem less serious. I stayed up until 1:00 a.m. trying to decide if we should go to St. Petersburg where we have family. We knew St. Pete's would be less impacted by the storm surge, but it was so late.
Finally, I listened to one weatherman say high tide would hit at Noon the following day and the worst part of Hurricane Idalia would sweep through New Port Richey between Noon and 4:00 p.m. I committed to deciding in the morning and went to bed. When I woke up at 6:30 a.m. I heard gurgling sounds inside the house and things banging around in my garage. As soon as I put my feet on the floor, I stepped into water.
Read more environmental stories from Orato World Media.
When the water flooded our home, we knew we needed to get out
I woke up groggy but as soon as my feet hit the water, I felt instantly alert. I walked into the dining room where we have a workstation. The power strip on the floor smoked and sparked. My husband ran to flip the power off and, in the darkness, we grabbed flashlights and candles. Overwhelmed by the moment, we had no time to think about all our possessions; we simply knew we needed to get out.
It still wasn't raining but the brackish water from the canals clearly flooded our home. I felt confused. "How could so much water have already entered," I wondered. With the sun still down, the house had an eerie feel. As I walked through the rooms, floating objects bumped into me.
One of my first thoughts was, "Oh my God, my poor cats!" The smarter cat was already lying on my bed, but I couldn't find the other one. Eventually I saw him floating on a little box underneath the bed. I pulled him out and sat him down with the other cat while we prepared to leave. A friend nearby, whose three-story house remained on a slightly higher elevation, told me they were fine and dry, so we prepared leave.
Wading through waist-deep water after the hurricane to get to safety
With Hurricane Idalia hitting sooner than predicted, we went into get things done mode. We happened to have a kayak so we gathered our important papers and put them in it. Next, we placed the cats and our leopard gecko inside pet carriers and put them in the kayak too. We stepped out of the house and began pulling the kayak a quarter mile to our friend's house.
An unbelievable feeling struck me when we stepped outside. You see this kind of stuff on the news but until it happens to you, you do not realize the impact. As we walked, some areas remained deeper than others. The water reached my waist at some points. Even though we faced a short trek, it felt exhausting treading through water for a quarter mile. As we moved, it began to rain and reality set in. It felt like a disaster. We passed a new development being constructed and the land in the middle, which was built up, remained dry like a small island. It looked so weird. I saw a pallet float by, followed by random objects and lawn ornaments.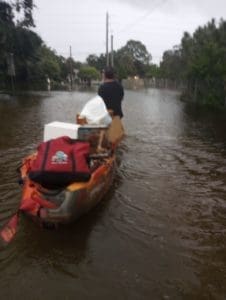 As soon as we rounded the corner and saw our friend's house I instantly felt better. Neighbors from across the street, who lived in lower houses, also sought refuge there. A woman I never met before greeted my husband and I at the bottom of the steps. She grabbed the cat carrier and took it to the house then came back for the gecko. I later learned she was allergic to cats and afraid of reptiles. It felt so awesome to have the help of strangers – neighbors helping out neighbors. It seemed like everyone just went into hurricane mode.
The help we received after Hurricane Idalia has restored our faith in humanity
The water began receding around 1:00 p.m. and when we could see the road again, my friend drove us home. We arrived at 4:00 and it felt insane to walk inside. I saw items in the kitchen that once sat in the bedroom. Random pieces of trash from outside floated through the house. The water line shone on the walls, and I felt shocked.
My husband and I rented a storage building to remove the dry items and avoid everything turning moldy. We removed clothes and mattresses. When the car insurance people arrived on Thursday, my vehicle would not start. As soon as he opened the door, he saw the water line above the speaker and said, "Your car is totaled." The home remediation team arrived as well and told us they needed to work on the walls two feet high throughout the house in order to dry everything out.
Living in Florida, we experience hurricanes. Last year, I watched coverage of a bridge wiped out by the storm. People remained stranded on an island and had to be rescued by boat. My heart went out to them. When you find yourself in that situation, you gain a new appreciation for the victims. This experience also made me appreciate that it could have been a lot worse. I'm sure when the remediation team comes in, starts ripping holes in the walls, and I can see from one room to another, reality will set in.
In the aftermath my husband said, "This has restored my faith in humanity." Strangers and friends helped us, and the donations we received on Go Fund Me are helping us to meet our deductibles and recover. Once our needs are met, I want to use the resources I've received to help others.
Translations provided by Orato World Media are intended to result in the end translated document being understandable in the end language. Although every effort is made to ensure our translations are accurate we cannot guarantee the translation will be without errors.
Pledge to be a #ConsciousCitizen today and demand #GlobalCooperationNow! by signing this petition. Sign Our Petition.