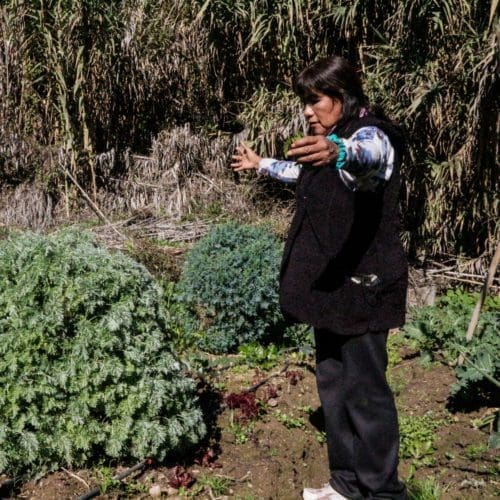 VALPARAÍSO, Chile ꟷ In April 2020, amid the COVID-19 Pandemic, women from the University of Valparaíso approached me about an opportunity. They won a project to work with Chile's Original People and sought to showcase indigenous cuisine.
I immediately said no but would soon change my mind. That work initiated my calling, to teach Aymara farming, cooking, and ancestry.
Helping with food awareness during COVID-19 using Aymara cuisine
During the Pandemic people suffered from job losses and could not leave their homes. Struggle persisted everywhere. When the women from the university approached me, my first thought was, "I can't be cooking right now." It felt inappropriate.
While I said no to their initial request, they asked me to think about it. As the days passed, I told my daughter about the conversation. "Why not cook them an easy meal, like kalapurka," she asked.
Kalapurka, a potato stew, is very easy and cheap to make. It could help people during the Pandemic. You toss in all kinds of leftovers, but potato remains the base ingredient. I decided to move forward.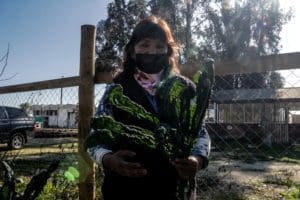 That decision marked the beginning of my journey to educate society about the Aymara people and our way of life.
I quickly began to enjoy talking with people from other places through our community on YouTube. It motivated me to apply for my own project to highlight the heritage cuisine of Chile's Original People. I won that project and included many different growers and cookers on my program.
My own journey into this work began as a child.
Father loses his indigenous name but retains his Aymara way of life
Orphaned at eight years old, my father began working as a young child. He adopted his boss' last name of Vega. Though he and I tried many times to change our last name, the registry in Chile refused. They do not recognize our ancestral surname.
Names matter.
When my father took his boss' name, he lost a connection to his and my mother's people – the Aymara – also known as Chile's Original People.
As a child, I remained close to my father's side. Though I was born in Livilcar, we soon moved to Arica in the Azapa Valley. It represented an agricultural territory. Our home in the valley had no light. It served simply as a place to sleep. My five siblings and I awoke early every morning and left the house. Our living space extended into nature.
During the day we tended to the plants and animals, worked the kitchen, and planted seeds. Even as babies, mother carried us on her back in an "awayo" as she worked all day. At night, dad told us legends about the town.
We sold what we produced. With organic crops and cheeses, our harvests remained limited. We sold a little here and there, four boxes at a time. Accompanying mother through the day, we always learned something about the earth.
Woman reconnects with the Aymara people and ancestral traditions
Two years after I married my husband, we moved to his home of Villa Alemana in 1991. There, in what is known as the fifth region, I began meeting other people from my ethic group. I learned more and more about my Aymara heritage.
Born on the shores of Lake Titicaca in Bolivia, the Original People enjoyed the sea and the mountains. At a height closest to the sun, they called upon Father Sun and Mother Earth. In our culture, we see everyone as equal, bearing the same rights to life and respect.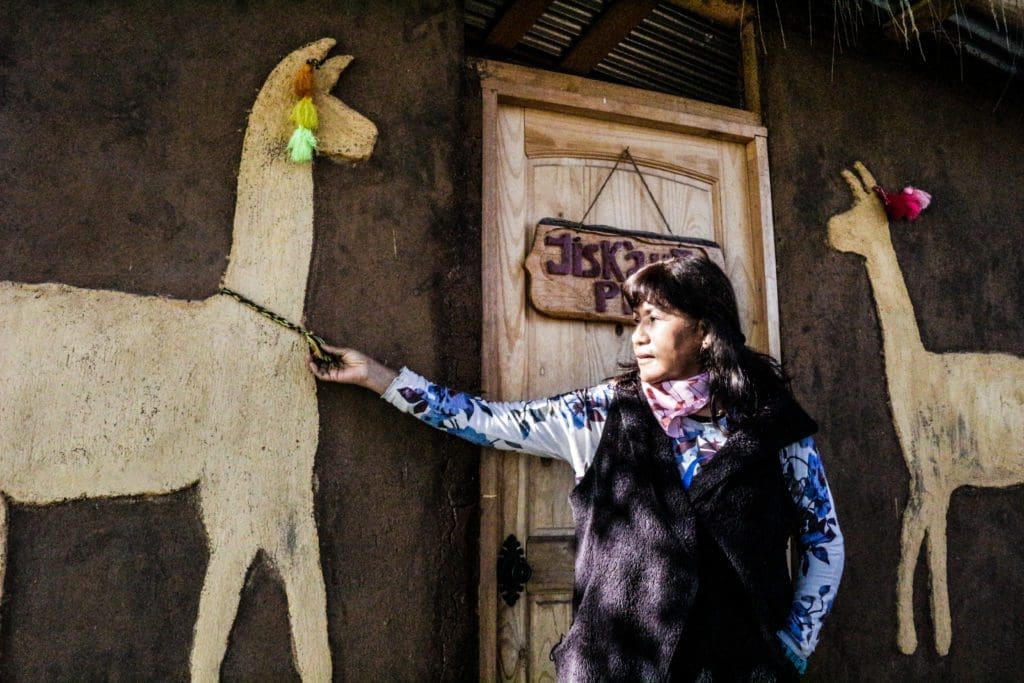 In the Quechua language, we base our goodness on the 13 principles of the "Sumak Kawsay." When a man wants to start a family, for example, the community meets to gauge his readiness. He must be a responsible man of integrity who works and fights for the family and community. He must show goodness. When he is ready, he can build his family, not before.
These traditions occur far less frequently today; however, we strive to return to our ancestral convictions. Many of us prescribe to the Aymara calendar. We celebrate the New Year and the Return to the Sun, and we recognize Winter Solstice. We make offerings to "Tata Willka," or Father Sun, asking for all things to come to us.
Modern farming dishonors the land, causes illness
My ancestors worked as farmers for thousands of years. I feel this work intrinsically, and I grow my food well. My people push against the commercial industrialization of agriculture, which ignores health, spreads pesticides, and abuses the land. Instead, we allow the land to rest.
I remember as a child when a seed company approached my father. They said, "You have to plant this; it will make you money." They handed him a very expensive tube. "You will triple your money," they told him. He accepted the offer but soon, experienced problems with his skin. The company said he should wear a suit to protect himself when he used the chemical, which was a pesticide.
My father began asking questions. How must I dress to go on my farm? Why do I do this? He realized we were eating poison and quickly exclaimed, "Now, this is over!" Father stopped growing vegetables and transitioned to growing and selling flowers until his last day of life. He refused to harm anyone with his crops.
I believe people experience poor health in Chile [and around the world] due to these chemicals. They die of stomach cancer and have problems with the gallbladder and pancreas. They consume a poor diet of sugar and saturated fat. The meat contains preservatives so it will not spoil. It feels very dangerous.
Community launches The Good Farm
I chose a different way of life by spending my time in the ground. Together with my people, we accepted damaged land near the Santo Tomás de Limache Hospital and reclaimed it. We call it "Wali Yapu" or the "Good Farm."
It can take more than 100 years to completely regenerate damaged soil and make it fertile again. The space lay covered in rubble, waste, and plastic. We worked tirelessly to recover the land, knowing we may not see the full results in our lifetime.
In the orchard, we make furrows – like spirals and waves in the soil. When the water enters, it runs through the furrows and feeds it. We are careful to avoid seeds covered in pesticides, like the pink and green ones you pick up in bottles at seed exchanges. Instead, we give away organic seeds.
When I hand a gift of seeds to someone, I ask them to care for the seeds – to plant and harvest; to preserve the food naturally.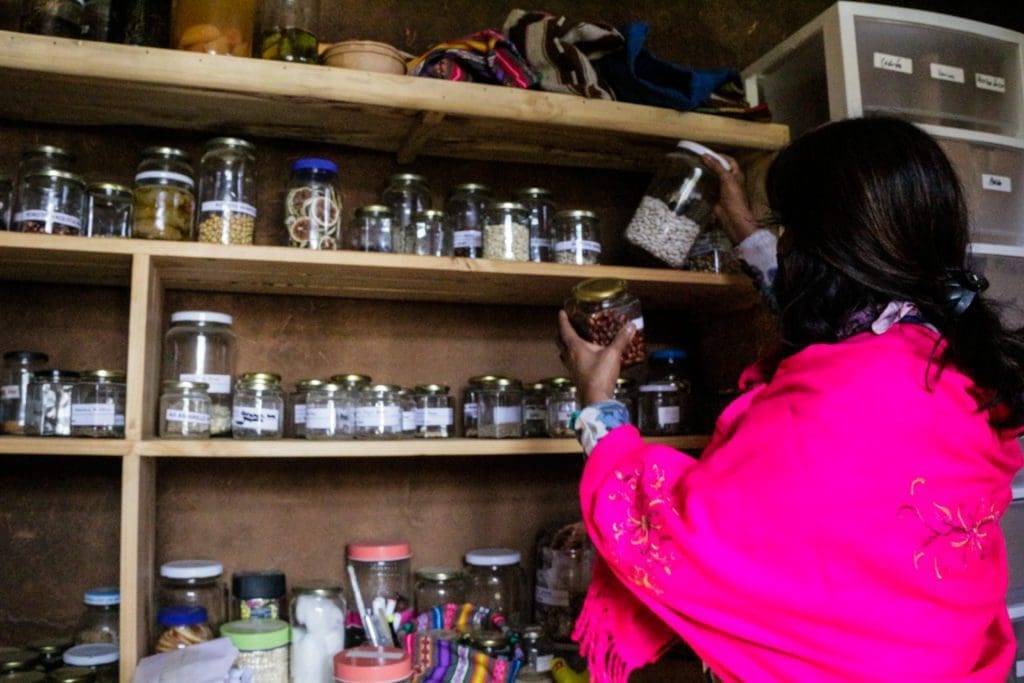 The long process of organizing the Good Farm requires knowing the associations between foods. The shade from broad beans, for example, will stunt the growth of lettuce, and cucumbers compete with corn. Cabbage attracts aphids but wormwood pulls the bugs away. From there, the ladybugs can eat them and leave the plants clean.
Water scarcity also threatens our success. This summer the drip irrigation for our crops spoiled due to low water pressure. Not only do people lose crops, but the continued commercialization and use of water for power leads to drought. Even the hospital, at times, experiences water insecurity, making them unable to respond to emergencies.
Teaching the youth better, ancestral ways
For 30 years now, I have served as a representative for my people and promoted our heritage through indigenous cuisine, vegetables gardens, and intercultural workshops in schools and universities.
While the New Constitution of Chile renamed us the Original People to recognize our ancestry and provide us with visibility, the country still does not recognize my ancestral name. I am Silvia Vega Valiente. Yet, my name does not stop me.
The word pachucuti in Quechua means "reformer of the world." It calls us back to a previous time before so much damage was done to the earth.
Today, I know who I am. I am a descendent of the Aymara people and a woman farmer. In my work, I encourage others to take up old practices; to follow the way of the ancestors.
Related stories: Displaced indigenous community living in Bogota Park demand basic rights, security and Woman trades Jersey City for Edisto Island, reclaims African ancestry
Translations provided by Orato World Media are intended to result in the end translated document being understandable in the end language. Although every effort is made to ensure our translations are accurate we cannot guarantee the translation will be without errors.
Pledge to be a #ConsciousCitizen today and demand #GlobalCooperationNow! by signing this petition. Sign Our Petition.