Fisherman escapes the clamping jaws of a Royal Bengal tiger
I grabbed the tiger's cotton-like, soft skin as I breathed in the smell of the beast. My companions fled to the other boat, still shouting at the top of their lungs. As I tried to knock the tiger out of the boat, it sank its teeth into my skull.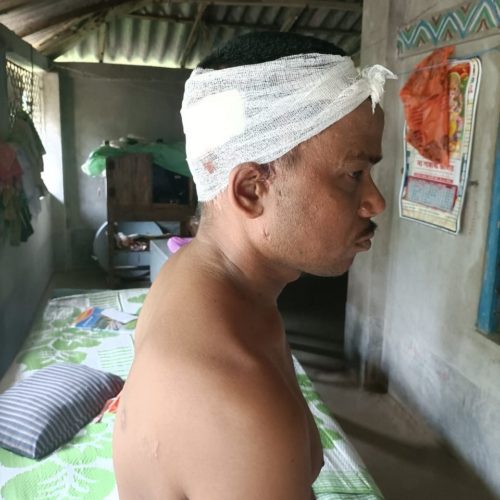 WEST BENGAL, India ꟷ As a fisherman in the Sundarbans of Bengal, I came to face-to-face with the infamous "man-eating tiger" of India and survived to tell the tale. My home on the Bally Islands remains one of the last human settlements in the Sundarbans – a dense and protected mangrove forest with intersecting, narrow tide channels.
For 16 years, I have fished this landscape, following in the footsteps of my father and grandfather. I gave up my studies to take up fishing, starting with trap nets around my home, adjacent to the Datta River. I caught prawns and other small fish. Slowly, I switched to seine nets and eventually began venturing deeper in the jungle with my boats. I took a crew of uncles, neighborhood boys, and my 15-year-old son.
Then, on a cloudy and rainy day in January 2021, I found myself in the jaws of a Royal Bengal Tiger.
Tiger attacks fisherman as he naps on his boat, fisherman recalls the feeling of tiger's skin
My crew and I went on fishing trips in the jungle for a week at a time in a small country boat. We carried drinking water and food. I took on the role of skipper and cook. We rarely set foot inside the jungle, knowing the danger it posed. Floating along, we collected dry branches to use as cooking wood, making food inside the boat during high tide.
In the small creeks, we stepped out to set our fishing nets at the mouth of the channel. This proves the most dangerous times for tiger attacks, since the boats are at their closest distance to the jungle. Back home, people enjoyed Jagadhatri Puja – a local festival – but we went out to fish. With our pass issued by the forest department, we set out for a camp called Netidhopani six hours away. Having fished this area many times before, we had seen a tiger strolling the jungle and joked with the other fisherman: "Be alert! The tiger is nearby."
Read more stories out of India from Orato World Media.
The rain drizzled down from the cloudy western sky as a storm brewed in the distance. We finished our work on the eighth and final day of the trip. We anchored in a nearby creek with a boat from another village to take shelter during the storm. Battling a fever, I slept in the boat while the other fisherman chitchatted.
Suddenly I heard what no fisherman ever wants to hear, "Tiger! Tiger!" I removed my blanket quickly and thought, "Where is the tiger?" Shock set in as I opened my eyes to see a five-foot long Royal Bengal Tiger standing on me. It is said, if a tiger looks at you, you will be mesmerized. Indeed, I felt dumbfounded for a moment, then my brain started functioning again and my reflexes returned.
I thought of knocking the tiger off me out into the river as I cried out, "Oh mother, save me!" I grabbed the tiger's cotton-like, soft skin as I breathed in the smell of the beast. My companions fled to the other boat, still shouting at the top of their lungs. As I tried to knock the tiger out of the boat, it sank its teeth into my skull.
Attack leaves man with pervasive injuries, family rallies to stay afloat
I do not remember my companions fighting to release me from the grasp of the tiger, but they saved me. They said I was bleeding profusely and muttering instructions. "Give me some sugar on the wound! I will survive," I apparently told them. The next thing I remember, I awoke from a coma in a hospital bed.
Thinking quickly, my crew had used my cellphone to call my uncle, who reached out to a local political leader and a forest ranger. The ranger sent a speedboat to rescue me and take me to the nearest medical center in Gosaba two hours away.
The doctors there treated me with first aid and transferred me to Chittaranjan – a famous government hospital in Kolkata. In that distance of 80 kilometers or 50 miles, previous tiger attack victims died en route. Not me; I continued to mutter and the doctors knew they could save me. I spent two weeks in a coma.
News spread like wildfire in my village. People began praying for my recovery and my father began to take care of all my needs. He got me transferred out of the government hospital for better treatment and my mother sold our land to finance the medical bills. It took six long months before I could return home.
In my absence, my family's financial situation deteriorated quickly, so my son went to the western state of Maharashtra to find work. In the delta, young boys commonly migrate to another state to work when their family needs money. I never thought my son would have to go. Since the accident in January 2021, I still have not seen him, and I wish he could return.
My wife also had to go to work. She serves at a tourist resort earning a meager 3,000 rupees or $36 (USD) per month. I continue to recover. The tiger damaged my entire skull and left me with bites on my back. The doctors grafted skin from my leg to repair me. I also developed an infection on my back from poisons in the tiger saliva. On each full and new moon, my pain becomes unbearable and I face more surgeries moving forward. Some days, I don't know how we will survive.
Translations provided by Orato World Media are intended to result in the end translated document being understandable in the end language. Although every effort is made to ensure our translations are accurate we cannot guarantee the translation will be without errors.
Pledge to be a #ConsciousCitizen today and demand #GlobalCooperationNow! by signing this petition. Sign Our Petition.