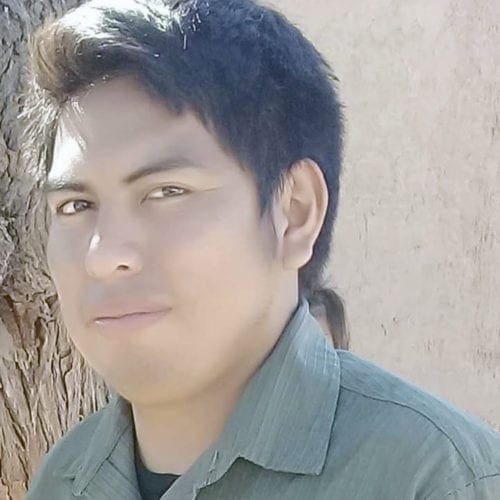 In my community, children die daily from malnutrition due to diarrhea.
We don't have plumbing, and we drink contaminated water that tastes like fuel.
I used to wake up thinking about improving this situation that has not changed for more than 100 years.
That is why I went to study law in Buenos Aires.
I embarked on a new adventure, without fully understanding the language and fear of the big city, to save my people.
I left my community to have a college education.
I am the first Wichi to do so.
At Buenos Aires, I contacted social media influencer Santiago Maratea.
My idea was to see if he could help collaborate with my community.
We started a fundraising campaign and got two vans that we transformed into ambulances for our people.
Now, our community has a lot of new projects coming, thanks to these initiatives.
The decision
I had a hard time talking to my parents about this plan as I felt like I was abandoning them.
Despite their fears, they supported me and did their best to accompany me in this process.
My dad told me that there was nothing else to do there in our community.
He suggested there wasn't much I could accomplish.
With tears, fear, anguish, and full of hope, I said goodbye to my family and friends.
I embarked on the new adventure without fully understanding the language or the fear of the big city but knowing that I would return with solutions.
I left behind my job as a carpenter, the family profession.
I got on a plane for the first time in my life.
Buenos Aires was my final destination.
Our crude reality
We are a tribe of more than 5,000 people.
Only half of us have access to running, drinking and potable water.
Almost all pipes are rusty and unusable.
That is why the gendarmerie must bring us water every day in non-sterilized gasoline tanks.
From there, we source the water.
The containers do not have a lid, and our stock fills with dust and mud in a matter of hours.
We end up drinking contaminated water that tastes like fuel.
The houses feature adobe — a mixture of mud, sand, and straw — that, when dried, remains as hard as bricks.
Not only do we suffer from the lack of essential services, but also discrimination.
Both society and the police forces do not consider us people. We are invisible.
All this causes me a lot of anger that I transform into a desire to study and get ahead to help my people.
The challenging big city
When I arrived, I didn't think I would last so many years here.
I was overwhelmed by the noise and the number of people. It was difficult for me and still challenging to raise my voice above the ambient noise. The horns, the traffic, the murmur, and the music were too much for me.
The first year in college was pure frustration.
My native language is not Spanish. I had to take introductory notes, translate them into Wichi to be able to study.
Thanks to my colleagues, the year was not such a heavy burden.
I missed my family so much, but I had a goal. Every night I thought about them with sadness. I cried a lot.
As the weeks went by, I accelerated the learning process.
Little big changes
Together with UNICEF, I came up with the idea of creating a vegetable garden.
We started by planting some tomatoes, onions, and lettuce.
Thanks to the initiative, we are stopping hunger.
Day after day, we continue to expand the variety.
Many surrounding communities are contacting me to imitate us.
The future
I dream of representing indigenous peoples, not just my community.
I keep on studying very hard to do the best I can for them.
Even a college degree is not enough. That is why I'm constantly trying to contact new people to promote other initiatives. The inequalities have to end and I look forward to that moment.
I want to continue studying to have more and more tools to represent my people.
My dream is to work along with the State.
I believe that profound public policies are needed to generate real change.
Translations provided by Orato World Media are intended to result in the end translated document being understandable in the end language. Although every effort is made to ensure our translations are accurate we cannot guarantee the translation will be without errors.
Pledge to be a #ConsciousCitizen today and demand #GlobalCooperationNow! by signing this petition. Sign Our Petition.