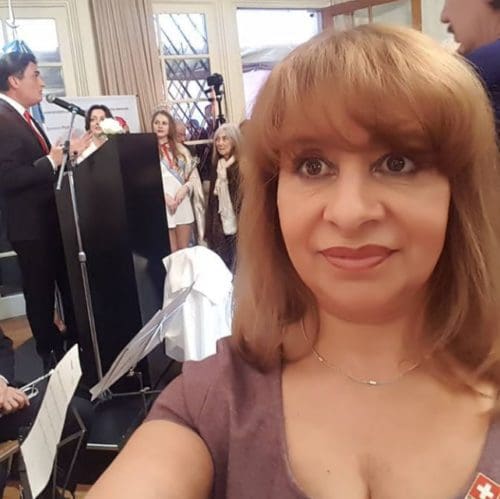 BUENOS AIRES, Argentina—It's been 11 years now since I lost my youngest daughter, Melina González. Her fight for the right to a dignified death helped pave the way for the passing of laws in Argentina that guaranteed just that. Our journey was not an easy one, however.
A happy child despite health challenges
I have three children: Celeste, Nicolás, and Melina. Our life always revolved around family, sharing moments, and laughing out loud until our stomach hurts. Until one day, the smile I wore so often began to fade from my face, and the happy moments lessened as life hit us—or rather, as Melina worsened.
Melina was born with a disease known as congenital neurofibromatosis, a degenerative disease of the nervous system that mainly affects development. She always required special care in that aspect, but otherwise, she was cheerful and fun-loving like any other girl, and she always had many friends who loved her.
However, in 2009—when Melina was 17—doctors discovered a rare type of malignant tumor called schwannoma in the nerves in her back. She had it removed and then began chemotherapy, radiation, and palliative care treatment at Garrahan Hospital in Buenos Aires.
Despite this, Melina continued to be a normal teenage girl. She always surrounded herself by friends who were there for her unconditionally. My house became a pilgrimage; Melina arrived, and people soon followed. There was always someone there to spend time with her, to make some pizzas to snack on together or just enjoy Melina's company. Her friends were her pedestal, her strength.
Melina prepares for the end
Melina's condition continued to deteriorate. One of the many days we went to the hospital for her treatment sessions, she saw a girl in a wheelchair with her parents walk by. She then said, "You see, mom; I do not want that for you or myself. That is not fair. It is not a life for either of them. I want to die with dignity, and that is not dignity."
From that moment on, she began to investigate if there was anything she could do to make her wishes heard since there was no legislation about this subject in Argentina. I supported her fight because she asked me to; she begged me. For Melina's sake, I ignored the pain I felt seeing my daughter in that state.
My daughter didn't just want justice and dignity for herself. She thought no one should go through what she was experiencing, and neither should their families. "Lasting is not living," she said.
No one listened to her request, because the doctors said she was not terminally ill.
Let me clarify that Melina was not asking for euthanasia (a direct action that results in a patient's death), but "death with dignity," which is very different. She wanted them to not prolong her death by hooking her up to a device or continuing hospice care. She wanted her body to carry out its due process.
Melina continues to fight, then says goodbye
As a mother, you want your kids to live longer than you. That is the law of life. But sometimes life changes the natural order of things.
I felt torn up inside. I knew my daughter was dying and witnessed her suffering, how her body and spirit disappeared little by little. She was not the cheerful and lively Melina. She was not "my Meli."
However, it was she who kept asking me for the impossible: "Mom, fight so that they let me die in peace. And if I do not succeed, keep fighting so that others do not go through this, and their decision to die with dignity is respected."
Melina could no longer sit up in bed. Her disease had left her a quadriplegic, with her spine broken in two parts. She had difficulty breathing and weighed less than 18 kilograms (40 pounds). Still, the disease would not give in. She demanded they sedate her so that she was unconscious until she died. But for the doctors, she was still not in the terminal phase.
She decided then to ask the Argentinian president, Cristina Fernández de Kirchner, to convene Congress to debate a law that would allow her a dignified death.
Melina told me how it felt like she was drowning, like she couldn't breathe.
"This is not life; can't they see that no one deserves to live like this?" she asked me. "They do not understand me. They think you can always find a way. But I can't—I do not want this anymore."
Family visited often, and for one visit she asked her sister to bring a camera. She asked her to close the door and record her, to help spread her message. That audio and video toured the media as she had wanted; we, her family, were there to fulfill her request.
"I think that, like mine, there are a lot of similar cases. And it would be good if there was a law that protects those of us who are sick, a law that understands us," she said shortly before she died.
Her condition worsened, and finally, on March 1, 2011, Melina, aged 19, died at Garrahan Hospital. The doctors consented to sedate her five days before to alleviate her tremendous physical pain and the great exhaustion she suffered from the legal fight she was carrying out.
The fight for Melina's legacy and a "Dignified Death"
Overcoming Melina's loss, in addition to the ordeal we had lived out for years prior, was the most difficult thing for me and our family. But I had to continue as she asked me to and try to fulfil her legacy.
I don't know how many doors I knocked on, telling the story of Melina and what she died asking for; how many testimonies I gave in forums debating the need for the dignified death law. Over and over again, I insisted that a law was necessary to address the legal gap in the country. I did not want anyone—especially other mothers—to go through what I went through, or for their children to experience that pain.
This is how I managed to reach Senator Samuel Cabanchik. He gave me his support and helped ensure the issue would be discussed in the national Senate.
After many debates, Melina's dream that each person has access to a "dignified death" became law in May 2012. I fulfilled the request she made of me; despite being broken inside, I leaned on that "cane" of her dream and continued walking like a pilgrim who rests every so often, regains strength, and continues on again because he simply has to reach his destination.
Although the goal was to pass the law, what Melina really requested and what this law honors is the humanization of medicine. That was all that my daughter thought while she was dying and going through those painful treatments.
She was a heroine, bravely taking on both life and death. Her fight had a high cost, and so did mine: accompanying my daughter as her life ended and vowing to fulfil her wish. I could not do less than that—I had to continue and raise her flag.
Melina inspires me still. Every March 1, I am the one who says, "Many people, thanks to you, today can choose how to leave this world."
Translations provided by Orato World Media are intended to result in the end translated document being understandable in the end language. Although every effort is made to ensure our translations are accurate we cannot guarantee the translation will be without errors.
Pledge to be a #ConsciousCitizen today and demand #GlobalCooperationNow! by signing this petition. Sign Our Petition.