BUENOS AIRES, Argentina — As someone with a plus-size body, I feel like my very existence is an act of protest. Despite the entire world telling me to hate myself and hide, I choose to celebrate my body by going out and engaging in activities I enjoy. It feels like a contradiction because my body is large, highly visible, and attracts attention anywhere I go, and yet, my problems and needs remain invisible. Sometimes it feels like I don't even exist. 
On my first day of kindergarten, a girl ran up to me, called me fat, and laughed. It seemed like my body, my mere existence, was a problem for others. They bothered me so much that a teacher contacted my mom, suggesting I go on a diet to lose weight since she could not control my classmates. My body seemed to impede the work of other people. 
Being fat does not require confession. It remains obvious to everyone. My weight appeared to be a visible flaw they felt the need to remind me of constantly. Bothering me became a form of entertainment for others. The only time they left me alone was when they forgot I existed. Consequently, I strived to be as invisible as possible, seeking to attract less attention so no one would notice me.
Related: Fitness influencer opens up about anorexia, eating disorder recovery
I realized I never really did things for me, and had no idea of what I wanted
In time, it became challenging to fully grasp the distinction between what I liked and what I believed remained within my reach. I began to accept what appeared to be available. I could not desire the same things as my friends. Rather, I had to make do with what I could access, whether it was clothing or social connections. Very little is said about the experiences of fat people. We lack representation in magazines, TV shows, and movies. As a girl, when I watched the same media as my friends, I noticed all the actresses looked similar—but not like me.
When a fat female character appeared, they often portrayed her as the half-witted friend who struggled and failed to attract boys. This limited my aspirations because I thought I could only be what I saw. I felt destined to be the butt of the joke. I used to watch the series Rebelde Way. It featured a character named Felicitas, the fat friend of Mia Colucci, one of the main characters. No one wanted to be Felicitas, not even me. I wanted to be like Mia, and it frustrated me to know the goal remained unattainable. Throughout my life, I began going on various diets.
My experience remains the norm for girls like me, not the exception. Since the 1940s, women have faced these issues. Growing up, I constantly measured and restricted my food, sometimes with the guidance of nutritionists, but health professionals rarely offered help. They recommended weight loss before any other examination. One nutritionist even told me, if it were up to her, she would recommend bariatric surgery. They failed to realize how hurtful and insensitive it felt to talk about my body like that.
I felt excluded from moments that I longed to be a part of
During my adolescence, the school bullying subsided a bit, but new challenges arose. Clothing and boys remained popular topics among my friends. However, boys never approached me, and the clothes never fit. When we went to the mall, my friends all bought the same items while I watched, knowing none of them would fit me. Sometimes, I managed to find shorts or similar clothes to what others wore, but I dared not wear them. I spent many summers enduring the heat in long pants. 
When we started celebrating our fifteenth birthdays, I found myself excluded from the fashion aspect of social gatherings. Not everyone could afford new clothes for each party, and nobody wanted to wear the same outfit multiple times. So, girls often exchanged and borrowed clothes. It looked fun to be able to play dress up with friends while you talk excitedly about the party ahead. I never participated. My friends never said anything directly, but I knew I could not borrow anyone's clothes. 
To me, clothing holds more significance than mere fabric stitched together. It represents moments of enjoyment with friends and serves as a tool for expressing one's identity. Unfortunately, I had no access to that. I could never truly find myself in anything because I focused so much on hiding my body underneath the garment. My grandmother possessed great sewing skills. She crafted wedding dresses for her sisters and nieces. For a while, she even made clothes specifically for me. Sadly, these beautiful garments eventually no longer fit me. I longed to experience the same things as my friends—to go for a stroll, enter a store, and purchase fashionable items. It felt incredibly unfair to not do those things.
I finally felt seen by the world in a way I had never experienced before
At 16 years old, I went on vacation to Cuba with my parents. Boys glanced at me, and it felt overwhelming. I began to fear they would mock me, thinking something must be wrong with my clothes or appearance. Then, one of the boys approached me and asked for my name and phone number. It felt difficult to believe he found me attractive. That experience marked a turning point in my life.
In Argentina, society considered me unattractive, and nobody wanted me. However, in Cuba, I felt like a goddess, and everyone admired me. It made me question the concept of beauty and what it meant to be pretty. I realized the phrase "beauty is in the eyes of the beholder" is not just subjective. It goes beyond that. It is a sociocultural construct learned through repetition.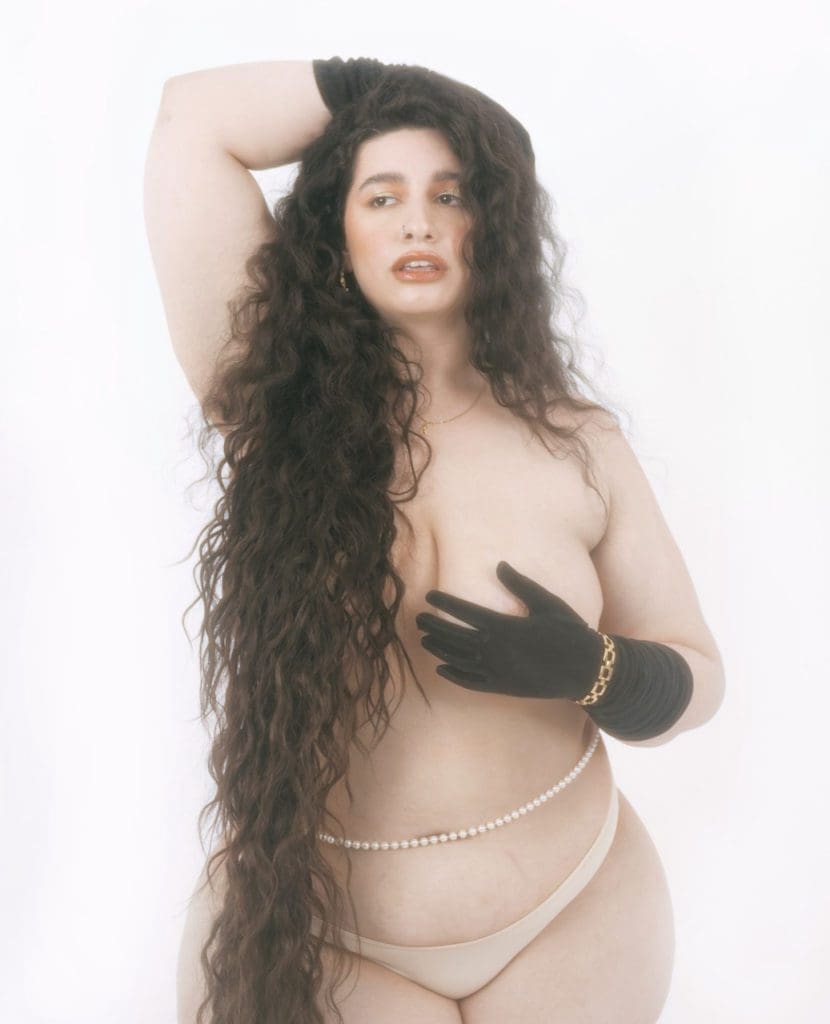 Eventually, I discovered I could be more than the loser depicted on TV and the stereotype imposed on every fat girl. Around that time, I entered a relationship back in Argentina. It felt like the only reason I did it was to catch up to my friends who were all dating. Being in a relationship allowed me to be a part of things. When I started college, a world of possibilities unfolded. The environment where I lived with my parents consisted of the same people, in the same places, and it felt stagnant. Everyone knew me as a shy and introverted girl, expecting me to remain that way. When I started commuting to the city every day, I realized nobody paid attention to my attire. It allowed me to explore different styles and feel liberated.
Embracing my body and using social media to advocate for body positivity
During that time, I also discovered feminism through the internet. Feminism began to gain significant momentum in Argentina. Many women started to identify as feminists, sharing their experiences, problems, and struggles. It provided me a sense of self-assurance and the opportunity to grow differently. On June 3, 2015, the first feminist march, Ni Una Menos, took place in Buenos Aires. The movement originated on social media and gained substantial strength.
Attending that march became a pivotal moment in my life. I realized my experiences aligned with those of many other women, but I also recognized being fat influenced my experiences in different ways or prevented me from experiencing certain things. Embracing body positivity allowed me to view my body in a positive light. I learned that the term "fat" is not an insult. I connected with girls from other countries who proudly displayed their looks, regardless of their body type.
After discovering body positivity, I decided to use my Instagram account as a platform to advocate for this cause. I utilize my account to convey a message, but sometimes I also share glimpses into my daily life. It's interesting because merely existing as a fat person already makes you an activist. If I post a photo of myself wearing a bikini at the beach, I receive comments congratulating me for my bravery. I understand that the comments are well-intentioned, but the way people address others should be reconsidered. Why do they see a beach photo as a profound act of courage? It should be normal. Why should a fat person be seen as brave for going out? They should be able to do so without drawing attention.
We still have a long way to go
Unfair treatment continues to be directed at fat people. Despite increased awareness and openness, acceptance on a mass scale feels far away. We experienced some notable advancements for a period of time, but now many freedoms appear to be regressing. To me, being politically correct simply means being kind to others. However, many people who advocate for freedom do so solely in an economic sense while wanting to strip dissidents of their rights. The situation remains perplexing. I notice the increasingly aggressive comments I receive, which indicates this fight is far from over. Unfortunately, it cannot be resolved through Instagram posts, although I wish it could.
Nevertheless, I feel good about myself. Being an activist does not solve all of life's problems. Comments still affect me. While I do not always feel good about myself, I hold the tools to navigate through these challenges. Most of the messages I share on social media are not just for others, but for myself. They serve as a reminder, as words of affirmation I can internalize over time. I also hope that my words reach girls everywhere who struggle with body image issues. I want them to feel they also deserve to shine and find themselves. 
Translations provided by Orato World Media are intended to result in the end translated document being understandable in the end language. Although every effort is made to ensure our translations are accurate we cannot guarantee the translation will be without errors.
Pledge to be a #ConsciousCitizen today and demand #GlobalCooperationNow! by signing this petition. Sign Our Petition.