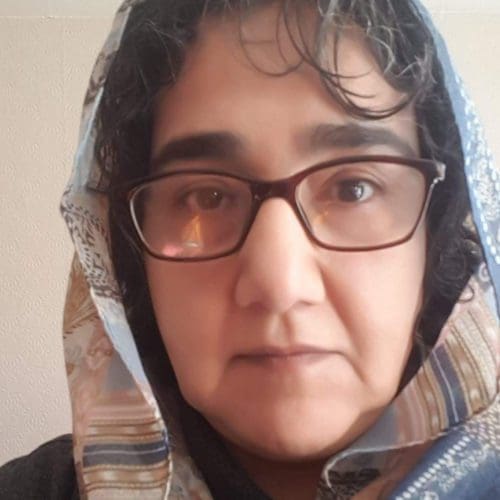 OLDHAM, Greater Manchester, England—I have no answer for why I became an activist. It has always been inside me.
Forced from my homeland by the Taliban, my fight continues from the UK. They tried to kill me, but I have survived and built a new life for myself.
Hiding in a sewer, I escaped execution by the Taliban
My hometown is PuliKhumri, a city in Northern Afghanistan, where I grew up with my parents and siblings.
I lived within the patriarchy, but as a young woman in the 1990s, I served as a family court judge. There were only 26 female judges at that time.
When I entered the role, I became acutely aware of my naivety. The law in Afghanistan treated women markedly different. Having witnessed the discrepancies, I started a small shelter for divorced women. My family and I helped three to five women at a time. We provided food and worked on their literacy.
Now in its third decade of existence, the Taliban began as an armed group that emerged in the 1990s out of Afghanistan's Civil War. By 1996, they had come to rule most of the country.
They quickly learned my name. There were whispers saying, "Look what she is doing." One afternoon in 1997, my worst fears became reality.
Eleven Taliban soldiers arrived at our home. Outside of the house, they beat our driver before breaking through the front door. We all knew who they were after.
I escaped into the sewers in an alleyway behind the house, while my parents and siblings remained inside. "Where is Marzia?" they demanded to know. For four hours, I huddled there, surrounded by dirt and stench, flies biting me all over. I knew the Taliban men had come to kill me. In my hiding place, I thought they would find me. I was just waiting to be shot, but they left.
That very night, I fled to Pakistan. For the first time, but not the last, I became a refugee.
They ran me over with a car to try and silence me
I stayed with a friend in Pakistan while others took in my family. The Taliban stripped everything from us. They confiscated all our belongings and property, leaving behind an empty house.
We were safe in that moment, but our work was just beginning.
Walking the streets of Pakistan, we saw young Afghan refugee children selling goods to survive. My mother is a teacher, and we felt called to help them, so we started a children's school.
Sometimes the Taliban came to threaten us, but I fought on. I took my message to the media, and I stood up for my country.
When the Taliban lost power in 2001, I leapt at the chance to return and help heal my homeland. Back in Afghanistan as the Chairperson for the Women's Committee of Afghan NGO's Coordination Bureau, I had hope that things would change. I even felt bold enough to support the Asia Foundation's events for Women's Day. Sadly, my joy would not last.
Though the Taliban were not ruling the country, they were still extremely active, and our sense of safety shattered once again in 2005 when they killed a young female journalist.
During this time, I traveled back and forth between Kabul and Pakistan. I risked my life with each trip, and soon I paid for it. First, the Taliban began a misinformation campaign, questioning the integrity of our school. Their efforts shut us down.
Then, in 2007, they found me.
On a typical Friday, I left Kabul to see my my mother, who was ill in a hospital in Peshawar. A car suddenly sped toward me as I walked outside. I had no time to react, and this was no accident; I was a target. The car ran me over and nearly killed me in a horrific hit and run.
A refugee in the United Kingdom, I fought for citizenship
For six months, my body fought to heal, wrapped in a plaster cast in a hospital bed and then a clinic. The Taliban had nearly achieved their goal of killing another outspoken Afghani woman.
My mother suffered seeing my body broken in my bed. Her instinct to protect her children consumed her. She begged me to flee, and for the second time, become a refugee in a foreign land.
My heart wrenched at the thought of it. For years, I put all these seeds into the ground, hoping to see them flourish. I suffered and sacrificed to serve and help my people.
I knew that one day I would die and was not afraid of death. Rather, I was sad to leave my people behind.
I made the decision to leave, and friends in the United Kingdom appropriated a ticket for me. At two o'clock in the morning, I put on a burka and traveled to the airport in Pakistan with my mother. I left everything behind: the love, the care, the status, the work. I left it all for safety, but I found a new set of problems when I arrived.
Entering the UK began another journey. I knew no one, did not speak the language, and was not guaranteed asylum. Coming off the plane, my mind swirled with questions. I encountered an officer at the airport who was Indian. "Can I speak Urdu," I asked him, and he replied in the affirmative. Relieved to have help, I connected with friends from London who gave me a place to stay.
In those early days, panic consumed me.
In the middle of the night, I would involuntarily stop breathing. My lungs tightened as I ran outside and inhaled big gulps of the fresh night air. I had no future and no plan, and it felt tortuous.
Later, sitting in front of my lawyer in her office, I felt insecure as we tried to distinguish my next steps. "What evidence do you have of your case?" she asked. "None," I replied. She looked at me for a long while then said, "Marzia, I can see the evidence. It is the pain all over your face."
She began an investigation and soon the proof of what the Taliban had done to me in Afghanistan and beyond piled up. Eventually, the UK granted me refugee status. It allows me to stay in the UK for five years, as well as permission to work and study; access benefits, housing, and the National Health System; and seek family reunion.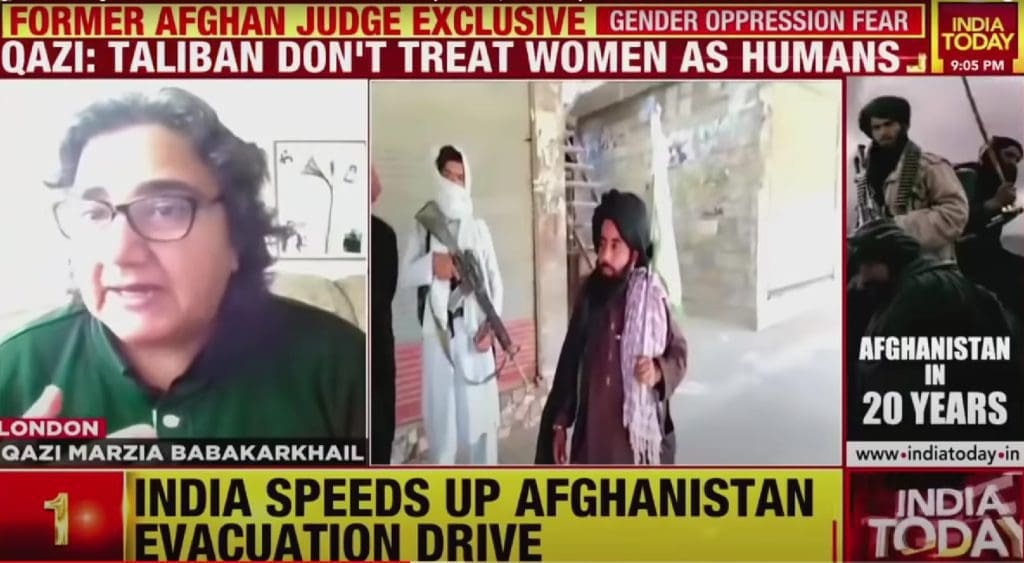 The 2021 Taliban takeover stripped my vision and my hope
Seeing Afghanistan fall again in 2021, my entire body sobbed. In the immediate aftermath of the takeover, the Taliban killed two female judges in Kabul. They murdered civilians, women, and children. This was not easy to take. I know how hard we worked, and it seems like we lost everything.
These developments left me feeling like I'd gone blind; like I lost all the vision of my eyes. However, I will never stop fighting. Today, English is like my oxygen. I can be alive; I can speak.
Over and over again, I tell reporters: the Taliban can force me out of my country, but they cannot force me to change my mind. This is my purpose, and my spirit will not die before my body does. I believe I can fight injustice all my life.
Translations provided by Orato World Media are intended to result in the end translated document being understandable in the end language. Although every effort is made to ensure our translations are accurate we cannot guarantee the translation will be without errors.
Pledge to be a #ConsciousCitizen today and demand #GlobalCooperationNow! by signing this petition. Sign Our Petition.