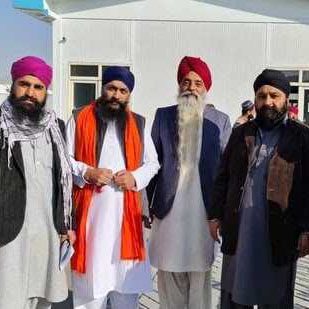 KABUL, Afghanistan – On June 18, 2022, in the afternoon, I stood inside the Karte Parwan Gurudwara – a central place of worship for Sikhs in Kabul. I read scripture from the Guru Granth Sahib, our holy sacred text. My sangat, or devotees, were listening when I heard a sound like an explosion. I watched as they began to run in fear. I ran too.
The eighteen devotees inside tried to evacuate, but two did not make it. I could do nothing to save them as I watched them die before my eyes. People outside ran to safe places, but the police prevented anyone from getting near us. My sangats had no one to help them as they fled.
[Sikhism is a spiritual practice and religion founded in India, centralized on three main principles: meditate on God daily, earn an honest living, and selflessly serve others. It promotes equality, community, and rejects the caste system.]
Man loses his homeland in the wake of the attack
I stood there feeling helpless to save my people, who devoted their lives to gurudwara. Outside, I hoped I could move them to a safe place, but the police stopped me. I saw the guard at the gurudwara killed before me. The entire event flashed before my eyes in a matter of minutes. People ran – devastated and horrified.
The blast injured one of my sangat members. No one would allow us to approach him. He needed urgent care and people stood by, unable to do anything. I grabbed him and hid him a car so no one would see us as I took him to the hospital.
Living in Afghanistan as a Sikh is a nightmare. Religious minorities and women have no peace, harmony, safety, or protection. Even though life for us proved difficult, I always viewed Afghanistan as my birthplace. I grew up and made memories there. Sadly, most of those memories included fighting every day for safety and survival.
For most people, they have a special attachment to their place of birth. I never wanted to leave my motherland, but now I have no options left. I can never forget what happened on August 15, 2021, when the Taliban invaded Afghanistan. In a few hours, the entire country as we knew it became erased from the world.
Like the 600 other Sikhs in the country, it proved one of the darkest and most shocking days of my life. It felt like the world just left all alone in Afghanistan. Even Islamists became unsafe with the Taliban in power. Women lived in constant fear of the Taliban taking them away at any moment; and men feared being held hostage.
Families live in fear until evacuation comes
On that day in June of 2022, when they attacked our place of worship, 60 Sikhs dead inside. With only 600 of us in the entire country, we do not account for even one percent of Afghanistan's entire population. Our situation worsened every day under Taliban rule.
Entire families became unsafe, and women huddled in houses. They refused to leave their homes, no matter what, afraid of the Taliban kidnapping, killing, or simply taking them away. I remember my family pleading with me in tears every single day, asking me to find help from other countries.
My sangat pled with me too, and I felt so helpless. Though I did not want to die myself, seeing my people killed felt even more heartbreaking. Over the last year, more than 400 Sikhs resettled in other countries. Most fled to India.
Only 200 of us remained in Afghanistan. The Indian government issued E-Visas for at least 130 Sikhs. They left everything behind and fled. I got my visa, but I could not leave my sons or my sangat behind. They looked up to me. If I left, it would be cowardly.
Finally, in early August of 2022, both of my sons received their visas. On August 12, thirty of us left Afghanistan and arrived in India. I could not tell if I felt happy or devastated. Surely, I felt baffled, leaving my motherland and all my belongings behind. I left the country where I was born – where I grew up, studied, and made friends. I left the Gurudwara, which meant the world to me.
Children say goodbye to their homes and their belongings
My children and I each packed two pairs of clothes, and we left. My wife proved the strongest amongst us. She left the house she built with love; a place she made home for all of us.
My two daughters, who never knew the meaning of freedom, still wanted to live in their birthplace. Their whole lives, they saw American military or Taliban entering houses anytime they wanted and interrogating people. These women in my home lived in constant fear.
When the time came to flee, my daughter asked me, "Do we have any other option?" I had no answer. I simply asked her to pack her bags.
My four-year-old grandson seemed oblivious to everything. He did not yet know what terrorism, killing, or torture looked like. To this day, he thinks we came to India for a holiday. We lie to the innocent soul so he can live oblivious to the painful scars we bare.
During my life in Afghanistan, I saw human lives receive no value, and people killed in a fraction of a second. I watched people tortured or kidnapped and never return home – their families left with blurred hopes of seeing them again. I have witnessed the cruelest incidents by Taliban, and it motivated me to save my family and my own life.
Life moves forward in India, but emotional trauma remains
Since July, none of the gurudwaras are operating anymore in Afghanistan. The Taliban essentially wiped Sikhism out of the country. The people who remain are too fearful to visit their places of worship.
When I lived in Afghanistan, I spent most of my day at the gurudwara. I had two shops I bought with my hard-earned money, and I only went home at night. When the time came to leave for India, I rented out my shops and I locked up my house. We fled at night so no one would see us.
We limited what we carried because if people saw us with too many bags, we risked being held or killed. Everyone in Afghanistan lives in a constant state of surveillance, especially minorities and women. You never know when you go out if you will come back home safely.
I describe living as a Sikh in Afghanistan as pure terror. With my shops and house gone, I have nothing left. I will never get them back. Forty-five years of memories now feel like scars. My family and I remain homeless, living in a shelter. We survive on the basics supplies given to us by the NGOs in India.
Every day and every minute, I recall the fateful night we left, when I looked upon my home for the last time. We had no time to cry. We had to move – to cross tool booths and get to the airport without arousing suspicion. Now we try to rebuild ourselves; to start fresh.
I feel comfort knowing I made my family safe. They remain my most prized possession. Though the price we paid for safety was high, I feel content. I don't know if we will ever heal our emotional trauma, or the wound of leaving our home and country behind. We aren't sure if we will ever feel fully at home in India, but life goes on.
I cannot imagine ever taking my family back to the Taliban. We cannot resume the life we left behind.
For more stories out of the conflict in Afghanistan, click here.
Translations provided by Orato World Media are intended to result in the end translated document being understandable in the end language. Although every effort is made to ensure our translations are accurate we cannot guarantee the translation will be without errors.
Pledge to be a #ConsciousCitizen today and demand #GlobalCooperationNow! by signing this petition. Sign Our Petition.