Cineasta colombiano pierde la vista tras recibir disparos en protesta
Cuando el ESMAD comenzó a usar pistolas paralizantes, me encontré en medio del caos. Todos empezaron a correr. Allí mismo en la calle, alguien me disparó por la espalda. Sentí el impacto en mi rostro y corrí desesperadamente buscando ayuda. Toqué mi ojo izquierdo. La sangre se derramaba.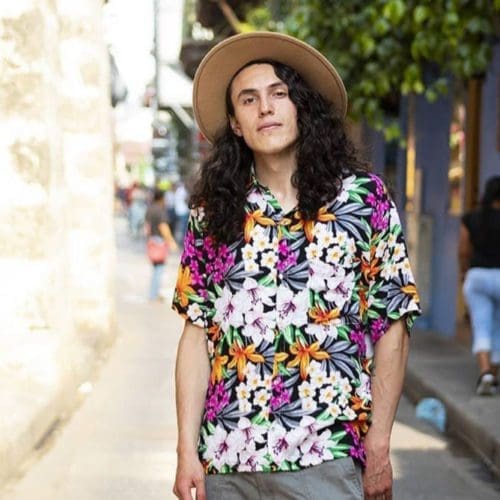 BOGOTÀ, Colombia ꟷ Empecé a tocar la guitarra a los 12 años con la esperanza de ser músico, pero a los 17 me dediqué al cine. Con tanto dentro de mí, quería encontrar el arte perfecto para expresarme. Ser cineasta me pareció un método muy eficaz para mostrarle a la gente lo que veía por dentro.
Busqué metáforas para hablar de temas ambientales, la sangre derramada en mi país, y para ilustrar la muerte y la violencia que nos rodea. Pronto me uní a movimientos de movilización y activismo social.
En 2021, me dispararon en la cara durante una protesta y perdí la visión en mi ojo izquierdo.
Cineasta y activista motivado por el asesinato de Dilan Cruz.
A la corta edad de 14 años asistí a una gran movilización de universitarios que buscaban frenar una reforma impulsada por el gobierno de Juan Manuel Santos a la Ley 30 que garantiza la educación como un derecho. Ver a los estudiantes organizados, luchando y defendiendo sus derechos me conmovió.
Luego, a fines de 2019, me enteré del asesinato de un joven manifestante llamado Dilan Cruz mientras viajaba en el autobús. Justo en ese momento, me derrumbé. Las imágenes crudas y sorprendentes de Cruz recibiendo un disparo me llenaron de simpatía, a pesar de no ser parte de la protesta.
La experiencia me impulsó a seguir al grupo activista Escudos Azules en las redes sociales. En diciembre de ese año llegaron a una movilización en la Universidad Pedagógica de Bogotá. Pronto, el ESMAD (un escuadrón móvil antimotines en Colombia) comenzó a reprimirlos y romper sus escudos de protección. Se produjo la violencia. Tuve que hacer algo. Escribí al grupo y comencé a hacer videos. A partir de ese momento me sumé al movimiento.
Joven artista baleado en la cara durante protesta en Colombia
Casi dos años después, el 24 de febrero de 2021, me desperté por la mañana y salí para asistir a una reunión de trabajo. Cuando terminó la reunión, salí. Una protesta estaba en marcha.
No era mi intención estar en el frente ese día. Salí a apoyar a los activistas que se manifestaban contra la brutalidad policial y exigían el desmantelamiento del ESMAD. Una pequeña protesta, menos de 300 personas asistieron ese día.
Cada vez que los Escudos Azules llegan a una movilización, siempre nos presentamos ante el comandante de policía a cargo, los encargados de la convivencia y los defensores de derechos humanos. Hacemos esto para asegurarles que no somos vándalos.
Otros probablemente se infiltraron en la protesta, pero nadie tiraba piedras y la calle estaba casi vacía. De repente, el ESMAD empezó a usar pistolas paralizantes y me encontré en medio del caos. Todos empezaron a correr.
No sabía qué hacer ni hacia dónde correr. Allí mismo en la calle, alguien me disparó por la espalda. Sentí el impacto en mi rostro y corrí desesperadamente buscando ayuda. Toqué mi ojo izquierdo donde sentí el peor dolor y la sangre se derramaba.
Tras meses de recuperación, víctima encuentra nuevas formas de movilizarse
Mis recuerdos de esa protesta son muy abstractos. Parecía haber una ruptura en el espacio y el tiempo. Me dispararon porque querían; porque alguien dio una orden explícita para hacerlo.
En mi vida he estado muchas veces en el quirófano, pero esta vez fue diferente. Cuando los efectos de la anestesia pasaron, me desperté en una sala de recuperación vacía. Al amanecer, acostado en mi cama de hospital, descansé en paz. Podía sentir la muerte y con ella, una sensación de alivio. Al día siguiente, comencé mi nueva vida.
Decidí no quedarme callado, pero me decidí, nunca más podría volver al bus ni al frente de las protestas. En el primer informe médico forense me sugirieron que necesitaría 50 días de incapacidad, pero desde entonces se determinó que tengo daños físicos y estéticos permanentes. No perdí el globo ocular, pero sí perdí la vista en mi ojo izquierdo.
No podía arriesgar el único ojo que quedaba sano. Acostado en cama durante dos meses durante la recuperación, consideré otras formas en las que podría contribuir. Mientras el miedo y la ansiedad me alejan de la primera línea, me radicalizo hacia la vida y la protección de vidas en Colombia o en cualquier parte del mundo.
Mi forma de "ver" el mundo cambió
Recibir un disparo cambió mi forma de ver el mundo. Pienso en la historia de Odín que, para adquirir más conocimientos, sacrifica su ojo. ¿De qué sirven dos ojos si no puedo ver lo que está pasando en Colombia? Tenemos políticos que miran a los ojos del pueblo y lo engañan, que tienen los dos ojos, pero eso no garantiza la verdad. Las cosas que hacen para dañar a las personas a menudo pasan desapercibidas.
Ahora veo el mundo con mi alma y mi corazón. Veo el mundo con amor y me pregunto, ¿por qué veo mucho más que los demás? Hay una realidad seria en el país en el que vivimos. Como manifestante no violento, alguien me vio como un enemigo; como persona que podrían matar a tiros. Esa conciencia me impacta.
Para mí, el día que me dispararon es el día que morí. Me llamaron vándalo. Hoy mi vandalismo es conceptual, filosófico y artístico. Lo expreso como cineasta.
Aunque hemos sufrido, en los Escudos Azules hay gente dispuesta a darlo todo para que las cosas cambien en Colombia. No damos cabida a ningún partido político ni a ningún político. En cambio, mantenemos nuestra sensibilidad por la vida y por la gente de Colombia.
Translations provided by Orato World Media are intended to result in the end translated document being understandable in the end language. Although every effort is made to ensure our translations are accurate we cannot guarantee the translation will be without errors.
Pledge to be a #ConsciousCitizen today and demand #GlobalCooperationNow! by signing this petition. Sign Our Petition.